Duke Energy Corporation (NYSE:DUK) is the largest electric power holding company in the United States with more than $110 billion in total assets. Its regulated utility operations serve approximately 7.2 million customers located in six states in the Southeast and Midwest. Its commercial power and international business segments own and operate diverse power generation assets in North America and Latin America including a growing portfolio of renewable energy assets in the United States.
Full Year and Fourth Quarter Earnings Highlights
DUK has posted solid results while achieving set targets for the fourth quarter and for full year 2013. The revenues increased at a rate of 25% reaching $24.6 billion for full year while quarterly revenues of $6.15 billion boosted by 8%. DUK delivered adjusted earnings per share of $4.35 for 2013, $1 for the fourth quarter, and has set a target for 2014 to achieve earnings per share between $4.25 and $4.50 with the midpoint earnings growth of 5%.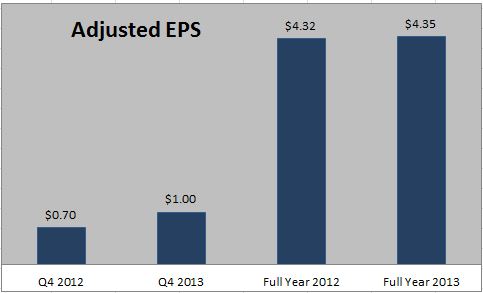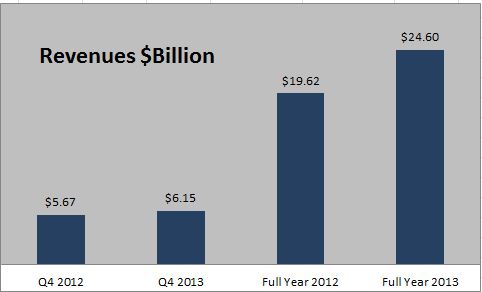 Source: Earnings Release
The fourth quarter profits significantly jumped by 58% primarily due to rate increases in the U.S. and a strong performance from its overseas operations. The regulated utilities segment performed tremendously well with an adjusted income of $607.0 million up from $498.0 million a year ago. This was driven by lower operating and maintenance expenses, higher pricing and riders, favorable weather, and increased wholesale net margins.
The international energy segment was also a key contributor to DUK's overall growth and its income advanced to $108.0 million from $89.0 million aided by robust results in Latin America from higher volumes and pricing in Brazil. DUK operates eight hydroelectric power plants in Brazil with an installed capacity of 2,307 megawatts and more than 4,300 megawatts of electric generation in Latin America.
Net expenses were $6.0 million down from $91.0 million last year. The improvement was mainly due to a lower effective tax rate, favorable captive insurance loss experience, and higher investment returns.
I think that dividend growth has been and will remain central to DUK's value proposition and its balance sheet has remained strong. The dividend yield of 4.4% is attractive for investors and DUK has a history of growing quarterly cash dividends. The company increased its quarterly dividend $0.015 to $0.78 per share in 2013 while the annual dividend increased from $3.06 to $3.14. DUK is targeted long-term payout ratio is expected to be between 65% and 70% which is quite impressive and evident of its strong cash flow position.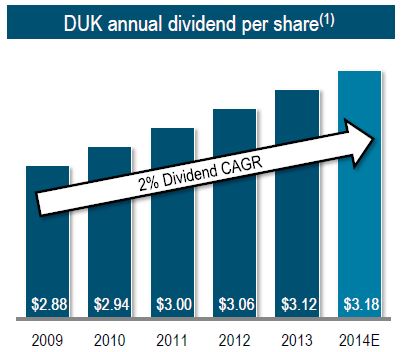 Doubling the Solar Capacity in the Carolinas
The depleting non-renewable energy resources have caused a panic alert for the entire world and the focus is now shifting towards alternative clean and renewable energy sources like hydroelectric, wind and solar energy resources. DUK is very keen to take advantage of solar power generation opportunities as it recently issued a proposal for 300 megawatts of new solar energy capacity in its Duke Energy Carolinas and Duke Energy Progress territories and this new capacity is expected to be offered in services by the end of 2015. This will double its capacity of solar energy in Carolinas. DUK's photovoltaic (PV) solar projects for commercial business customers currently have a capacity of generating 100 megawatts (MW) at 17 solar farms in the U.S. The solar electric generation is expected to show a robust growth in the coming years. According to the projection of the Energy Information Administration (EIA) the utility-scale solar capacity will increase by about 47% between 2013 and 2015. The utility-scale PV industry is more than 60 percent closer to achieving its target of $0.06 per kilowatt-hour. In the United States, the average price for a utility-scale PV project dropped from about $0.21 per kilowatt-hour in 2010 to $0.11 per kilowatt-hour by the end of 2013. According to the EIA the average U.S. electricity price is currently about $0.12 per kilowatt-hour. I expects that in the next two years DUK's existing solar capacity combined with the proposed 300 megawatts capacity will enable the company to capture the lucrative market of solar power generation.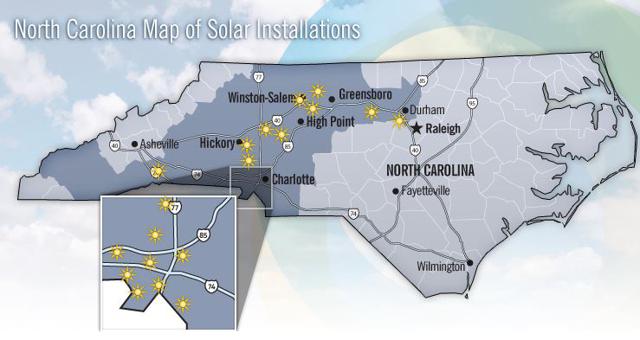 Exit from Midwest Generation Business
The merchant power plants have delivered volatile earnings in the competitive environment and its earnings profile is not the best fit for the company. DUK has decided to exit from these power plants and proceeds from this exit will be utilized to invest in solar and wind projects. The Midwest generation business includes 13 power plants with a total capacity of approximately 6,600 megawatts.
Favorable Industry Prospects will drive Future Growth
Coal is a major source of energy but it causes serious environmental hazards. However, innovative production coal can be used to produce clean energy compared to traditional methods. DUK brought online a 618 megawatt coal gasification power plant in Edwardsport, Indiana. This coal gasification will convert coal into a gas that can burn cleaner than coal itself. This technology will remove sulfur dioxide, mercury, and carbon dioxide from the gas which cuts the amount of pollution typically produced by a traditional coal plant in half. This plant will enhance the production capacity and cut the amount of carbon dioxide per megawatt produced in half. The clean coal business could keep DUK in the limelight for the next few years. This presents a potential upside for the company as it explores other avenues for the long term such as natural gas.
Projected low prices for natural gas make it a very attractive fuel for new generating capacity. In some areas natural gas-fired generation replaces generation formerly supplied by coal and nuclear plants. It is anticipated that by 2040 natural gas will account for 35% of total electricity generation while coal will account for 32%. This energy source shift in the industry will enable DUK to increase its natural gas energy to a target of 24% by the end of 2015 and over the next decade.

The total electricity consumption in the U.S. is expected to grow from 3,286 billion kWh in 2012 to 4,954 billion kWh in 2040 by an average annual rate of 0.9%. The industrial sector growth seems to grow stronger compared to residential sector growth. The coal-fired power generation for the next five years is anticipated to increase slightly due to higher natural gas prices during the period and the retirement of nuclear power plants.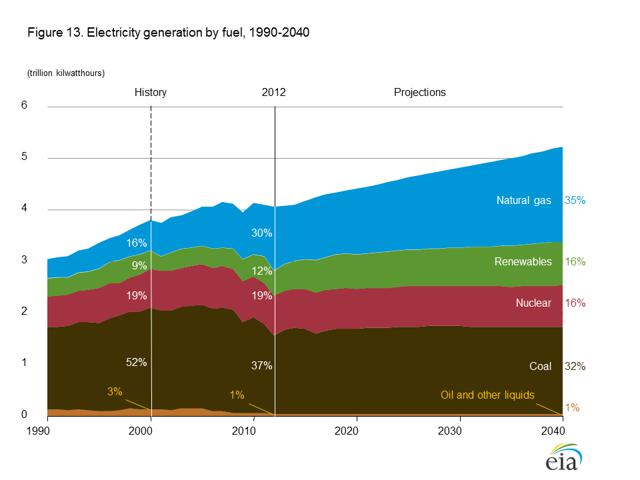 Coal-fired electricity generation has traditionally been the largest component of electricity generation representing 37% of total generation in 2012. Currently coal is approximately half of the total energy sources for DUK. However, by the end of 2035 natural gas generation is projected to surpass coal generation. Coal and natural gas will each represent 34% of total generation in 2035 but by 2040 the coal share will drop to 32% and the natural gas share will increase to 35%. These changing trends will be the opportunity for DUK to boost its earnings per share growth objective of 4% to 6% through 2016 based on 2013's results.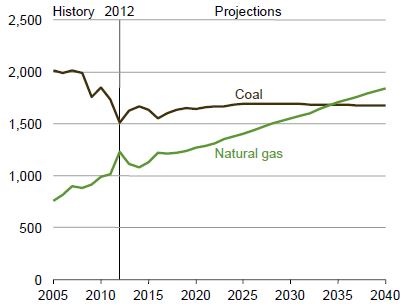 Electricity generation from nuclear power plants will grow by 5% from 769 billion kWh in 2012 to 811 billion kWh in 2040, accounting for about 16% of total generation in 2040.
Increased generation from renewable energy excluding hydropower is projected to account for 28% of the overall growth in electricity generation from 2012 to 2040. Generation from renewable resources is anticipated to grow in response to federal tax credits, state-level policies, and federal requirements to use more biomass-based transportation fuels. I hope DUK's Solar and wind projects will be able to capture the clean energy market with lucrative growth potential for the company.
Conclusion
Historically DUK has performed quite impressively and its recent performance has beaten expectations. DUK's international and its U.S. market position will remain strong as the company expects that its growth in electricity demand in Brazil, Peru, and Chile will be fast paced for the coming years. Meanwhile per capita electric consumption in the U.S is also expected to grow due to favorable weather conditions. Keeping in mind the industry growth prospects and DUK's commitment towards investors I believe this stock will be a valuable addition for an investor's portfolio.
Disclosure: I have no positions in any stocks mentioned, and no plans to initiate any positions within the next 72 hours.
Business relationship disclosure: The article has been written by a Blackstone Equity Research research analyst. Blackstone Equity Research is not receiving compensation for it (other than from Seeking Alpha). Blackstone Equity Research has no business relationship with any company whose stock is mentioned in this article