Studies show that small-cap investing is most profitable long term. They also show that dividend growth investing is the most effective form of equity investing. In an attempt to compare dividend growth investing versus my own preferred high-yield approach, I created two real world portfolios (you can track the portfolios here and here). In the course of my research, I stumbled upon an excellent example of my favorite kind of dividend growth stock - an unknown small cap. The more I learned the more I liked and now I hope to share this hidden gem with you.
Raven Industries (NASDAQ:RAVN) is a diversified industrial machinery company that consists of 3 divisions. The following information is taken from the company's latest investor presentation.
Applied Technologies: 42% of 2013 sales
This division designs automated GPS monitoring and control of agricultural technology used by farmers to track data and optimize spread patterns of fertilizers, seeds and pesticides, while minimizing waste and unnecessary maintenance and repairs. Proven increases in yields and efficiencies drives high demand for these systems.
The company's systems are incorporated into machines built by 33 OEMs, such as John Deer Tractors. In addition, aftermarket partners sell these systems in 50 foreign markets.
The forward market catalyst for this division is a rising global population that is also becoming richer. As middle classes in nations such as China, India and Brazil swell, demand for meat (which is very grain intensive) will explode by 70% by 2050. This will result in corn prices and wheat prices increasing by approximately 48% and 75% respectively.
Engineered Films: 35% of 2013 sales
Advanced industrial films used in energy, agriculture, mining and environmental cleanup and maintenance. Examples of uses for these films are thick linings used in fracking and oil drilling tubes, agricultural linings to minimize food spoilage and linings to prevent leakage of toxic chemical solvents utilized in the mining industry.
Over the coming decades growing global population and economic growth will fuel major demand increases in energy, food production and commodity prices. This will ensure that demand for these products will grow strongly for decades to come.
Aerostar: 23% of 2013 sales
Aerostar designs high altitude balloons and radar detection and tracking equipment for the US military, scientific community and Google's Project Loon. Project Loon is an attempt by Google (NASDAQ:GOOG) to bring Wi-Fi to every corner of the earth through the use of a fleet of high altitude balloons.
Future growth will be driven by cost-effective Aerostat system which allows for high altitude balloons to provide atmospheric conditions monitoring services. The economics of high altitude balloons proves favorable compared to expensive satellites. The US military, specifically the military contractor Raytheon, is partnering with Raven to provide better radar tracking and concealment to troops in the field.
Their newest product in this segment is called Nemesis. It's a form of advanced fabric camouflage designed to hide soldiers from optic and infrared scanners.
Though the individual products and services may be industrial and dull, the consistency with which the company has delivered since its founding in 1956 is impressive.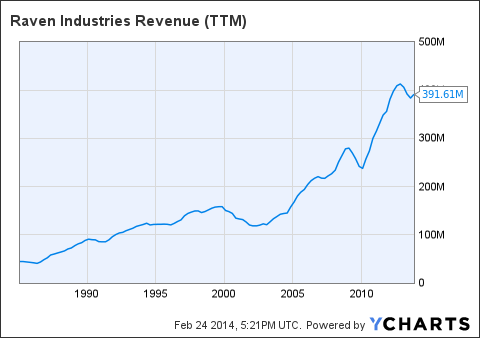 Revenues since 1985 have risen 787%. This is equivalent 8.1% CAGR over the last 28 years. According to the December 2013 investor presentation, over the last 10 years revenues have grown at an even stronger rate, 12.9% CAGR.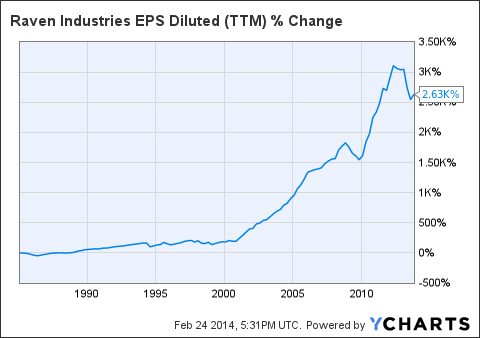 Earnings per share have grown at an even more impressive rate. Over the last 10 years at an incredible 16.7% CAGR but over the last 28 years at an equally amazing 12.9% CAGR.
The strong growth in sales and earnings has fueled one of the strongest dividend growth records of any company. Raven industries is a dividend aristocrat with 27 years of consecutive dividend growth at a 15.11% CAGR. Over the last 5 years the growth has been 13.05% and last year it was 14.3%.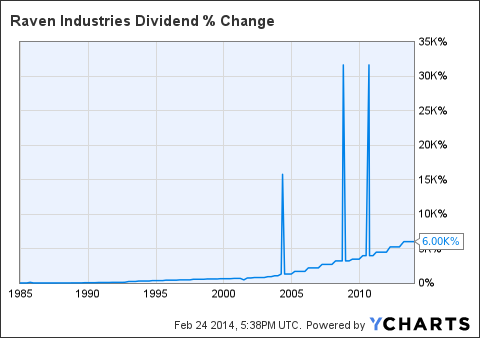 A 60-fold increase in the dividend over the past quarter century has helped fuel one of the strongest total investor returns of any American company.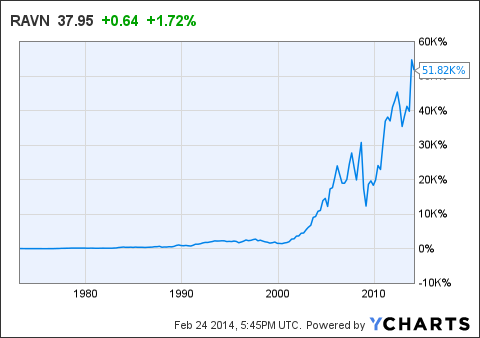 The share price in 1992, adjusted for splits, was $.76. Today's price of $37.71 represents a 4900% increase, a 20.4% CAGR. With dividend reinvestment, that return grows to 22.3% CAGR.
What is as impressive as the 22.3% total return over 21 years is Raven industries 43-year total return which is a stunning 15.6% CAGR. That is 73% better than the stock market's long-term CAGR of 9%. With dividend reinvestment, the 43-year total return increases to 17.45% CAGR, making Raven Industries one of the best investments of the last half century. A $10,000 investment in 1970 would be worth $5.182 million growing to $10.1 million if dividends had been reinvested. This also shows the power and importance of dividend reinvestment. Though only a 1.85% CAGR difference, over 43 years the difference between dividend reinvestment and not, would be $5 million.
However, as impressive as the company's long-term performance has been, modern investors want to know if the company is a good buy today. What long-term returns can investors at the current price expect?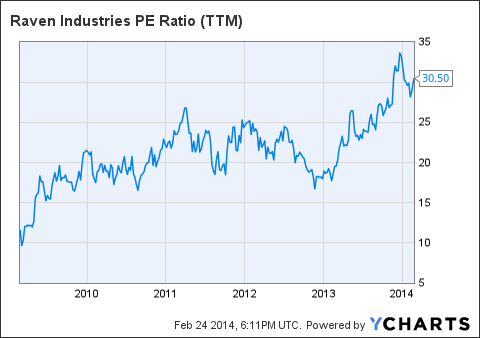 The 5-year average PE is 24.03. Today Raven trades at 29.73, indicating that, on a purely valuation basis, the stock trades at a 27.3% premium. This is due to a 31.5% return in 2013.
The 5-year average yield is 1.6%, meaning that, on a historical yield basis, Raven trades at a 12.8% premium. The average of these two is a 20% premium. However, it could be argued that a company of Raven's caliber, in terms of historical performance, long-term potential and managerial excellence, deserves a premium.
| | | |
| --- | --- | --- |
| | Raven Industries | Industry Average |
| Price/Earnings TTM | 29.9 | 20.2 |
| Rev Growth (3 Yr Avg) | 19.5 | 3.9 |
| Net Income Growth (3 Yr Avg) | 22.5 | 7.6 |
| Operating Margin % TTM | 17.1 | 14.6 |
| Net Margin % TTM | 11.7 | 9.1 |
| ROA TTM | 16 | 4.3 |
| ROE TTM | 19.9 | 15 |
In that case, let us model what performance investors in Raven Industries can expect at today's prices.
If we take 2013's EPS of $1.25 and model very conservative 10% growth over the next 5 years then we get an estimated 2018 EPS of $2.01. However, this 10% estimate seems highly conservative given Raven's earnings growth over the last 10 years and management's goal of 15% earnings growth. Modeling this second scenario gives $2.51 in 2018 EPS. Now, multiplying by the historical valuation, (assuming regression to the mean) will allow the company's stock to grow into its valuation. Multiplying by 24.03 we get a 5-year price target of $48.38-$60.31. To this share price we must add the anticipated dividends over the next 5 years. Using a more conservative 13.05% dividend growth rate, (the 5-year average) we model $3.52 in dividend through 2018. Combined we get a 2018 total value/share of $51.89-$63.84. This returns a total return of between 6.8%-11.1% CAGR, rising to 8.5-12.9% with dividend reinvestment.
If we instead assume the historical yield of 1.6% in 2018 and use the $.89/year in dividends we modeled earlier, we get a 5-year target price of $55.4. With dividends, the total share value is $58.92 representing a 9.6% CAGR total return, rising to 11.3% with dividend reinvestment.
So at today's 13-27% premium to historical valuation and yield, an investor could reasonably expect to earn 6.8-11.1% CAGR, 8.5-12.9% if dividends are reinvested. This range sits right on the general stock market's long-term historical return of 9%. This indicates that Raven Industries trades at close to its fair price, given that new investors today could anticipate a general market return from their position.
If one waits for a reversion to the historical mean, in terms of yield and valuation, then one could expect a 20% correction, with a price target of $30. From those levels the total expected return rises to 14.45% CAGR, (16.3% accounting for dividend reinvestment).
So given that Raven Industries is today fairly valued, I recommend interested Dividend Growth Investors place the company on their watch list to wait for a share price more in line with historical valuation and yield.
Technical analysis indicates a short-, medium- and long-term neutral price action at the moment with strong support at $36.96 and medium resistance at $38.19. This means that in the short to medium term, Raven Industries is likely to be range bound with little chance of returning to my advised purchase price of $30 barring a general market correction.
In summary, in Raven Industries I feel investors find a wonderful long-term opportunity from an unknown DGI hidden gem. At the right price and given the long-term global socio-economic trends described above, Raven Industries is likely to continue to deliver decades of market beating total returns in the range of 15-20% CAGR.
Disclosure: I have no positions in any stocks mentioned, and no plans to initiate any positions within the next 72 hours. I wrote this article myself, and it expresses my own opinions. I am not receiving compensation for it (other than from Seeking Alpha). I have no business relationship with any company whose stock is mentioned in this article.