NVIDIA Corporation (NASDAQ:NVDA) pioneered visual computing, the art and science of computer graphics. With its invention of the GPU, the field expanded to encompass video games, movie production, product design, medical diagnosis, and scientific research.
In fiscal 2014, NVDA's revenue declined $150M to $4.13B while profitability margins contracted. Further, the company's management continued to invest heavily in research and development even as revenue, in nominal terms, barely surpassed 2008's level. But management is forecasting fiscal first quarter revenue growth of about 10% +/- 2%. Time will tell if the revenue growth is sustainable.
For now, I'm modeling NVDA as a company who continues to spend unproductively on R&D. Thus, the estimated intrinsic value is $18 per share. If revenue growth proves to be sustainable and/or management reduces expenditure on R&D, the intrinsic value estimate will be revised higher. The composition of sales growth in the coming quarters will certainly be worth watching.
Recent Developments
The first GPUs, GTX 750 Ti and GTX 750, based on the Maxwell architecture were introduced.
Benefiting from gains in its PC gaming business, NVDA beat estimates by $0.07 with fourth quarter profit of $0.25 per share.
NVDA is powering some of Audi's in-vehicle systems with its Tegra Visual Computing Module.
Business Summary
NVIDIA Corporation is engaged in creating the graphics chips used in personal computers that bring games and home movies to life. It has two reporting segments: the GPU business and the Tegra Processor business.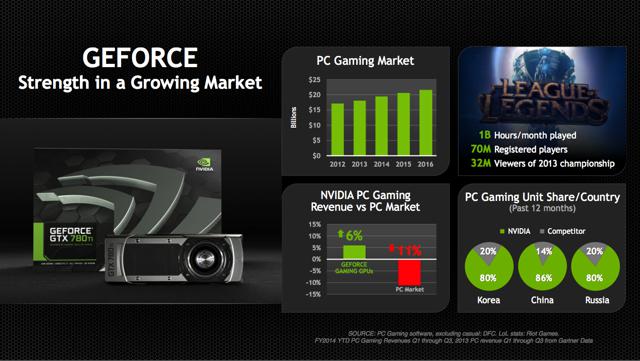 Source: Nvidia
NVDA appears to be facing favorable industry dynamics. But I think the PC gaming market faces stiff competition from Microsoft's (NASDAQ:MSFT) Xbox and Sony's (NYSE:SNE) PlayStation. Additionally, sales growth may have to come from market expansion and market share maintenance, as NVDA is already the dominant player in the market.
Fiscal-2014 revenue has a negative growth rate, relative to fiscal 2013. But sales declined by $150M. The sales decline resulted in a negative net income growth rate. But the core operating margin expanded as the net profit margin declined. With the investments in R&D, NVDA was able to earn its cost of capital, in my opinion. But a negative growth rate combined with high R&D expenditure is untenable.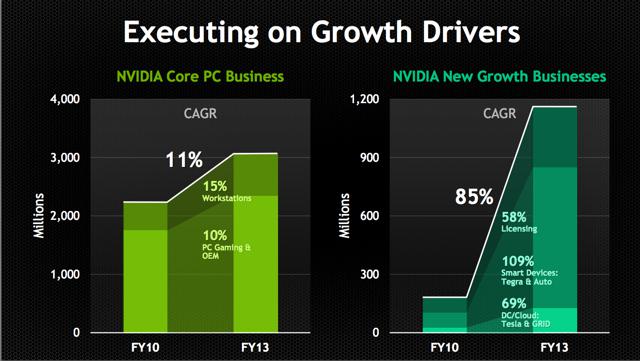 Source: Nvidia
Which brings me to my next point. The beautiful charts above of fantastic CAGRs isn't translating into revenues growth. In the fiscal third quarter 10-Q, management attributes the revenue decline to declining Tegra sales, which is fine. But the GPU business didn't offset that weakness. Consequently, the growth rates in these charts and the growth rates from the company's reports aren't adding up.
Efficiency has been declining. The receivables turnover ratio, inventory turnover ratio, and asset turnover ratios are trending lower. The decline in efficiency could be attributable to the competitive environment.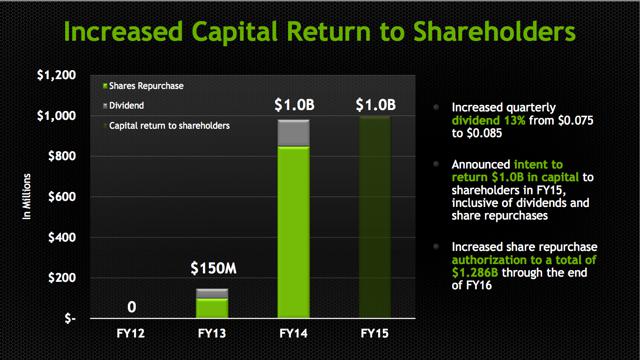 Source: Nvidia
NVDA appears to have been carrying excess liquidity at the end of the fiscal year. The defensive interval stood at 1,050 days with net cash being $3.32B. The debt-to-capital ratio was 0.23 and the financial leverage ratio was 1.47. It appears management doesn't have any positive NPV projects that would require the use of the excess liquidity. Consequently, the share repurchase program seems adequate and appropriate.
Additionally, earnings during fiscal 2014 were high quality, as NVDA collected 101% of revenues from customers.
Risks
The share price is likely to remain volatile and investors could lose a portion or all of their investment.
Investors should judge the suitability of an investment in NVDA in light of their own unique circumstances.
A decline in the global economic growth rate and/or a decline in the pace of economic growth in the United States could adversely impact the results of operations and the share price.
The technology industry is characterized by rapid technological change, which could materially adversely impact the results of operations.
Competition in product development and pricing could adversely impact performance.
Incorrect forecasts of customer demand could adversely impact the results of operations.
Higher interest rates may reduce demand for NVDA's offerings and negatively impact the results of operations and the share price.
This section does not discuss all risks related to an investment in NVDA.
Portfolio & Valuation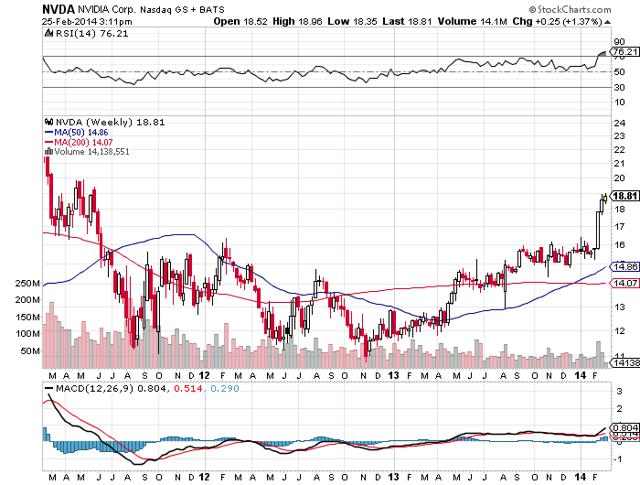 NVDA is in a bull market of primary and intermediate degree. From the technicals perspective, investors should be buying dips relatively aggressively because of the bull markets. Resistance could come into the market in the $20-25 per share zone.
Since 2009, NVDA's share price has been influenced by company- and industry- specific factors. But since 2013, the share price has tended to move in line with the broader market. It appears likely that NVDA will outperform the broader market in the coming months. Additionally, a forecast for NVDA should incorporate a forecast for the broader market.
Currently, NVDA is trading above its long-term trend line. The 3-months, 6-months, and 12-months price targets are $15.31, $15.45, and $15.71. Thus, a bear market of primary degree could occur in the second half of 2014 or first half of 2015.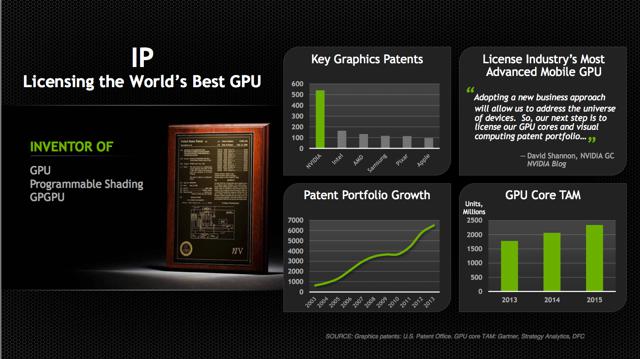 Source: NVIDIA
The valuation includes an adjustment for the patent portfolio. In the base case, Nvidia is valued at $18 per share. The valuation adjusts for management's continued investment in R&D, which isn't driving revenue growth. If management decreases spending on R&D or revenue grows at a faster rate, the valuation would be subject to an upward revision. As it stands, $18 per share is the estimated intrinsic value and $11.20 is the pessimistic valuation.
Disclosure: I have no positions in any stocks mentioned, and no plans to initiate any positions within the next 72 hours. I wrote this article myself, and it expresses my own opinions. I am not receiving compensation for it (other than from Seeking Alpha). I have no business relationship with any company whose stock is mentioned in this article.