Market Capitalization
Tesla (NASDAQ:TSLA) has been doing fabulously well, and despite its large upward momentum, I am constantly surprised by a complete lack of fundamental understanding of some of Tesla's detractors when it comes to fundamental analysis.
If you want to raise arguments about the viability of Tesla long term, the chance for competition in the next several years from other companies such as General Motors (NYSE:GM), that is all perfectly understandable. However, if your argument is that Tesla's market capitalization is too high versus larger companies, I honestly believe you have a fundamental misunderstanding of market dynamics.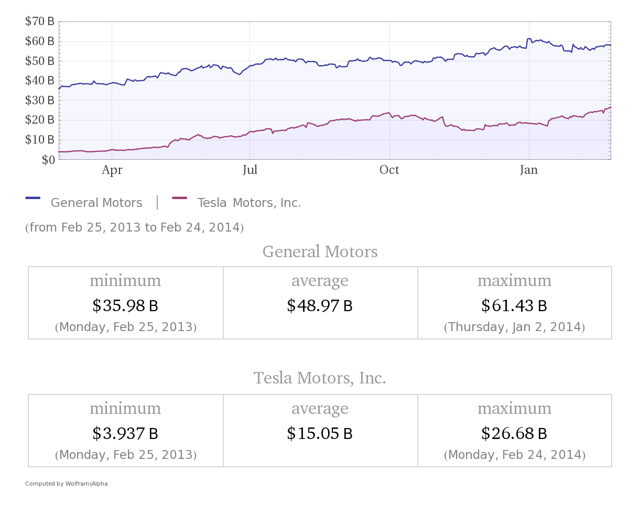 Looking at the above chart, your first inclination would be that it is crazy that TSLA could even be worth almost 30% of GM. Their revenue is not even close! The problem with this argument, and something that almost no one talks about, is the fact that GM has a significantly lower daily transactional volume relative to their shares outstanding.
To put this into perspective, currently GM trades around 1-3% of their outstanding shares daily, and TSLA trades around 5-15%. This is a five fold difference, and it means everything in terms of price flexibility and volatility.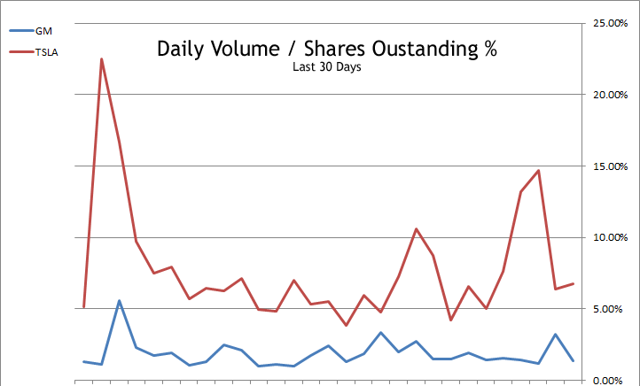 While it is true that there is more money flowing into TSLA, the amount of shares available for trading has a significant impact on price volatility. Additionally, established companies like GM have a different investor and trading base than a start-up like TSLA, and this is why you have a reduced transactional volume percent.
Market Capitalization is a rough, and I mean very rough, estimate of a company's actual value to begin with. So if you're considering taking a short position based solely on market capitalization, please reconsider.
Gas Prices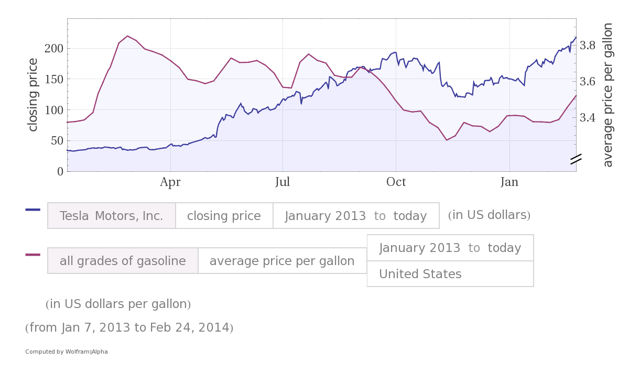 When it comes to Tesla, a lot of people will talk about the merits of the vehicle (high quality, green etc..) and while all that may be true, one must never dismiss the driving force of gas prices.
Not everyone is a green crusader, and when people make a purchase such an EV, fuel prices may be a consideration. As gas prices increase, the Tesla value proposition also increases. This can play directly into their bottom line for actual unit sales.
However, even more importantly, gas prices can affect the consumer investor market which makes choices much more easily based on much less data. Noticing you are paying more this week than last week in gas might make an average investor turn bullish on this whole EV concept, and Tesla is currently the champion of EV.
Disclosure: I have no positions in any stocks mentioned, and no plans to initiate any positions within the next 72 hours. I wrote this article myself, and it expresses my own opinions. I am not receiving compensation for it (other than from Seeking Alpha). I have no business relationship with any company whose stock is mentioned in this article.