Before we begin talking about Netsuite (NYSE:N), I need to set a few expectations. In the 1st part, I will talk briefly about Netsuite's amazing sales numbers. The 2nd part will outline just a few of the reasons why Netsuite is having those stellar sales numbers. A few of the observations below are my personal views about why Netsuite is no ordinary software company. Due to Netsuite's moat, it is poised to continue stellar growth for the next 5-7 years.
I have also read commentary that led me to believe that a few authors really don't understand the Netsuite product, or the market that NetSuite operates within. They mainly talk about the sales numbers and valuation all within the context of comparisons to Microsoft (NASDAQ:MSFT), Oracle (NYSE:ORCL) and SAP (NYSE:SAP). Netsuite is very different from these large on-premises ERP companies.
1ST PART
Netsuite went public in Dec 2007. Since that time, they have achieved amazing top line growth.
Here is a look at their sales performance over the past 6 years.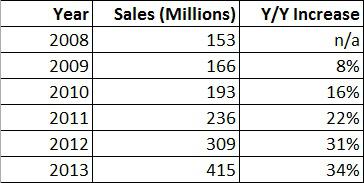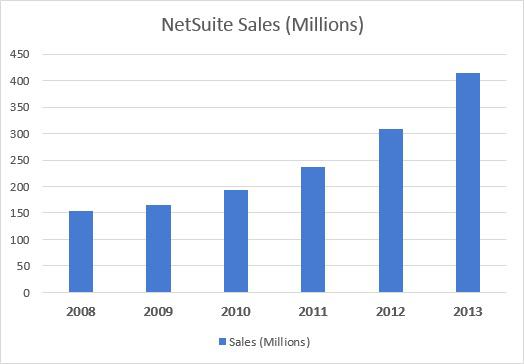 One can easily see the yearly sales increases are still improving, vs. the previous year, since their IPO. If this trend continues, which it should for reasons outlined below, Netsuite will continue to demand the share price premium similar to that of Salesforce (NYSE:CRM) about several years ago.
It should be noted that Netsuite has not posted a net profit since their IPO. They continue to devote a large amount of operating income to sales & R&D. This is to gain as much market share as possible, thereby establishing themselves as the leading cloud ERP provider.
2ND PART
History (from a small business point of view)
My first exposure to Netsuite was about 8 years ago. I managed a small company that specialized in water treatment. We had about 6 employees and had fast growth up to that point - we had only been a 1-employee company two years earlier. We utilized about 7-8 different systems to manage everyday business. These systems were the usual: Excel for inventory, Quickbooks Online for Invoicing, Quickbooks 2003 for purchase orders, Microsoft Outlook for CRM and others. Needless to say, it was not working well. We needed something different.
I had the opportunity to ask my existing customers and vendors what software they used as their ERP/CRM system. They all gave me something different as far as the provider, but one thing was consistent. They all despised their software. They couldn't stand it.
In 2005, I stumbled across Netsuite and asked for 2 references of companies using their product. My interest was definitely piqued when 2 Netsuite customers said they really liked the program. They also said that Netsuite's service was good too. Hmm...good product and good service...we just might have something here. I also liked the fact that they were cloud-based since it eliminated software maintenance for our small staff.
So we purchased the service and started using it. We managed to bring 7-8 different systems into one with Netsuite. It definitely had a steep learning curve, but we got through that after a few weeks.
It should be noted that when we first started using Netsuite, we paid around $4K for all the necessary user licenses and features. Most companies our size would have just purchased the most recent version of Quickbooks for $300 and that would have sufficed for 3-4 years. However, the idea of putting ERP, CRM, Inventory Management, E-commerce, Marketing and Payroll into one system was very appealing.
So as our company grew, we kept increasing the licenses and features/add-ons. It got to the point that we are now paying in excess of $30K per year. That is a lot for a company that has only 17 employees, but it's definitely worth the investment. It would be easier for us to eliminate 25% of our staff than to switch to another software program that can do everything Netsuite does. In fact, if our competition had asked me what software we were using, I would not have told them. Netsuite has given our company a significant competitive edge.
The Moat
Below are just a few of the differentiating features that Netsuite offers vs. other software companies. Some of these features are only offered by Netsuite which gives it an advantage compared to other ERP/CRP solutions. It is often these seemingly small details that distinguish one company from another which can result in tremendous growth over time.
SERVICE
While we didn't initially purchase the phone support package, we eventually purchased it since we couldn't always find the answers in the documentation in a timely manner. This package permits us to call in with a question and get someone to help us solve our dilemma.
Whenever I ran into some sort of functionality issue, I would call Netsuite tech support to ask for their help. I would always get someone different and often times, someone that had only been there a few months. I know this because I asked them. My questions would usually be regarding some small detail regarding how to display a complicated report a certain way. In summary, they were not softball type questions.
I was constantly amazed that no matter who took my question, they would usually give me an answer that was often exactly what I needed. Often times the call would only last a few minutes and I could be on my way. They have trained their staff to identify keywords in a customer question to find a previous response given from a different tech support call.
Other times it could take hours to find the answer since the tech support person had not encountered my specific question before. At the end of every single call, regardless of call duration, they would always ask "Is there anything else I can help you with?". Wow, now that is great service! Needless to say, the phone support package is purchased every year because it saves us so much time vs. figuring out how to do it ourselves.
On top of all this, there is always an email evaluation form that follows the support call. In addition, it seems like after every 3rd call, I would get a phone call from the person's supervisor asking how satisfied I was with the support provided. Netsuite is taking customer support very seriously. Having good customer service is vital to having low churn rates.
ENHANCEMENT RANKING SYSTEM
With every product, there are always things we wish it could do. Well, Netsuite tracks and tallies customers' "wish" requests. Netsuite's Enhancement System permits management to see the most requested features. Management usually works on the most requested items first, which appeases their existing client base. These newly added features will also make the software more valuable to prospective customers that desire those accoutrements. On top of that they are always making minor tweaks and adjustments to make the software more user friendly and intuitive.
In summary, Netsuite is constantly making their product better. They are not complacent, whatsoever. As most readers are aware, Warren Buffett will quickly acknowledge that 'lack of complacency' is a key ingredient to staying on top, or at least getting there.
THE SOFTWARE
Since I don't want to sound like a salesman for Netsuite, I am not going to highlight all of the features their software offers. Readers can do that themselves. However, one of the things I personally liked the most was the customization. Their dashboard shows any metric you want - it was amazing. The level of customization is extremely powerful. It is also this level of customization that makes for a very steep, and potentially frustrating, learning curve when you first use the software.
BEING THE FIRST
Being the first definitely has advantages in every industry and the cloud is no exception. Netsuite, being founded in 1998 and originally called NetLedger, was one of the first companies to take an all-in-one software approach to running a business. Incidentally, they were also one of the first (if not the first) companies to offer cloud based ERP. These two offerings give a 1-2 punch towards offering Small-to-Medium Business (SMB) a complete solution that is very scalable. After all, all you need is an additional login and password for new employees. Netsuite has had over a decade to work out bugs and issues related to offering an all-encompassing software solution via the cloud. No doubt, Netsuite had to go through some frustrating growing pains. New competition will not have an easy task getting to the same point.
PARTNERING WITH ORACLE
Since Netsuite is 52% owned by Larry Ellison, he has a financial incentive for Netsuite to do well. Oracle has recently been promoting Netsuite as part of a 2-tier solution for companies that are growing globally. As you know, Oracle ERP is an on-premises solutions. This can make ERP very complex and potentially problematic for companies as they expand globally. Netsuite can help newly established global offices get up and running quickly since a Netsuite login is all that is needed. The Netsuite generated data is then sent and merged into the Oracle system. This enables corporate headquarters to have complete transparency of its global operations.
There are other unique aspects of the Netsuite platform, but these are just a few examples of how the Netsuite moat is pretty wide. It is also deep as SAP had found out when launching Business by Design.
Market Potential
There are constant comparisons of Netsuite to other very large software companies. I believe Netsuite takes pride when they are compared to Microsoft, Oracle and SAP. These are the 3 big players in the Fortune 500 ERP market. However, it is not Netsuite's goal to compete with these companies. Netsuite's market is the Fortune 5,000,000, as Zach Nelson (Netsuite's CEO) would say. This is the approximate number of SMB in the US that would have anywhere from 1-200 potential users. Netsuite currently has about 20,000 customers so they have a long way to go.
Even though they are geared towards the SMB market, they have managed to snag some very large clients such as Shaw Carpets of Berkshire Hathaway, ESET, Olympus, Qualcomm and Williams Sonoma just to name a few. These contracts are icing on the growing earnings cake for Netsuite. Large corporations have definitely taken notice.
They are also rapidly expanding into international markets such as UK, Japan, Australia, Germany, Hong Kong, Singapore and others. The international versions of Netsuite also support local accounting requirements and often times contain country-specific tax rates. To set this up takes a significant amount of effort, but once set-up, it is very scalable. If I didn't know better I would say their goal is to be the global leader of ERP/CRM solutions in the SMB market.
Conclusion
Netsuite is hands down, the best ERP software solution I have seen. Their ability to exceed earnings quarter after quarters shows they are riding the "cloud" wave that should continue for years. I strongly believe the market value of Netsuite, currently at $8-9B, will approach 30-40B 5-7 years from now.
Disclosure: I am long N. I wrote this article myself, and it expresses my own opinions. I am not receiving compensation for it (other than from Seeking Alpha). I have no business relationship with any company whose stock is mentioned in this article.