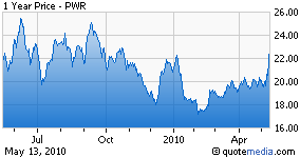 Financial Tides likes Quanta Services (NYSE:PWR), a leading provider of specialty electrical contracting and maintenance services primarily related to electric and telecommunications infrastructure in North America.
In addition, the Company provides electrical contracting services to the commercial and industrial markets and installs transportation control and lighting systems. Some of Quanta's services include the installation, repair and maintenance of electric power transmission and distribution lines and telecommunication and cable television lines, the construction of electric substations, and the erection of cellular telephone.
Quanta should have a good year. This winter weather was bad for utility lines but the company provided high margin repair services to the industry. Recently, they signed new contracts to help both Verizon (NYSE:VZ) and AT&T (NYSE:T) expand their grids. They are positioned properly without a high fixed overhead.
The stock appreciated 13.78% during the last month and hit 10 new highs in the last 20 trading sessions. They also increased in 5 of the last 5 sessions. On Barchart all 13 technical indicators signal a 100% buy. The stock trades at 22.55 with a 50 day moving average of 19.72.
Motley Fool CAPS members vote that the stock will out perform the market by a vote of 524 to 14 with the All Stars in agreement 15 to 3. Fool notes that 20 of the last 21 articles have been positive.
Wall Street has noticed this stock with 14 buy and a hold recommendation. They expect the company to increase sales by 20.60% this year and 12.40% next year. Earnings projection are fantastic with increases of 34.30% this year and 27.70% next year. The company is expected to maintain a 5-year compounded EPS growth rate of 11.34%
The stock has:
Recent price momentum and a 100% Barchart technical buy score
Wall Street buy recommendations with predicted increases in sales and earnings
Solid investor sentiment
Disclosure: No positions


Disclosure: No positions