Objective
Coca-Cola (NYSE:KO) reported 2013 Q4 and full-year results on February 18. I aim to briefly interpret the results announced and share my views on the company's outlook.
Results in a glance
- 2013 Net Operating Revenues was $46,854 million, down 2% from 2012's $48,017 million
- 2013 Net income was $8,584 million, down 5% from 2012's $9,019 million
- Volume grew 2% YoY for the full year and 1% for Q4 2013
- Full-year reported EPS down 3%, while adjusted and constant-currency EPS were up 8%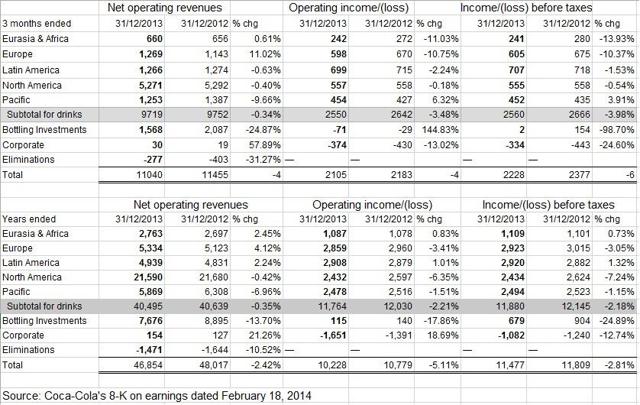 Interpretation
Coca-Cola had a rough Q4 as well as a rough 2013. For Q4, operating income for all segments except the Pacific segment plunged. With unit case volume inching up and net revenues excluding bottling investments inching down, Q4 revenue is flat with decreases in the Pacific drink consumption wiping out more than the ground regained in the European segment.
Revenue for the full year largely echoes Q4 results with similar changes from previous year. Operating income and income before taxes figures especially weak in Eurasia & Africa and European segments due to the weakening US dollar against European and Asian currencies.
View
Cost inefficiencies harm growth?
Coca-Cola has a serious problem with its selling price. North American competition with Pepsi (NYSE:PEP), Dr. Pepper (NYSE:DPS), Sodastream (NASDAQ:SODA) has weakened Coca-Cola's pricing power a lot. Unit prices as inferred has dropped.
Segment results show that costs have spiked up in various segments. Without further data breaking down expenses, it is difficult to guess the real reason behind these spikes. My take is that top line (i.e. unit-price) weakness and rising associated costs (e.g. labor, transport, raw materials) squeezed operating income. From Coca-Cola's 8-K filing on earnings release, drinks revenue dropped $33 million while drinks operating income fell by $92 million; that roughly translates into $59 million of operating costs hikes.
While CEO Muhtar Kent stated a plan to save up to $1 billion in annual cost by 2016, it remains to be seen if strong currency headwinds will hamper Coca-Cola's ability to successfully reach its target. Achieving this will determine investor confidence, Coca-Cola's free cash flows for dividends and CAPEX for several years to come. All in all, I am neutral to cautiously optimistic on Coca-Cola's chances to succeed.
Currency headwinds is the short-term pain
Another crucial point is Coca-Cola's ability to hedge its currency exposures, the 8-K filing reported 4% currency neutral growth for the full-year. However, weaknesses of South American currencies such as Argentinian Peso, Brazilian Real, and Mexican Peso devastated Coca-Cola's operating income in dollars. In Asia-Pacific, similar currency weakness such as the yen against the dollar also harmed dollar income. It appears that currency weakness alone can kill a few years of income growth for the long-term KO investor, seriously damaging the potential dividend stream and capital appreciation potential.
Doubts on GMCR acquisition
Coca-Cola bought a 10% stake in Green Mountain Coffee Roaster (NASDAQ:GMCR) as announced on February 5, 2014. Under the 10-year agreement, the cold drinks brands of Coca-Cola are expected to be available on the currently-developing KeurigCold Beverage system in 2015. I doubt the synergy of Coca-Cola branded products being on Keurig, as Coca-Cola brands are already ubiquitously available globally and consumer habits of opening a can/bottle for instant consumption cannot be changed overnight.
Trading
At the time of writing, Coca-Cola is trading at slightly more than 18 times earnings with a 3.25% yield. P/E wise, it is the most expensive stock compared with PEP's 18.0 times, SODA's 17.7 times and DPS's 16.1 times. However, Coca-Cola's global reach, brand-diversification, superior distribution infrastructure and dividend prowess do justify the premium assigned to the ticker.
I believe recent bad news puts Coca-Cola at the high end of the 'fairly valued' band at the moment with little chance of falling to 15-16 times earnings in the absence of further negative catalysts. I would not recommend bulk buys given the stock is not underpriced, rather to buy in small lots apiece and consider using covered calls or short straddles/strangles to enhance yield.
Disclosure: I have no positions in any stocks mentioned, and no plans to initiate any positions within the next 72 hours. I wrote this article myself, and it expresses my own opinions. I am not receiving compensation for it (other than from Seeking Alpha). I have no business relationship with any company whose stock is mentioned in this article.