American Public Education (NASDAQ:APEI) reports its Q4 2013 results this Thursday, February 27, after the market closes. For-profit education is an area of personal interest and APEI is a company I'm already familiar with from the article I wrote in July. I know APEI's schools have the lowest tuition rates by far among for-profits and their rates are actually competitive with community colleges despite lack of subsidies. That's a pretty significant competitive advantage that should only prove more powerful as students continue to become more cost-conscious and President Obama addresses education reform with a focus on tuition costs and ROI. It's certainly a company I'd like to buy for the long haul at the right price and so I wanted to take a look before the results come out.
Indicators
Notably, in the Q3 conference call, management announced that in the month of October (window between end of Q3 and when they reported) they had executed $6.2M worth of share repurchases at an average price of $36.90. APEI is well-managed and I trust management's capital allocation abilities. They don't repurchase shares consistently, with little regard to price. They are selective and timely. The stock is obviously substantially above that now, but I still found it meaningful and it's something to keep in mind.
Health of the Business
The business is not trending well.

Starts have been down big for several quarters and Q3 only represented a slight notch up over Q2. Guidance for Q4 indicates another slight improvement. Slight improvement is better than no improvement, but for a company posting such significant declines in starts, I need to see more than 1% improvements to feel confident about the health of the business going forward. Management attributes the weak starts to temporary suspension of tuition assistance programs and describes the poor results as mostly artificial, but while I can see some sense in that considering how large a percentage of APEI's students these changes affect, I've also heard plenty of excuses from education companies regarding starts and become pretty skeptical towards them.
Enrollment and revenue are both also clearly trending badly which should be expected as both metrics typically trail starts by about a year so long as rev/student and persistence remain consistent.
Operating margin has deteriorated significantly in two straight quarters, as has ROE.
The only definitively good number is cash from operations which has been up substantially YOY in each of the last 3 quarters, but much of that is attributable to timing as you can by the $20.3M impact from a change in accounts receivable.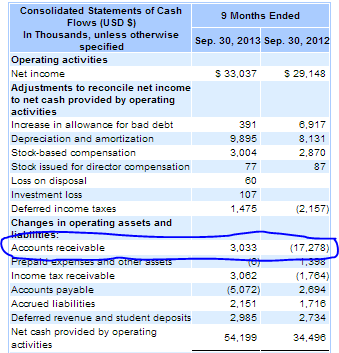 Overall, things don't look good. Starts really is the name of the game in education and that's what I'll be looking for in the Q4 numbers before anything else. If the company beats the mid-point of that -7% guidance, I'll feel much more confident about the direction of the business and the chances of start growth in the near future.
Valuation
APEI is a solid, well-managed company. I'm confident in the company's long-term prospects and would be comfortable owning it, but given the current direction of the business, I wouldn't assign too generous a multiple. Obviously this will change when I get a look at the Q4 results, but at this point I'd say the stock is fairly valued at about 12.5x my estimated 2014 FCF of $47.3M or $41.95 per share. The stock trades at a slight premium to that now, and I wouldn't even consider entering a position unless the stock got to a 25-30% discount to my fair value estimates.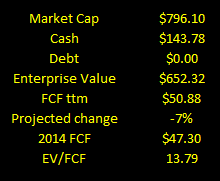 Then again, if the company posts strong start improvements, I could easily see myself moving my 'fair' multiple up to 15x. That along with potentially higher reported cash balances and a pullback could present a buying opportunity, which is why I'm writing, but I see that situation as highly unlikely. Another FPE I follow, Strayer (NASDAQ:STRA), recently reported extremely good numbers and they immediately got recognized by the market, resulting in a 40% move. The days of for-profits being overlooked by large investors have been gone since Apollo reported great numbers late last year. If APEI gives evidence of any improvement, my guess is shares move quickly and violently higher, despite investors buying into earnings already.
Conclusion
APEI is a good company that has clearly encountered trouble of late. The company's value proposition and competitive advantage are still intact, but there is reason to exercise caution and conservatism in evaluating this company. Based on my brief analysis, it seems pretty unlikely that I'll own shares this time next week, but it is a possibility and I don't regret taking a look.
Disclosure: I have no positions in any stocks mentioned, but may initiate a long position in APEI, STRA over the next 72 hours. I wrote this article myself, and it expresses my own opinions. I am not receiving compensation for it (other than from Seeking Alpha). I have no business relationship with any company whose stock is mentioned in this article.