In my previous ETF (exchange traded funds) article I discussed how I could replace my entire diversified retirement portfolio with 5 ETFs. My idea was that once this portfolio was set up, I could just revisit and adjust it periodically. Time savings through simplicity was the big benefit. You can read that article by clicking this LINK, but I came away wondering the best way to pick from the thousands of similar ETFs on the market. There can even be dozens of ETFs chasing a given index. Today we're going to look at Vanguard's S&P 500 ETF (NYSEARCA:VOO), iShares Core S&P 500 ETF (NYSEARCA:IVV), and SPDR's S&P 500 ETF (NYSEARCA:SPY), in the S&P 500 space. We are then going to compare those ETFs to Vanguard's Total Stock Market ETF (NYSEARCA:VTI) and iShares' Core S&P Total U.S. Stock Market ETF (NYSEARCA:ITOT). You can link to the respective fund family's website for any of these ETFs at the end of this article. The two ways I decide between competing ETFs are by comparing each ETF's costs and each ETF's mix of stock holdings.
"With Investing, you get what you don't pay for" ~John Bogle
Costs
The expense ratio of investments can be a huge drag on returns over long periods of time. The differences in returns probably aren't noticeable over one or two year time periods, but these costs compound and become very significant over longer periods of time (like 10, 20, or 30 years). One of the best discussions I've ever read on the compounding of costs, can be found in John Bogle's Little Book of Common Sense Investing. In the book, Bogle provides his own studies of the negative impact costs can cause on portfolio returns. In fact, the difference between a 7% and a 5% average annual return (because of a 2% annual fee) would reduce the 40 year total return by essentially half.
Portfolio managers have a much easier time charging high fees for actively managed investments than for index style funds. With index funds, the whole purpose of the ETF or mutual fund is to mimic the underlying index as closely as possible. That goal keeps portfolio turnover to a minimum and greatly reduces the portfolio manager's need to strategize and trade. Instead the fund's portfolio is rebalanced on some periodic interval, typically every three month. As a result of this simplicity, the cost differential is very small. Among the 5 funds I'm looking at today, the range of annual fees is only 0.05% to 0.0945%.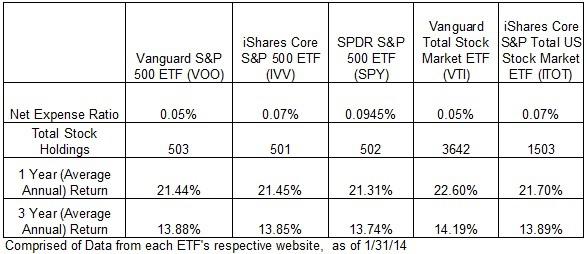 Fund Holdings
A better way to differentiate between ETFs is based on its mix of holdings. Take a look at the five ETFs listed in the table. The first three are virtually identical, except for the expense ratio, as you'd expect. The slight differences in the return for the first three funds are the result of the fees each ETF's management charges. The last two are intended to mimic the entire U.S. stock market. Therefore, instead of only investing only in the approximately 500 stocks of the S&P 500, they own other mid and small cap stocks as well. The Vanguard Total Stock Market ETF owns shares in 3642 companies, while the iShares Core S&P Total U.S. Stock Market ETF owns shares in 1503 companies. Both of these "Total Stock Market" ETFs are market weighted, meaning that a higher percentage of the fund is invested in companies which have a higher total stock value. As a result of the market weighting approach, the company weightings for the top ten holdings (which are identical) are largely the same as in the "S&P 500 Index" ETFs (14.2% VTI or 15% ITOT vs ~17.6% for the S&P 500 ETFs).
The results reported above are for a fairly short time period, because some of the ETFs haven't been around 5 years. Take a look at the differences in the returns between the S&P 500 ETFs and the Total Stock Market ETFs. The returns are very similar, because the holdings of all five of these ETFs are weighted based on their market capitalizations. During the years covered in this chart, the fund with the most exposure to small and mid cap stocks (Vanguard's VTI) outperformed. Later in a bull market cycle the results are likely to be the opposite, but what's important to me is how similar the results of all 5 of the funds are to each other. When I invest in an index ETF, I am seeking diversification. Therefore, I would rather invest in one of the Total Stock Market ETFs, and get S&P 500 exposure plus some exposure to small and mid cap stocks. The (slight) advantage I see with this approach is two fold..
The stocks of different size companies do better at different times in the market cycle. The stocks of small companies (small capitalization stocks) tend to do better earlier in a bull market. While the stocks of large companies (large capitalization stocks) tend to do better in the later stages of a bull market cycle. As this ETF approach is meant to be a passive (hands off) type of investment, I would rather have exposure to the stocks of different sized companies.

The more holdings in a particular ETF, the smaller the percentage of the fund is made up by a given company's stock. Even though the small and mid capitalization stocks make up a very small percentage of the aggregate fund total, they do manage to reduce the exposure to the largest capitalization holdings.
Conclusion
The difference in annual costs (among these 5 ETFs) are insignificant, although I don't know why someone wouldn't just choose the lowest cost option. The more important difference among these ETFs lies in each funds mix of holdings. If I only wanted exposure to the 500 largest U.S. stocks, I would probably choose the Vanguard S&P 500 ETF . I (personally) would rather have exposure to some small and mid capitalization stocks in my portfolio, and would therefore prefer to own Vanguard's Total Stock Market ETF. Clearly, the investments in your portfolio are an individual decision. I'm certain that if you look you will find just the right ETF you and your financial professional have been searching for. There are literally thousands of different ETFs, so selecting one can be a difficult decision. Take your time and remember to keep it simple. The goal is to keep the same (simple) investments for a long period of time, and thereby reduce costs and aggravation. Focus on the costs and the companies whose stock is owned by the ETF, and you will do just fine.
Disclosure:
I do not yet own any of the ETFs mentioned in this article. This article is for informational purposes only and should not be considered a recommendation for anyone to buy, sell, or hold any specific securities. I am not a financial professional. The information above is provided by CNBC.com and each ETF's fund company website (Vanguard's VOO, iShares IVV, SPDR's SPY, Vanguard's VTI and iShares' ITOT)
Disclosure: I have no positions in any stocks mentioned, and no plans to initiate any positions within the next 72 hours. I wrote this article myself, and it expresses my own opinions. I am not receiving compensation for it (other than from Seeking Alpha). I have no business relationship with any company whose stock is mentioned in this article.