Advanced Micro devices (NASDAQ:AMD), a broad line semi conductor company, recently announced some financing restructuring and Fitch published ratings for its new note offerings. This financing will make life much easier for the semiconductor and would enable AMD to focus more on R&D. We will analyze the financial structure of AMD along with some roadmap products anticipated to be launched in 2015.
Roadmap 2015
For 2015, AMD has the Carrizo chip lined up. Carrizo, a successor to Kaveri, will be based on Excavator cores as compared to Kaveri's Steamroller CPU cores. The currently accessible data points toward the fact that although it was expected to be a 20nm process, Carrizo will also be based on a 28nm process. Therefore, when compared with Kaveri there are two significant differences:
Carrizo is Excavator based while Kaveri was based on the Steamroller architecture. Excavator is essentially intended to support more instruction sets like Advanced Vector Extensions (AVX). But with so little information available on the Excavator, it is too early to ascertain how it compares with Steamroller.
Carrizo promises a 65W TDP while high end Kaveris are 95W meaning Carrizo will be more power efficient. Power efficiency is very important as we have seen in the past that low power chips, even those for high end use, have succeeded in gaining market share (think Intel).
The Perceived Disappointment
The key point here is that the company is probably not using a 20nm process and the majority of observers are disappointed by this development. But is this disappointment justified?
There are certain benefits of using 20nm process such as power efficiency; speed and area benefit (i.e. smaller chip and higher performance). TSMC (NYSE:TSM) claims that its 20nm technology can provide a 30% speed boost as compared to its 28nm technology. According to Cadence (NASDAQ:CDNS) there will be a 20% speed improvement at Vdd=0.85V. Therefore, 20nm will be more power efficient as compared to 28nm and so on. However, there are some other aspects that should be considered. The costs will be increased substantially. According to Semico, SoC design costs will increase by around 48% at the 20nm node when compared to the 28nm node. This is not all, with 20nm there are some other issues. Some engineers have suggested that blocks simply ported to 20nm may gain no speed at all after incorporating power and other variations in the mix. In a nut shell, 20nm is a trade-off between performance and cost if one is willing to incur the expense.
From AMD's perspective, we believe it is not a bad move to stick with 28nm for now because it is restructuring and not in a position to increase costs significantly. Nonetheless, the company is promising the 65W Carrizo with a 10-15% performance increase indicating that it has enhanced the power-performance of the chip to some extent and a move to 20nm at a 48% increased cost with only a 20% boost to performance does not seem reasonable. The probable decision to stick to 28nm is not as bad as the sentiment about it in the financial media. We think it is a sensible move for AMD to stick with 28nm for now.
On the servers end, the roadmap puts new Toronto based APUs on 4 x86 Excavator cores and hence suggests that the company is not coming up with 8 core configurations in 2015. An ARM based micro-server, codenamed Cambridge, is also on the roadmap but no details on its specifications are available. It will most likely be an update to the Opteron A1100 that will be shipped in bulk towards the end of 2014. The fact that Cambridge is on the map indicates that AMD's management is confident about its prospects in the dense server space.
Capital Restructuring
AMD is offering $600 million 6.75% senior notes due 2019. This is essentially a refinancing activity as the company plans to use the proceeds to repurchase up to $425 million aggregate principal amount of its outstanding 6.00% convertible Senior Notes due 2015. The remaining net proceeds will be used to repurchase $200 million of AMD's outstanding 8.125% Senior Notes due 2017. AMD will effectively save around $ 1 million in interest costs until (the earliest of) further changes in its financing structure or repayment of notes fall due.
Estimates are as follows:
Assumptions:
Recent tenders will receive 100% response and the note holder will sell the notes now.
Earnings will grow at industry average.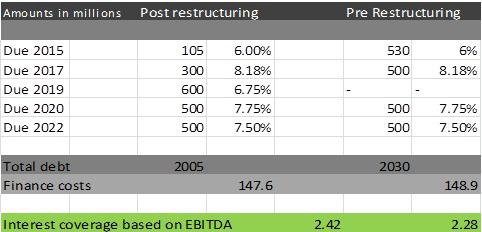 *RCF is not included in this calculation
It seems that AMD will not face short term interest payment problems and it has effectively reduced its interest costs by $1.4 million. The company has a cash balance of around $1 billion, which is expected to reduce in the coming year in the course recent growth prospects.
Recent Fitch Ratings
Fitch rated long term IDR (Issuer Default Rating) at CCC, meaning that it believes there is a substantial credit risk associated with AMD's debt. It has also given RR4 to the senior notes indicating that only around 42% of interest and principal will be recovered in case of default. S&P also rates the company's debt as a speculative investment. However, Fitch assumed that AMD's dense server business will be sold for $250 million and that the APU and graphic business is worth around $1.25 billion. We tend to disagree; micro servers are set to grow because of ARM offerings and analysts estimate that the overall growth for AMD's business will be around 50% in the coming years. We believe that AMD will be able to support its short term interest obligations and will secure other long term financing based on its future prospects. The fact that only $105 million and $ 300 million will be repayable in 2015 and 2017 respectively and that AMD has around $1 billion in cash suggests that the company is able to sustain its interest and repayment obligations. Moreover, with the increase in share of high margin revenue and a 50% improvement in OCF position, the company is set to post positive OCF in 2015 and onwards; indicating that it will be able to maintain its cash position in order to pay long term obligations.
Bottom Line
There are improved products in AMD's roadmap. Excavator appears to add performance as well as a power advantage to company's product line. The 28nm strategy is the right choice at present because of high costs associated with the 20nm based process. AMD's cost savings and focus on high margin revenue segments, which also happen to be growth segments (think semi custom, graphics and dense servers), are likely to pay off and the company will return to its former glory by 2015 and surely the debts rating will also improve.
Disclosure: I have no positions in any stocks mentioned, and no plans to initiate any positions within the next 72 hours. I wrote this article myself, and it expresses my own opinions. I am not receiving compensation for it (other than from Seeking Alpha). I have no business relationship with any company whose stock is mentioned in this article. Equity Flux is a team of analysts. This article was written by our Technology analyst. We did not receive compensation for this article (other than from Seeking Alpha), and we have no business relationship with any company whose stock is mentioned in this article.