By Jeff Bailey
A user asked us recently if it's possible to use our Stock Screener to build a list of companies that, but for stock buybacks, would have reported a decline in earnings per share, or EPS.
Good question. These days, with revenue growth nearly nonexistent in many industries and companies coming to the end of plausible cost cutting to boost net income, one can expect to see more companies with dollar net income decline that manage to eke out an EPS gain. They're on the profit growth fence, so to speak.
After some noodling, our Caleb Eplett, decided the screen is actually quite simple: a list of companies that had EPS growth greater than zero, on an annual basis say, screened against companies that had dollar net income growth of less than zero. Voila!
The list changes constantly, as companies report results in earnings season.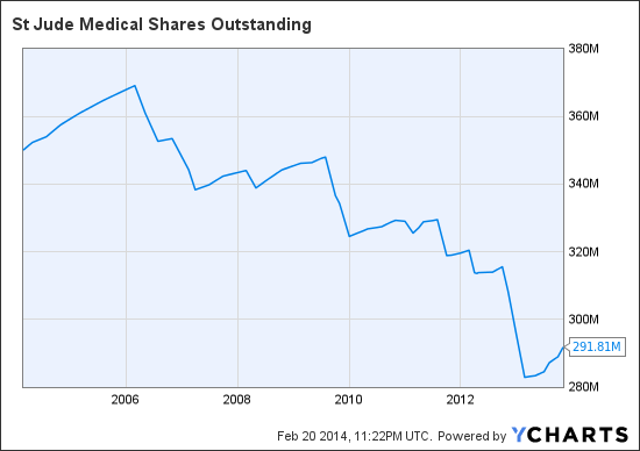 STJ Shares Outstanding data by YCharts
Through the magic of stock buybacks, St. Jude Medical (NYSE:STJ), for instance, suffered a 4% dip in annual net income for 2013, to $723 million. But EPS rose about 4% to $2.49.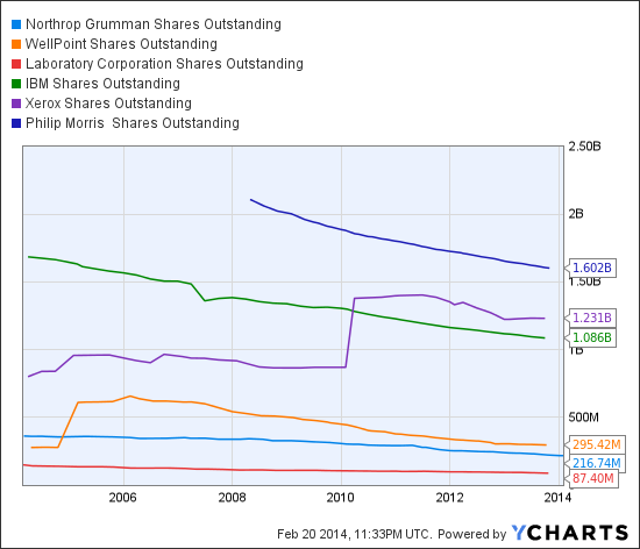 NOC Shares Outstanding data by YCharts
Why would you want such a list? Perhaps to warn yourself off of companies that are losing momentum. Certainly the list will reveal some of the most dedicated stock-buyback artists. Joining St. Jude on the higher EPS/lower net income list are Northrup Grumman (NYSE:NOC), Well Point (WLP), Laboratory Corp. (NYSE:LH), IBM (NYSE:IBM), Xerox (NYSE:XRX) and Philip Morris (NYSE:PM).
Disclosure: None.