If you're among those convinced that profits at Amazon (NASDAQ:AMZN) will matter at some point, how and specifically where the company invests now will be especially crucial. While users have the joy of considering Amazon an Internet retailer, the company itself has the dreary tasks of running more than 80 million square feet of warehouse space, overseeing some 117,300 workers and constantly trying to reduce shipping times to satisfy consumer preferences the company helped create in the first place.
Even Amazon has limits to how much it can invest. Capital expenditures were $3.4 billion last year. We think the fastest way to sustained profits for the company, which has been famously unprofitable during long stretches in recent years, is to concentrate its resources as much as possible, particularly in North America where its business is already more mature and produces stronger margins.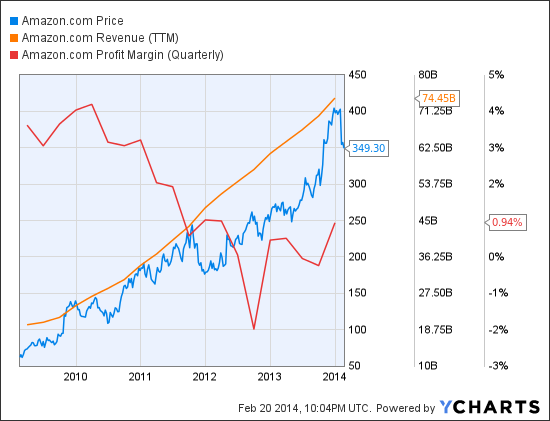 The truth is that few U.S. companies achieve margins abroad that they realize at home. And by the same token, foreign companies operating in the U.S. typically don't do as well as they're accustomed to doing at home. Incumbency has its benefits - the best locations, long-tenured workers, customer loyalty among them.
A good example - and one much farther along in building its business both here and abroad - is Wal-Mart (NYSE:WMT). The company has thousands of stories in foreign countries, some (like in Mexico) creating critical mass very similar to what it has in the U.S. But results overseas lag. In the U.S., Wal-Mart's operating income as a percentage of net sales has long bounced along at about 7.7%. In the international segment, that same statistic is regularly at about 5%.
Amazon, too, is performing better at home than abroad. Its North American segment had 2013 operating income of $1.9 billion, or about 4.2% of sales. The International segment had 2013 operating income of $107 million, or 0.3% of sales. Results in 2012 were very similar.
Amazon, of course, seems to disclose as little helpful information as possible to those trying to understand its business. Some analysts have of late fallen in love with gross margin figures as more indicative of Amazon's promise, though the company itself says in its recently filed 10-K:
"We believe that income from operations is a more meaningful measure than gross profit and gross margin due to the diversity of our product categories and services."
(Even the international segment is fairly concentrated to achieve operating efficiencies: out of $29.9 billion of net sales in 2013, Germany, Japan and the U.K. together account for $25.5 billion, or about 85%.)
Recent results suggest Amazon is concentrating its efforts in North America. Its 2013 sales in the region grew 28%, while international net sales grew 14% (19% excluding unfavorable foreign exchange treatment.) Amazon directs advertising - $2.4 billion last year - to stimulate sales in very specific ways.
What's more, the North American operations may be penalized a bit in the financial statements. Amazon explains:
"A majority of our technology costs are incurred in the U.S. and allocated to our North American segment."
Jeff Bailey, The Editor of YCharts, is a former reporter, editor and columnist at the Wall Street Journal and New York Times.
Disclosure: None