Even as the equity market has rebounded back to its all-time highs interest rates have not seen much of an increase. In fact, over the last month long-term interest rates on ten-year sovereign debt have declined for six of the eight G8 countries.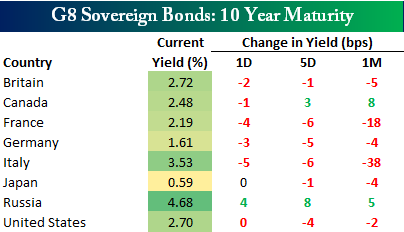 The table above lists the current yield on 10-year debt for each of the G8 countries along with the change today, over the last week, and over the last month. As shown, investors are currently demanding the highest yields from Russia, where 10-year debt is currently trading at 4.68%, which is up 5 bps over the last month and 8 bps over the last week. So, even after hosting the Winter Olympics, Russia has seen little in the way of goodwill from investors. While 10-year yields are the highest in Russia, yields are lowest in Japan where 10-year JGBs are yielding just 0.59%.
While the U.S. has often been considered the safest place to park assets, the yield on the 10-year U.S. Treasury is currently 2.70%, which is above Japan, Germany (1.61%), France (2.19%), and Canada (2.48%). The chart below compares the current yield on 10-year sovereign debt for each of the eight countries listed below. Below that we show the one month change in yield (in bps). While Russia has the highest overall yield and has seen rates rise 5 bps in the last month, the biggest increase in yield has been in Canada where the yield on the 10-year has risen 8 bps. On the downside, Italy has seen the largest decline in yields this month as the yield on its 10-year has declined 38 bps to eight-year lows as investors have applauded Prime Minister Renzi's reform agenda.