Editors' Note: This article covers stocks trading at less than $1 per share and/or with less than a $100 million market cap. Please be aware of the risks associated with these stocks.
I previously wrote about the opportunities that are present in the Dry Bulk Sector when a shipping company is highly shorted and there is a surge in the Baltic Dry Index (BDI). The short squeeze that follows can send the price of the company stock through the roof. Since then, the BDI has come back down, some companies have shown they may not survive, and investors have been playing both the long and short sides of it all.
The BDI
In early September 2013 the BDI surged before pulling back and surging a second time in December 2013. Since then they have pulled back to the pre-surge levels: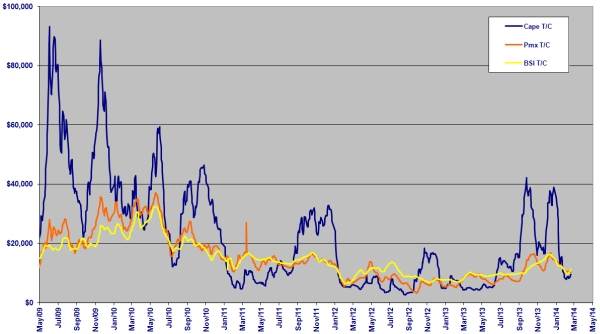 (Source: Dryships website)
Short levels
Not all the Dry Bulk Shippers are created equal, and several companies have demonstrated some serious weaknesses recently.

(Source: Author created using data from shortsqueeze.com)
Genco Shipping & Trading Ltd. (NYSE:GNK) has the highest in terms of volume (13,196,800) and percent of the float (43%). Eagle Bulk Shipping, Inc. (NASDAQ:EGLE) also has a high percentage of their float (29.04%) being shorted. After that, Diana Shipping Inc. (NYSE:DSX), Navios Maritime Partners L.P. (NYSE:NMM), Safe Bulkers, Inc. (NYSE:SB), Navios Maritime Holdings Inc. (NYSE:NM), and DryShips, Inc. (NASDAQ:DRYS) are all sitting between 3% and 4% of their float. This is slightly higher than in September when I first wrote about the opportunities to take advantage of a short squeeze.
Genco Shipping & Trading Ltd.
GNK has seen a steady increase in the short interest since bottoming in October 2013: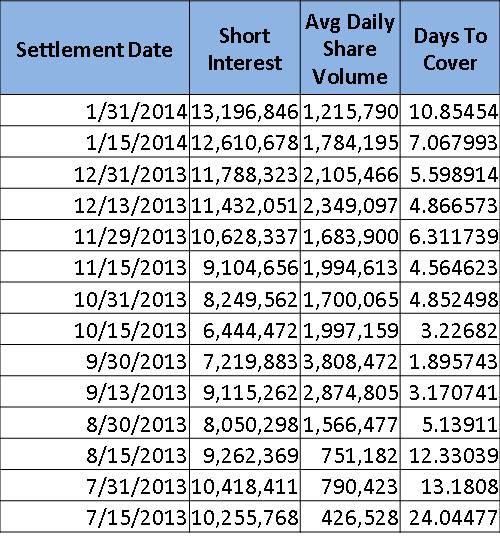 (Source: Author created using data from nasdaq.com)
While the price did climb in September due to the surge in the BDI, since then, the price has fallen sharply: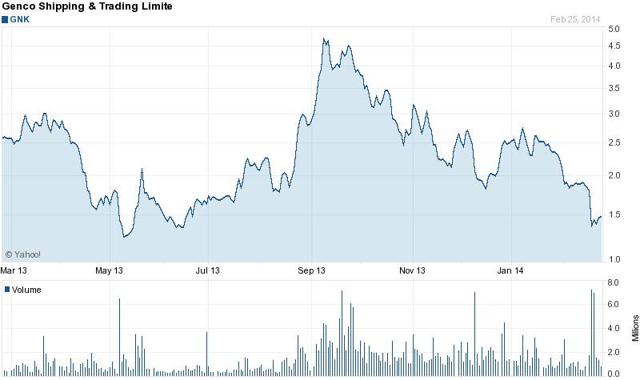 (Source: finance.yahoo.com)
GNK is currently exploring a debt restructuring after it missed a $3.1 million interest payment on its convertible bond. Barring another surge in the BDI, it looks like GNK is headed for bankruptcy.
Eagle Bulk Shipping, Inc.
EGLE has the next highest percentage of shorts at just under 30%. Like many of the other shipping companies, EGLE is burning through cash until the BDI recovers to a level where they can operate with a profit. As of last quarter, it had just under $20 million in cash, which seemed to be holding steady from the three previous quarters.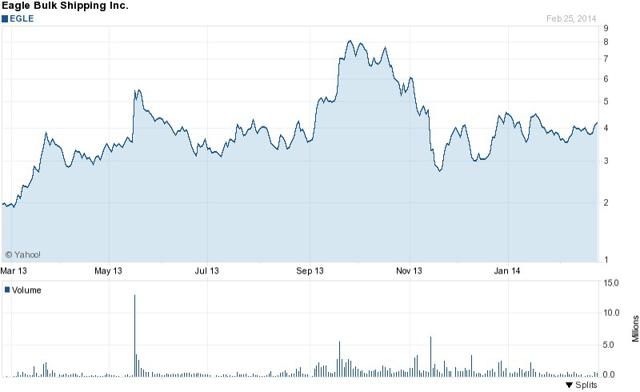 (Source: finance.yahoo.com)
In spite of the pessimism surrounding the company, Zacks recently upgrade the company to a Buy, suggesting they believe the company may be able to turn things around. While I'm hesitant to recommend it to others, it does present an interesting opportunity. With a high level of shorts, and a recent Buy recommendation, it could see positive movement.
And the rest
DSX, NMM, NM, SB, and DRYS are all sitting at around the same percentage of the float. All five of them have struggled through the low BDI numbers, and each has their own worries, but some are looking better than others. DRYS has a strong anchor in its ownership of Ocean Rig UDW Inc. (NASDAQ:ORIG), and can theoretically manage to weather the storm longer than the others. DSX, NMM, NM, and SB all have strong balance sheets with enough cash on hand to give investors' confidence that they are not ready to throw in the towel. As I've pointed out previously, these five companies seem to have the best future in the industry.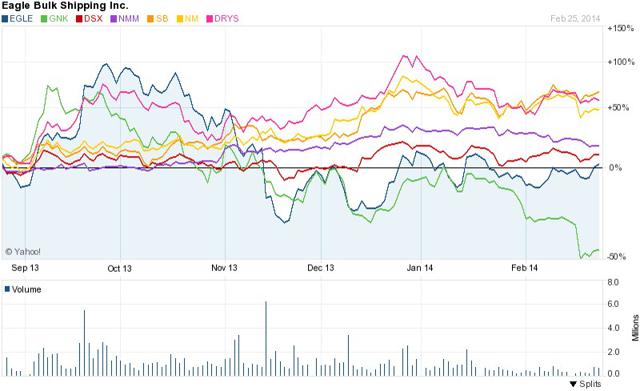 (Source: finance.yahoo.com)
Conclusion
During the recent DRYS earnings release, George Economou, Chairman and Chief Executive Officer of DRYS, commented:
We are very excited about the prospects of the shipping markets. Following a period of oversupply the recent volatility in the tanker and drybulk sectors is a clear sign of a balanced supply-demand picture. Asset prices are rising which is a strong indication of current market sentiment. We are optimistic and expect a sustainable recovery in 2014 and beyond.
I believe the road ahead is still rocky, and will be a struggle for some companies, but everything is pointing towards an improvement in the industry. DSX, NMM, NM, SB, and DRYS all should be strong considerations for any portfolio, after investors do their own due diligence. While I would stay away from GNK, EGLE presents an interesting opportunity as a speculative play. Zacks recent upgrade combined with the high number of shorts could spell short term profits, but I would not recommend it as the basis for a solid investment.
Disclosure: I am long DRYS. I wrote this article myself, and it expresses my own opinions. I am not receiving compensation for it (other than from Seeking Alpha). I have no business relationship with any company whose stock is mentioned in this article.