In 2013, I wrote two articles about Lions Gate (LGF). In February last year, when LGF was trading around $20, I wrote: Is Lions Gate A Likely Takeover Target? I argued that Lions Gate's valuation was too low, and it might attract a strategic buyer. Since then, the stock went up over 60%. In July last year when the stock went up to mid-30s, I wrote: Time To Take Profit On Lions Gate. Given the cyclical nature of the business, I believed at that time the valuation was too rich. Another six months has passed, the stock corrected quite bit, and it is time to re-examine the fundamentals.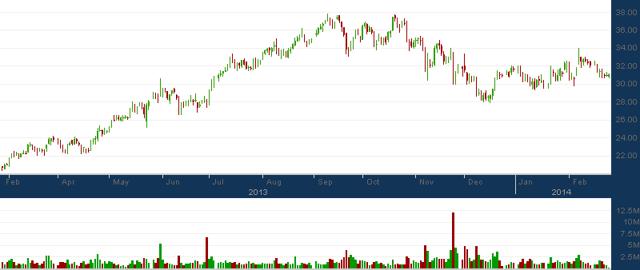 1. The earnings have exceed the expectations
On 02/06/14, the company announced quarterly earnings of 0.59/share, a positive surprise of 34.1% above the consensus 0.44. It will not surprise me that analysts will increase their earnings estimates for next year. In fact, over the past 4 quarters, the company reported earnings have beaten estimates 4 times. The average surprise is 30.4%.
2. "Ender's game" was a bust, but "Catching Fire" is better than expected
"Ender's Game" did not perform very well, and there will be no sequel. It would struggle to make back its $110m budget. On the other hand, "Catching Fire", the number-one movie at the domestic box office in 2013, has generated more than $860 million globally, with a split between $420 million domestic and $440 million internationally. It is a 25% increase from the box office of the original "Hunger Games," with almost all of that increase coming from international. This is an excellent result and better than most analysts expected. There will be two more movies from the "Hunger Games" sequel.
3. The highly anticipated "Divergent" is going to debut on March 21, 2014.
"Divergent" is a highly anticipated movie. Wall street has high expectations, but is also anxious that it may not live up to its expectations. The recent performances of young adult movies are very mixed. With every "Hunger Games", there were a few more "Beautiful Creatures" and "The Host". There is no guarantee that successful books will turn to popular movies. This is probably the reason why Lions Gate's stock price is down recently. I, however, am confident that "Divergent" will be a hit, just as the "Hunger Games" was. I did an unscientific survey. I asked 30 teenagers in U.S. and Canada, aged from 13-17 (20 girls and 10 boys). Nineteen out of 20 girls either read or heard about "Divergent" and they all planned to see the movie. Six out of 10 boys knew the book and planned to see the movie as well. Social media has generated much buzz for this movie. It is quite possible the surprise will be on the upside.
In summary, the recent earning upside surprises, the overwhelming success of "Catching Fire" and my confidence in "Divergent" has changed my opinion on Lions Gate in short term. I will be an opportunistic buyer at current price around $30.50 and will be looking for a 15% return if "Divergent" becomes a hit, as I expected.
Disclosure: I am long LGF. I wrote this article myself, and it expresses my own opinions. I am not receiving compensation for it (other than from Seeking Alpha). I have no business relationship with any company whose stock is mentioned in this article.