Citigroup made news this week when an analyst from the bank noted that the launch of a physically-backed aluminum ETF could cause a spike in the metal's price. David Thurtell, an analyst in London, told Bloomberg that the launch of a physically-backed aluminum ETF could send aluminum prices higher by as much as 24%. Following the tremendous success of physically-backed platinum (NYSEARCA:PPLT) and palladium (NYSEARCA:PALL) ETFs launched earlier this year, speculation has turned to other widely-used metals that could be offered in ETF form.
With interest in commodities as an asset class on the rise, ETF issuers are investigating ways to offer investors exposure to spot commodity prices. Aluminum is one of the most widely-used metals in the world, found in everything from automobiles to packaging. Its widespread use and correlation to industrial activity makes aluminum potentially attractive for a variety of investment uses, including as an inflation hedge or bet on a sustained economic recovery.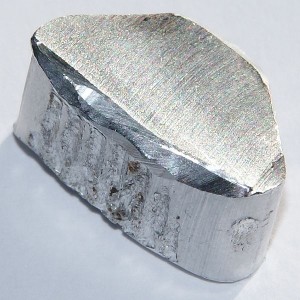 Last month, United Co. Rusal (HKG 0486), the world's biggest aluminum producer, said it was in talks to supply metal to banks for possible aluminum ETFs. It's unclear where these proposed aluminum ETFs would be listed, but London would seem like the most logical location. A physically-backed aluminum ETF would likely be appealing to a lot of investors. But the logistical barriers are simply too great for such a product to be viable.
In order to make sense in a physically-backed ETF, the underlying commodity must have a relatively high value-to-weight ratio. It's no coincidence that the commodities currently available through physically-backed ETFs – gold, silver, platinum, and palladium – are among the most valuable metals in the world. A ton of gold is worth about $36 million at current levels, while platinum is even more valuable. Silver isn't nearly as valuable, but a ton is still worth well more than $500,000.
Aluminum is currently trading at about $2,100 per ton. According to the LME, storing aluminum in Detroit costs about 39 cents per day per ton. That works out to about $142 per year, or 7% of the current price. Even if an issuer could cut storage costs in half, the expenses associated with a physically-backed aluminum ETF would appear to be prohibitively expensive.
Other Options
There's already one option available for investors looking to gain exposure to aluminum prices. The iPath Dow Jones-UBS Aluminum ETN (NYSEARCA:JJU) is linked to an index consisting of a single aluminum futures contract. Some investors dislike a futures-based strategy because contangoed markets can create strong headwinds that must be overcome to just break even. This generally isn't the case with a physically-backed product because the value of underlying holdings moves in lock step with changes in spot prices. But when forking over 5% or more to cover storage costs, investors will find themselves in a similar hole.
Given these potential limitations, it might make more sense to achieve exposure to aluminum prices through companies involved in production of the metal. Global X recently filed for SEC approval on a fund that would track the Solactive Global Aluminum Index, a benchmark made up of companies primarily involved in the aluminum industry. Because the profitability of these companies depends in large part on the prevailing market price for aluminum, stock prices tend to exhibit a strong correlation with commodity prices.
Exposure to natural resource prices through commodity intensive equities has become an increasingly popular strategy in recent years; there are currently about 20 ETFs in the commodity producers equities category, including funds focusing on gold and silver miners.
Disclosure: No positions