The housing price gains in 2013 may have been a mirage. We know that's not what homeowners want to hear, yet there are underlying conditions propping up the housing market that suggest prices will need to revert to where they were last January in order to keep the housing recovery going.
A severe disconnect in the purchasing market has developed. Over the last several months, existing home sales growth has been buoyed by a large influx of all-cash buyers. These buyers, who are primarily investors, are crowding out first-time homebuyers and driving up prices.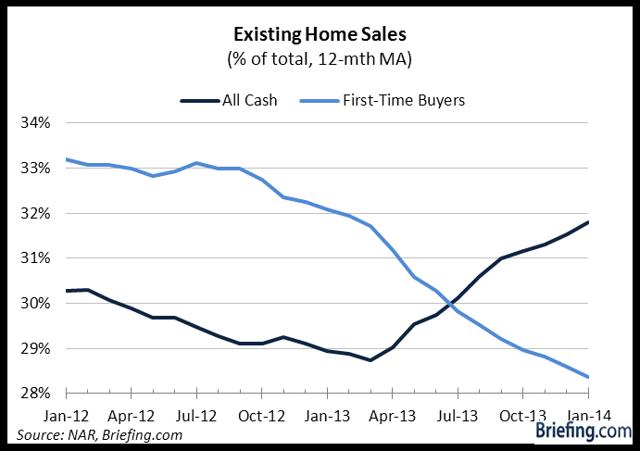 Sales of distressed properties, which investors favor, have been accelerating for the past few months just as non-distressed demand has weakened.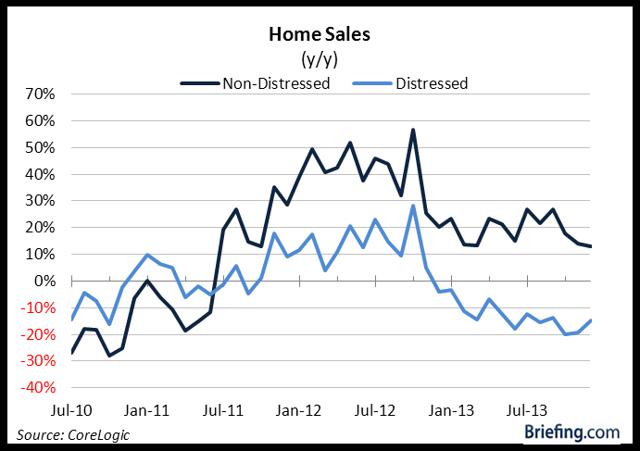 The large drop in mortgage purchase applications is a direct result of this shift in demand. First-time homebuyers, who tend to need mortgages, have stopped applying. The question is: why have potential buyers stopped applying for mortgages?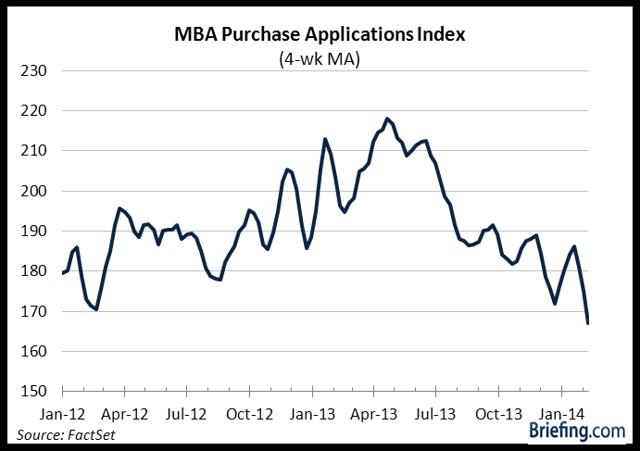 One possibility is that first-time home buyers do not believe they would qualify for a mortgage. However, credit standards have loosened considerably over the last few years.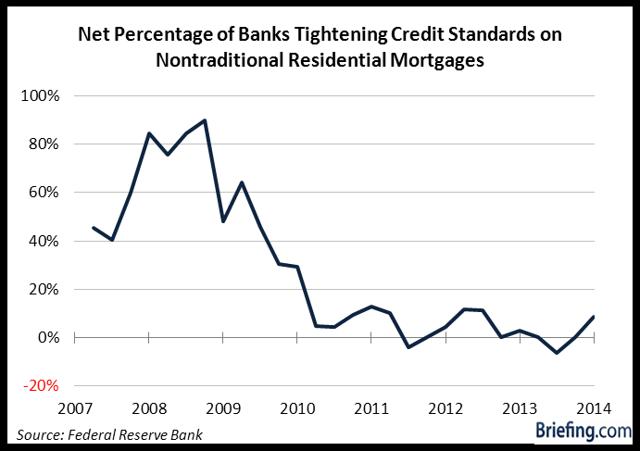 A more likely explanation is that first-time home buyers have been effectively priced out of the market. Rising home prices, soft income growth, and higher mortgage rates caused housing affordability conditions to weaken for much of the last year.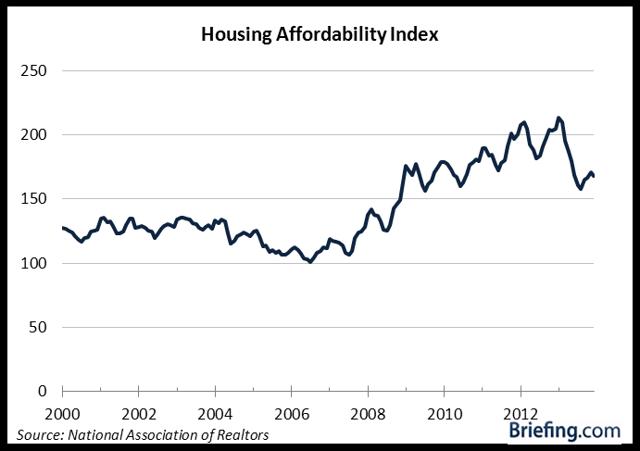 Unfortunately, investor demand cannot prop up the housing market indefinitely. Inventories of distressed properties have dropped dramatically over the last year.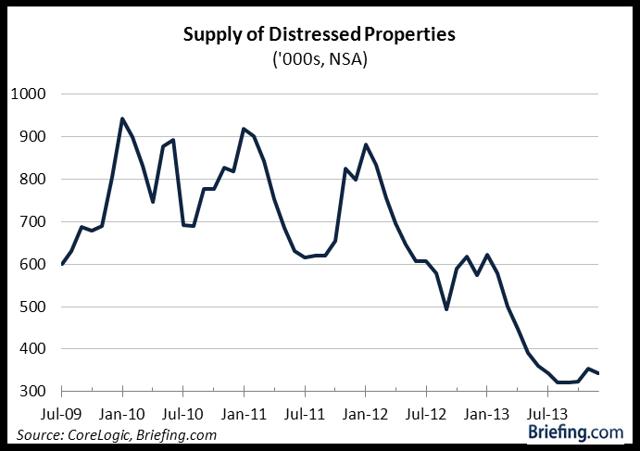 Meanwhile, the shadow inventory - which includes homes that are more than 90 days delinquent, homes in the foreclosure process, and homes that are bank-owned but not listed on the MLS system - has been declining for years. Given this trend, it is unlikely that the inventory of distressed properties available for sale will rise anytime soon.
That means investors, who have been snapping up the distressed properties and providing the upward momentum for home sales and prices, will likely start dropping out soon.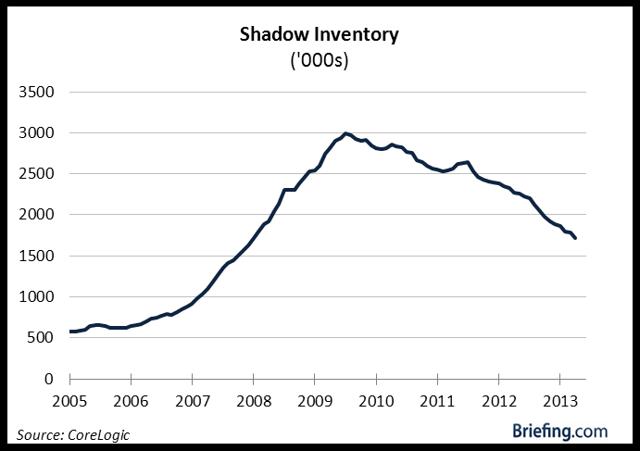 First-time home buyers will need to step in and offset the lost investor sales.
In order for this to happen, our estimates show that affordability conditions need to revert to where they were in January 2013. At that point, first-time home buyers represented 32% of the existing home sales market and all-cash purchases consisted of 29% of total sales. That would be a complete reversal of current sales activity.
Since January, mortgage rates have increased more than 100 bps. That move offset any gains in income over that time period. In order for affordability conditions to return to January levels, prices will need to fall back to where they were in January.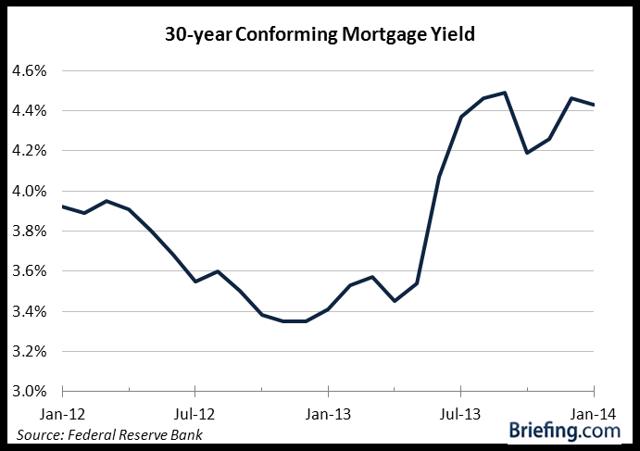 Any housing price increase that occurred in the last year came as a result of unsustainable investor demand. The 13.4% increase in the Case-Shiller 20-city index in 2013 will likely reverse in the near future.
Disclosure: I have no positions in any stocks mentioned, and no plans to initiate any positions within the next 72 hours. I wrote this article myself, and it expresses my own opinions. I am not receiving compensation for it. I have no business relationship with any company whose stock is mentioned in this article.