Time to do a little trimming in my Wall Street Survivor portfolio. I was a little hesitant to trim last week because I realized that last week's negative market action was hitting everything and performance figures were not representative of any individual stocks worth. I have identified two stocks that I think just aren't going to have upward price momentum in the near future, so I'm deleting them.
Kratos Defense and Security Solutions (NASDAQ:KTOS) has downward price momentum and is now trading below it's 50 day moving average. The stock has moved down for the last 3 weeks and has decreased in price 11.20% in the last 30 days . Barchart also has 9 of 12 technical sell signals for an overall sell score of 48%.
Cameron International Corp (NYSE:CAM) also has downward price momentum and has been down by 17.84% in the last 30 days. It presently trades below it's 100 day moving average and has a 72% overall sell signal on Barchat.
I am adding a stock and continue to be in the market for two reasons:
The Conference Board's economic indicators are positive for the first time in a long while, with the leading, coincident and lagging indicators all showing gains last month
My proxy for the stock market, the Value Line Index (contains 1700 stocks) has almost recovered back to the pre-market fiasco of last week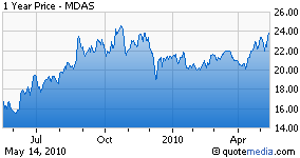 My addition is Medassets (NASDAQ:MDAS). The company designs software to help hospitals and other medical facilities identify opportunities to improve revenue, margins and cash flow. With all the health initiatives the government is pressing for I still think healthcare is a growth industry and anything that helps turn a profit ought to do well.
Let's go through the process I used to find this company and the reason I'm adding it to my portfolio.
Technical price momentum -- Barchart screens tell me this stock hit new highs in 12 of the last 20 trading sessions and also in 4 of the last 5 sessions. The stock is up by 19.61% in the last 30 days. Barchart's technical indicators signal 12 out of 13 buys for an overall Barchart technical buy score of 96%. The stock trades around 35.50 with a 50 day moving average of 28.29.
Wall Street fundamentals -- Wall Street analysts like the stock with 14 buy, 7 hold and no negative recommendations released. They think sales will increase 15.70% this year and 14.70% next year. They predict double digit improvement in earnings per share with estimates that earnings will increase 12.20% this year, 23.90% next year and continue on a 5-year annual compounded growth rate of 19.21%
Investor sentiment -- Over on Motley Fool CAPS members think the stock will out perform the market by a vote of 40 to 10 with the All Stars in agreement 19 to 3. Fool notes that all 10 articles published about the company have been positive.
The stock meets the criteria I look for:
The company seems positioned in a market that will have growth.
The recent price momentum has been positive and Barchart has a 96% technical buy signal.
Wall Street has buy recommendations published and expecting increases in sales and earnings.
Investor sentiment on popular websites is positive.
Disclosure: No positions