One of the most difficult parts of being an investor in Apple (NASDAQ:AAPL) has become dealing with the cacophony of rumors, stories and news releases that seem to permeate the day-to-day coverage of the stock. As investors we should stick to the basics and present opinions based on the financial balance sheet view of the company. In this article, I will focus mainly on the two biggest contributors to Apple's revenue (iPhone and iPad) and present my estimate using a discounted cash flow model. Investors can argue about the tremendous growth potential for this company if it introduces products such as the iTV, iWatch and a mobile payment system. But the keyword in the above statement is "if"- value of a business cannot be estimated on mere speculation.
For the last 12 months, Apple reported revenue growth of 5.6 percent to $174 billion. However, in the same period operating income and net income dropped by 10.6 percent and 11.3 percent to $55.1 billion and $41.75 billion, respectively. For FQ1 2014, revenue rose 5.7 percent to $57.6 billion, operating income rose by 1.5 percent to $17.46 billion and net income stayed flat at $13.07 billion. The graph below illustrates the quarterly revenue, operating income and the net income generated since FY 2011.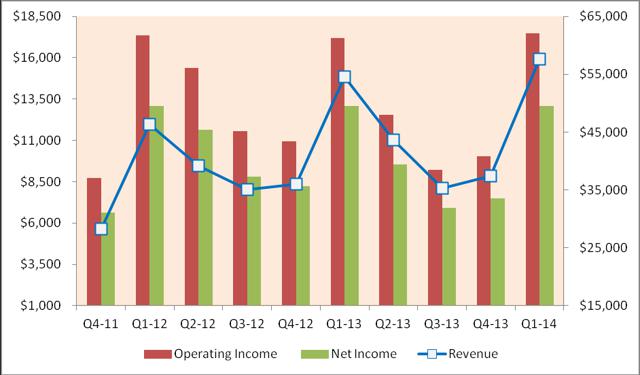 Figure Source : 10-K
iPhone
The share of iPhone sales to total revenue has increased from 42.5 percent in FY 2011 to 53.4 percent in FY 2013. iPhone units sold increased from 73 million in 2011 to 150 million phones sold in FY 2013. However, the average selling price per phone fell by 5 percent during the same period, highlighting the increase in competitive threats for the company. In 2013 just over one billion smartphones were sold worldwide compared to 725 million in 2012 - a rise of 38%. In 2012 Apple held 19% of the world's smartphone market. By 2013 it had fallen to 15%. These impressive figures show this is still a tremendous market and a company with a 15% share of this multi-billion dollar market cannot be considered weak.
iPad
Apple sold 71 million iPads in FY 2013, a business segment demonstrating faster penetration rates than iPhone. Apple once again led the worldwide market for tablets, shipping 26 million units during the quarter, up from 14.1 million the previous quarter and 22.9 million in 4Q 2012. Apple suffered two consecutive quarters of share loss in the worldwide tablet market last year. However, even as it lost market share in the second and third quarters of 2013, Apple managed to maintain its position as the No. 1 tablet vendor in the world. Rising competitive threats forced the company to lower the average selling price for iPads from $592 in FY 2011 to $450 in FY 2013. Declining ASPs highlight the challenges Apple currently faces, as it attempts to grow the tablet business in markets outside United States. A 24 percent drop in ASPs for iPads along with a 5 percent drop in ASPs for iPhone explains the margin compression which the company has experienced since Q2 FY 2012. During the course of the year, we have seen a slowing of revenue growth and pressure on margins, both of which have contributed to declining stock prices.
The graph below illustrates the operating, net and gross margins for the company since Q4 FY 2011. Reversal in declining cost of goods sold reinforces the fact that company is taking a severe hit on the margins to gain market share.
Revenue which Apple generates from the iTunes, software and services segment continues to show impressive growth. Revenue has grown from $9.3 billion in FY 2011 to $16.0 billion for FY 2013. This growth reflects continued growth in the installed base of iOS devices, expanded offerings of digital content and apps. iOS remains the number two operating system as the launch of a lower-cost iPhone and the deal with China Mobile has given it greater reach into one the world's fastest growing smartphone markets.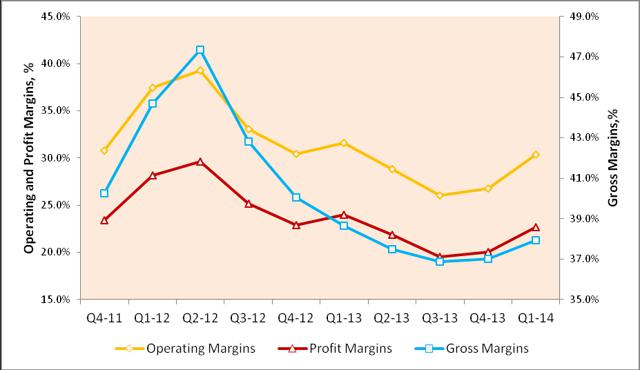 Figure Source 10-K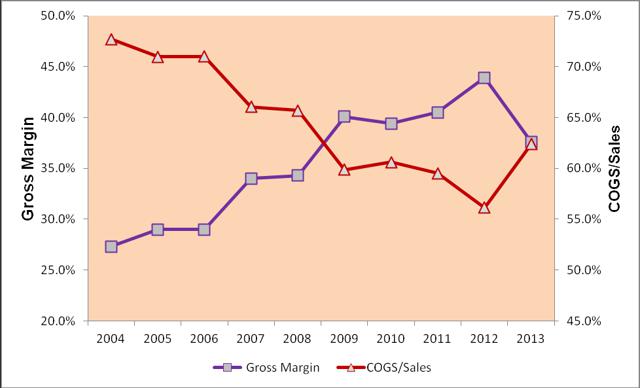 Figure Source 10-K
Growth Drivers
Gartner expects the smartphone market to more than double from 2012 to 2015, providing Apple with avenues for iPhone growth. Total smartphone shipments are forecast to reach 1.7 billion units in 2017. Demand for smartphones will continue to be strong across all geographies and further adoption in developing regions of the Asia Pacific, Middle East and the Africa will drive much of the growth through 2017. Longer term, Apple should still attract late smartphone adopters in developed markets and new customers in emerging markets, especially as Apple's partnership with China Mobile, the world's largest wireless carrier, begins to pay dividends. As more consumers become experienced smartphone owners, rather than first-time buyers, Apple should be able to retain a sizable portion of its iOS user base today, and perhaps gain additional share at the high end of the market.
Over the next four years, total shipments in the mobile computing market are expected to shoot up to 450 million units, 75 percent of which are tablets. Market researchers are projecting that the upcoming generation of today's iPads will continue to dominate the competition. Apple achieved a 19.5 percent slice of global, combined PC and tablet sales in 4Q 2013.
Valuation
My fair value estimate is based on using the discounted cash flow model.
Used a discount rate of 11.64 percent for Apple. Since Apple is a multinational company, I have used the revenue breakdown by region to determine weighted equity risk premium.
Capital Structure: Equity - 96 percent weight and debt - 3.88 percent weight (after converting operating leases to debt).
Assumed a very conservative compounded annual revenue growth rate of 3 percent over next 5 years.
Used a target pre-tax operating margin of 27.5 percent (almost 100 basis points lower than existing operating margin).
Subtracted employee options as the cost to shareholders (outstanding as per company's 10-K).
For sales/capital ratio, I have used the US Industry average of 2.66.
With above mentioned factors, my discounted cash flow model estimates Apple at $585/share. With the stock trading at $517, gap between value and market price is $68/share. I also performed regression analysis of the free cash flow generated on several variables to determine the key drivers which will have an impact on Apple's stock price. Key drivers to watch are:
Revenue Growth
Pre-Tax Operating Margin
Reinvestment Rate
Part of the unpredictability in Apple's share price comes from the mix of growth, value and momentum investors who drive the price and part of it comes from the rumor/news ecosystem that the market has developed to fill in the news vacuum created by Apple's secrecy about its future plans. The magnitude of this gap will narrow down if we get more clarity from Apple's management on the pipeline of future products and their expected launch timing.
Disclosure: I am long AAPL. I wrote this article myself, and it expresses my own opinions. I am not receiving compensation for it (other than from Seeking Alpha). I have no business relationship with any company whose stock is mentioned in this article.
Additional disclosure: I am long AAPL through options.