The market has rebounded from the lows in January and this has helped to push some stocks up to trade near 52-week highs. One of those stocks is Alcoa, Inc. (NYSE:AA), which is trading near its 52-week high of $12.32 per share. Investors frequently discuss "buying opportunities," but the term "selling opportunity" is less common. I believe the recent surge in Alcoa shares is a selling opportunity for a few reasons. Let's take a look at the chart below and review the reasons why investors may want to consider taking profits now: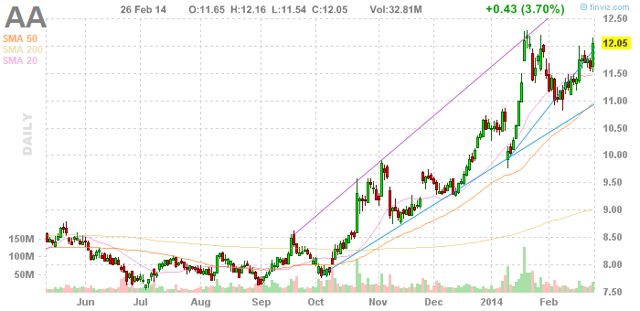 Reason # 1: As the chart above shows, Alcoa shares were trading for about $8 in July, August, September and October and have since seen a huge rally to around $12. This is a gain of around 50% in just a matter of months. This rally has added billions of dollars worth of value to Alcoa's market capitalization, which currently stands at nearly $13 billion. The problem is that the rally appears to have gone too far and therefore it may fade. The Relative Strength Index or "RSI" is now around 62, which is near overbought levels. This could be indicating the stock is due for a pullback. Alcoa shares are also trading well above key support levels such as the 50-day moving average of $10.97 and it is way above the more important 200-day moving average which is $9.04 per share. Although the stock market has been in "rally mode" for the past few days, a pullback or more significant market correction could take Alcoa shares back down to the 50 or 200-day moving average levels.
Reason # 2: The surge of nearly 50% in Alcoa shares does not seem to be warranted based on the fundamentals. The market has been rising lately and that can't hurt, but the news over the potential increased use of aluminum by automakers like Ford (NYSE:F) and General Motors (NYSE:GM) seems to be the major reason for the big gains in Alcoa. However, investors seem to be overly euphoric about this because the use of aluminum appears to be limited to mostly pickup trucks. While this is still clearly good news, it certainly doesn't appear to justify the huge gains in Alcoa shares. Alcoa has annual revenues of roughly $23 billion, so it is going to take a lot more to move the needle when it comes to revenues and profit growth. With the "needle" on the stock having moved by about 50% in the past few months, it seems that the good news on aluminum trucks is more than priced into the shares. The rally to new 52-week highs might not be sustainable if too much of it has been fueled by momentum traders and short-covering. As most investors know, short-covering rallies and interest from momentum traders can be very fleeting.
Reason # 3: Alcoa has a significant debt load and the earnings per share estimates do not appear to support the current valuation of the stock. Alcoa has about $1.44 billion in cash on the balance sheet and around $8.32 billion in debt. That is a significant debt load, which could become a source of concern if the global economy were to go into another recession. Another big concern is the price to earnings ratio, which is very high compared to the market average of about 16, especially since the aluminum business is highly cyclical. Analysts expect Alcoa to earn about 35 cents in 2014 and 59 cents in 2015. That puts the price to earnings multiple at about 35 times for 2014 and around 20 times for 2015. This makes the stock appear overvalued, which could make it ripe for a pullback. Even if there is no significant pullback, Alcoa shares could be "tapped out" and therefore might be unlikely to offer investors much in the way of additional upside for the risks they are assuming.
Reason # 4: Investors should always ask themselves if they would buy a stock at the price it is currently trading at, even if they paid a much lower price. Investors who bought Alcoa shares when it was cheap at roughly $8 per share have big gains now. However, if they would not be buying the stock at $12, then it might make little sense to keep it because doing so could be a mistake and the gains could fade. An even bigger issue might be related to opportunity cost. Alcoa shares might be poised for a decline, or the stock might not go anywhere for a long time. If Alcoa shares are "tapped out" for the foreseeable future, and other stocks are better values and poised to outperform Alcoa, then the opportunity cost of staying invested could be significant. For example, I recently wrote about another company in the metals sector called Global Brass and Copper (NYSE:BRSS). As detailed in the article, this company is poised to benefit from new regulations for lead-free water pipes, continued strength in the housing and construction sectors and the potential for more demand from the U.S. Mint. Global Brass and Copper is not as well known as Alcoa, but the stock is a much better value as it trades for just around 7 times earnings. It is also worth noting that a "smart money" hedge fund billionaire named Ken Griffin has taken a major stake in Global Brass and Copper that represents about 6% of the entire company. While Alcoa appears overbought and the valuation appears stretched, stocks like Global Brass and Copper appear to offer significantly more upside potential in the metals sector. You can read more about Global Brass and Copper (my top pick in the metals sector now) here.
In summary, Alcoa shares appear ripe for profit-taking. The recent rally has put the stock at overbought levels and the valuation appears too rich. The good news on aluminum-bodied trucks seems to be more than priced into the stock, and a high debt load at Alcoa should not be ignored. Investors who are complacent and don't use major rallies like Alcoa has experienced could be missing out on a great "selling opportunity." Finally, staying invested in Alcoa could be creating a opportunity cost when the valuation seems so stretched, especially as there are some real stock bargains to consider in the metals sector.
Here are some key points for Alcoa, Inc.:
Current share price: $12.05
The 52 week range is $7.63 to $12.32
Earnings estimates for 2014: 35 cents per share
Earnings estimates for 2015: 59 cents per share
Annual dividend: 12 cents per share which yields 1%
Data is sourced from Yahoo Finance. No guarantees or representations
are made. Hawkinvest is not a registered investment advisor and does
not provide specific investment advice. The information is for
informational purposes only. You should always consult a financial
advisor.
Disclosure: I am long BRSS. I wrote this article myself, and it expresses my own opinions. I am not receiving compensation for it (other than from Seeking Alpha). I have no business relationship with any company whose stock is mentioned in this article.