One of the best ways to generate above average gains is to identify great companies that have temporarily stumbled. The stumble could be caused by a multitude of different factors, from a failed merger, inclement weather, a manufacturing plant shutdown or a data breach. The Street predictably takes a negative view on these companies, marking their respective shares down to a bargain level. It is at this exact moment the patient long-term shareholder has the greatest advantage over the hyperkinetic noise emanating from the establishment. By simply buying the shares on sale and waiting, investors can garner an above average gain with far less risk. Due to the incessant negative media barrage, sentiment on the offending company's shares is beaten down to a level where most of the risk is taken out of the equation.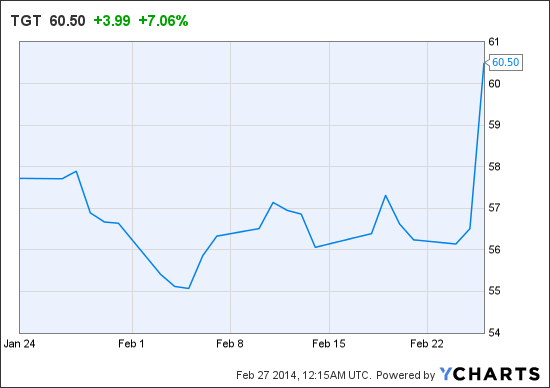 Target (NYSE:TGT) neatly fell in to the above mentioned definition quite well in the early part of February. I initiated a position at $56 per share and wrote about the reasoning behind my decision, which can be viewed here. The article below will highlight some key metrics discussed during the most recent conference call. The article will focus on three key areas: namely, the Canadian operation, the continuing expansion into the mobile realm and finally TGT's capital allocation plans.
I would like to start by focusing on the Canadian division, which has caused TGT's CEO Gregg W. Steinhafel many a sleepless night. TGT has invested over $1 billion in 2013 to outfit the old Zellers chain into modern Target locations in an effort to expand overseas. TGT correctly views Canada as fertile expansion ground, as the average income levels dovetail nicely with TGT core shoppers.
The Canadian division has been open for business with approximately 124 stores for roughly six months. The division managed to post $1.3 billion in sales, yet profits were elusive as the division reported a 40 cent per share loss. Management blamed the losses due to over budgeting for payroll combined with the wrong product assortment. TGT was very aggressive in the fourth quarter in reducing its bloated inventory levels, which should improve sales numbers going forward.
In an effort to generate traffic and build further brand loyalty in Canada, TGT is resorting to some rather aggressive promotions. The promotions available are its everyday pricing combined with a price match guarantee. It is running some aggressive ads in its flyer, along with rewarding shoppers with 5% off their purchases if they use TGT branded credit card known as the REDcard. In my view, management is pursuing a very aggressive marketing campaign to lure shoppers into the stores. Wal-Mart (NYSE:WMT) has a large presence in Canada and is viewed as one of TGT's main competitors. WMT will aggressively look to protect its market share by running similar ads to those offered by TGT, adding to the degree of difficulty TGT will face in attracting additional customers to its northern most stores. I suspect the endeavor will bear fruit, however, the division will still show a loss for this year. I suspect losses will firm up quite a bit, which should propel the shares higher. I will continue to watch the progress of the Canadian division rather closely, as any positive improvement will have an outsized impact on TGT's share price.
The second area I would like to highlight is TGT's continued push into the mobile space. TGT rolled out a mobile savings tool dubbed Cartwheel last year and the results have exceeded management's expectations. TGT further experimented with in-store pickup during the holiday selling period. The beauty of the in-store pickup is two-fold. The first one is this option allows the customer to bypass shipping fees, which can help neutralize the effect of online-only competitors, most notably Amazon.com (NASDAQ:AMZN). Neutralizing the threat that online retailers pose is critical for all brick and mortar retailers, TGT included. As a greater percentage of shoppers flock to online purchases, traffic in stores will drop, posing its own unique set of challenges to company management. The marketing department will need to continue to find innovative ways to draw traffic into the stores, with TGT looking at its Cartwheel app as a new innovative way to drive foot traffic into its locations.
The second effect became more obvious as the sales data was analyzed. Of the TGT guests who picked up an item ordered online in the physical store, 30% purchased additional items during the trip. The average sales ticket was also larger than average, which further adds to the appeal of the program. I expect TGT to continue to leverage this data and offer more promotions via its Cartwheel app tied in with free in-store pickup in an effort to drive further traffic into its stores.
I would like to conclude by analyzing TGT's capital allocation plans for 2014. TGT made a commitment on this conference call to raise its dividend by 20% this year. A 20% hike would raise the quarterly payout from 43 cents per share to 51.5 cents per share. A hike of this magnitude would lift the yield above 3%, which is comfortably above what a 10-year US treasury bond is currently offering. TGT further committed roughly $1-2 billion in anticipated share repurchases this year. The repurchase plan should commence in the second half of the year. As a TGT bull, I am delighted to hear this, as my yield will continue to rise while my share of the business increases as the company reduces shares outstanding. I view this as an ideal situation for the dividend growth investor.
In summary, the bar was set quite low for TGT coming into this earnings report. The company easily hurdled expectations, then showered investors with excellent news, revealing its commitment to a dividend hike and share repurchases. I am long TGT and smiling, as my timing proved to be quite fortuitous. Thank you for reading and I look forward to your comments.
Disclosure: I am long TGT. I wrote this article myself, and it expresses my own opinions. I am not receiving compensation for it (other than from Seeking Alpha). I have no business relationship with any company whose stock is mentioned in this article.
Additional disclosure: Thank you for reading the article. Investors are always reminded that before making any investment, you should do your own proper due diligence on any name directly or indirectly mentioned in this article. Investors should also consider seeking advice from a broker or financial adviser before making any investment decisions. Any material in this article should be considered general information, and not relied on as a formal investment recommendation.