The $25 smartphone has arrived and it is a pretty solid device. Spreadtrum Communications and Firefox introduced the device at Mobile World Conference and for markets where cost is a real barrier, it will be a popular option.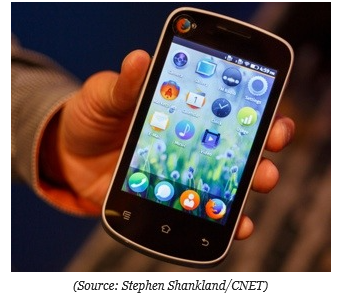 While the device is not a threat to high end smartphone makers, it is a sign of the direction the smartphone world is heading - lower average selling prices ("ASPs"). Two forces will drive the trend - the end of subsidies and the introduction of fully featured lower cost smartphones with impressive performance.
Subsidies for smartphones are on their way out and prepaid phones are replacing them on "contract fee" voice and data plans. NPD Group predicts that 5 out every 6 smartphones sold in emerging markets will be a prepaid device.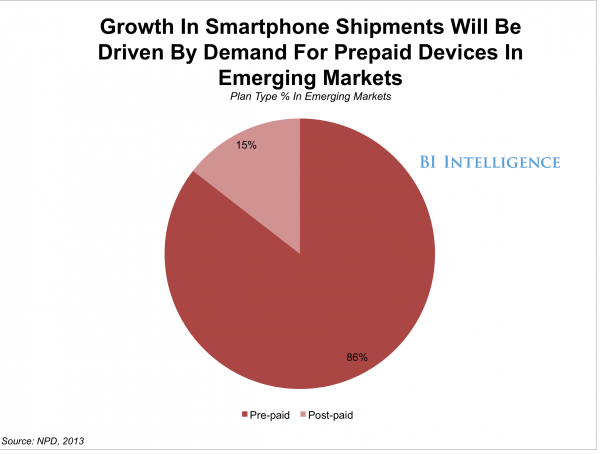 Until recently and particularly in developed markets, high subsidies have prompted faster replacement rates for smartphones, boosting demand by shortening the upgrade cycle according to analysis by industry expert Roger Entner, the founder of Recon Analytics.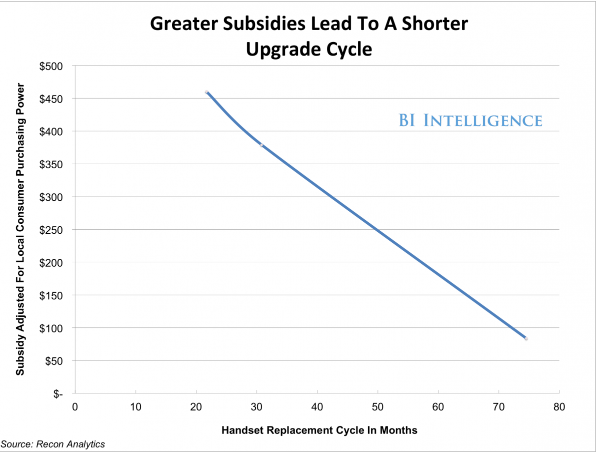 That cycle seems to have run its course. The market share of unsubsidized prepaid smartphones is increasing rapidly according to research by NPD Group.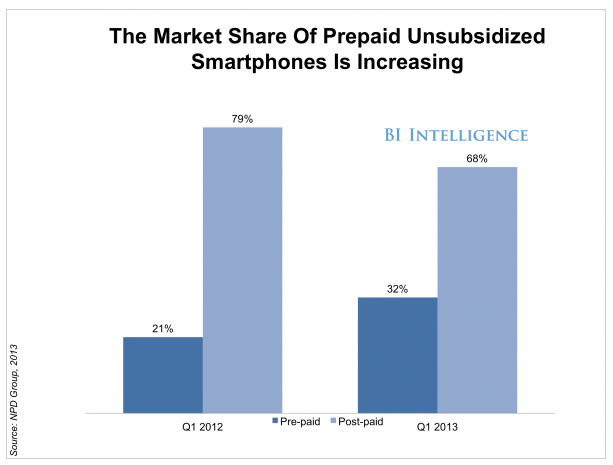 As you might expect, the shift away from subsidized phones is encouraging users to keep their smartphones longer, lengthening the upgrade cycle thus slowing growth in demand.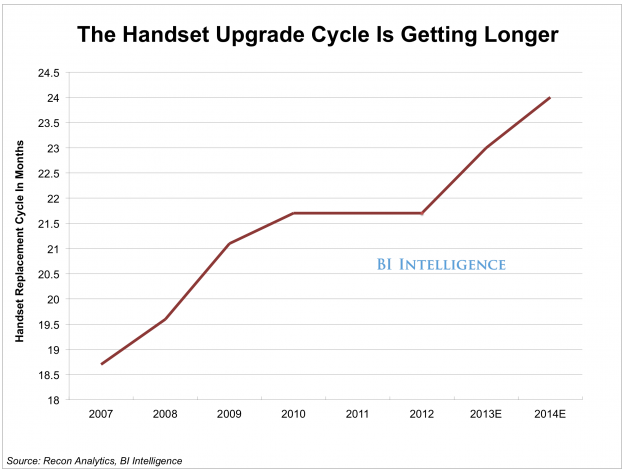 What is worse for high end smartphone vendors is that just as the replacement cycle is getting longer, new users are being offered fully featured unlocked prepaid smartphones for less than $200. Investors who write these new smartphones off as "cheap" or "junk" or in some way inferior are in for a surprise and likely an unpleasant one.
Mediatek is promising sub-$200 Octo-Core LTE smartphones, as described by this passage from an article in PC Magazine on February 11, 2014 [emphasis added]:
"Known for building cheap Chinese phones out of cheap Chinese chips, MediaTek is trying to vault across the Pacific in 2014, flying on its just-announced MT6595 chipset. The MT6595 is the first Mediatek chipset to deliver the things U.S. carriers are looking for: quad-core ARM Cortex-A17 CPUs buttressed by four smaller, lower-power A7 processors and an integrated modem with Category 4 LTE falling back to HSPA+ 42.

In plain English, that's a chipset that would fall very easily into AT&T (NYSE:T) or T-Mobile's (NASDAQ:TMUS) lineups. (Sprint (NYSE:S) and Verizon (NYSE:VZ) would require a CDMA modem, which won't arrive until the next generation of this chipset.) So MediaTek has gone into the carrier labs to get the chip cleared, a process which will take several more months, said Mohit Bhushan, MediaTek's marketing vice president.

"There is really no good reason why phones with good displays should cost $700-800," Bhushan said. "For $100-200, we can provide phones based on platforms like this one."

The MT6595 is going to be pitched as less expensive than alternatives from Qualcomm (NASDAQ:QCOM), Nvidia (NASDAQ:NVDA), and Intel (NASDAQ:INTC), but it isn't just low cost. It supports 2,560-by-1,600 displays, 20-megapixel cameras, and H.265, 4K video recording and playback. The chip offers similar speeds to the Cortex-A15s in current chipsets like the Nvidia Tegra 4, but uses 30 percent less power, Bhushan said."
Caught in the cross fire between the slower demand growth and growing number of lower cost smartphone alternatives is the average selling price for smartphones. BI Intelligence forecasts that the global average selling price for smartphones will decline from about $335 in 2010 to about $200 in 2016.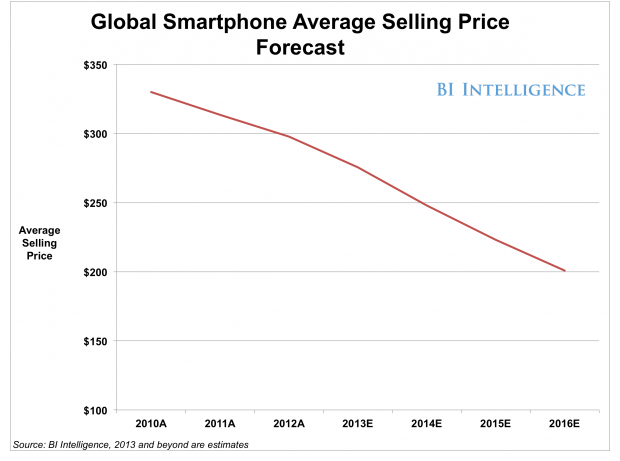 The pressure on price is most evident in emerging markets where users have lower incomes and where device alternatives from vendors like Micromax, Karbonn, Xiaomi, Coolpad, Lenovo, Oppo, and Gionee seem to be prolific. Carriers average revenue per user in China is less than $10 and in India less than $3 per month according to the Financial Times infographic shown below. Fully featured smartphones range from a low of $326 for a Xiaomi Millet 3 to a high of $864 for an iPhone 5S as shown in this Financial Times infographic.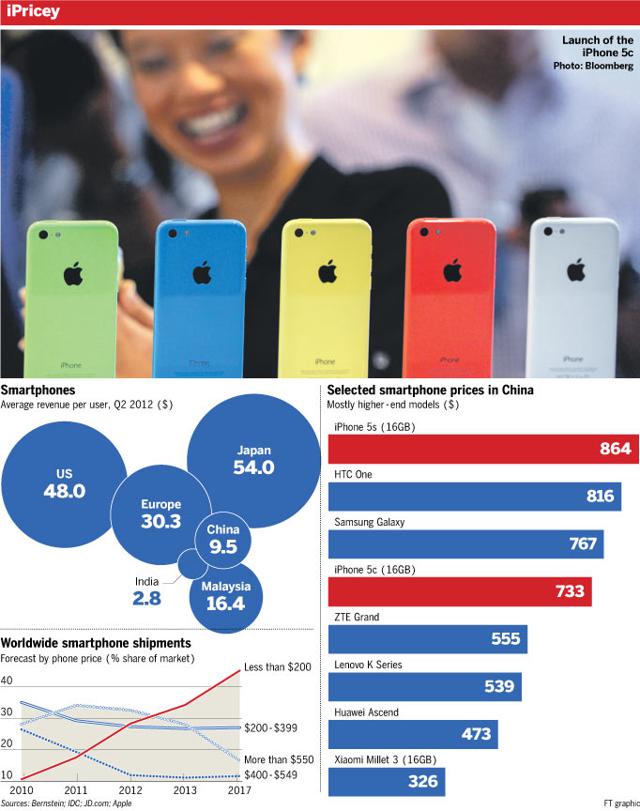 Source: Financial Times
The chart in the lower left quadrant of the Infographic shows the problem for high end vendors - devices priced less than $200 are expected to take almost half the market by 2017 with those above $550 held to about 15% of the total units sold. Those estimates precede the Mediatek Octo-Core processor announcement which I expect will skew the market even further in the direction of lower priced devices as newer smartphones with Mediatek's fast processors and LTE on board reach the market at a less than $200 price point.
Forecasts are just forecasts and their implications are not set in granite. They are worth assessing in any event. IDC sees the worldwide smartphone market at about 1.7 billion units in 2017 according to its most recent projection. If their segmentation on price is anywhere close, the total market over $550 per unit will be about 200 million units, down from almost 300 million in 2013.
Apple (NASDAQ:AAPL) has long held a major share of the high end of the market shipping some 50% of the high end smartphones in 2013. If it can hold on to that share, it would sell 100 million iPhones in 2017 or about 6% of the 1.7 billion forecast by IDC.
I have used my crude model of Apple's economics from its current products to ballpark what that might mean in terms of 2017 sales and net income. To do that I have assumed Apple sells 20 million Mac PCs at an ASP of $1,250; 80 million iPads at an ASP of $400; and 100 million iPhones at an ASP of $550. I have projected other revenues from software and service etc. at $30 billion continuing its double-digit growth path.
Expenses of $19 billion reflect a continuation of the year over year growth Apple has been experiencing in the past few years, and the tax rate of 26.2% is consistent with Apple's current rate.
The result is an Apple 2017 income statement showing $142 billion in revenues and $23 billion of net income or about $26 a share based on 875 million shares outstanding.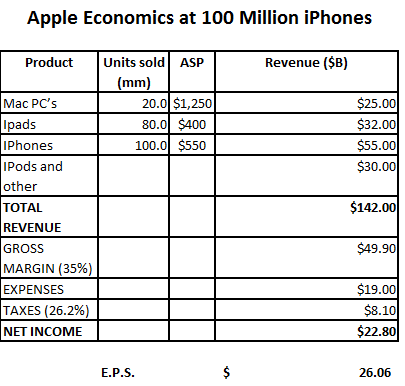 Source: Michael Blair analysis
I think Apple is between a rock and a hard place in its current served markets. Its premium price strategy will help protect margins but at the expense of volume in a flat or even declining premium priced segment. Powerful and fully functional competing products will continue to enter the market based on processor advances by Mediatek, Spreadtrum, Allwinner, and Intel with form factors, processing power, graphics capability and LTE modems that will rival anything in the market but at substantially lower costs than has prevailed to date.
It seems quite likely to me that - barring some exciting new product outside of its current lineup - Apple will be seen as a mature tech company with a decent dividend, along the lines of Hewlett-Packard (NYSE:HPQ) or Cisco Systems (NASDAQ:CSCO). Those companies trade at earnings multiples of about ten to twelve times earnings. Adjust a bit for their relative cash balances and you might see Apple trading at $350 to $400 before long.
I am short the stock.
Disclosure: I am short AAPL. I wrote this article myself, and it expresses my own opinions. I am not receiving compensation for it (other than from Seeking Alpha). I have no business relationship with any company whose stock is mentioned in this article.