Overview
Canyon Services Group Inc., [TSX:FRC] and OTC:CYSVF in over the counter markets, offers specialized well stimulation services to E&P firms operating in the Western Canadian Sedimentary Basin, WCSB. Producers contract Canyon to increase their well production through fracture treatments and ultimately maximize resource extraction. The stimulation services provided include hydraulic fracturing, high-rate nitrogen fracturing, coiled tubing, and chemical stimulation and remedial cementing services. All services are crucial to unconventional oil and NGL, natural gas liquids, extraction in the WCSB. The following map, from Canyon's 2014 Investor Presentation, highlights Canyon's areas of operation and the differing fracturing characteristics of the regions: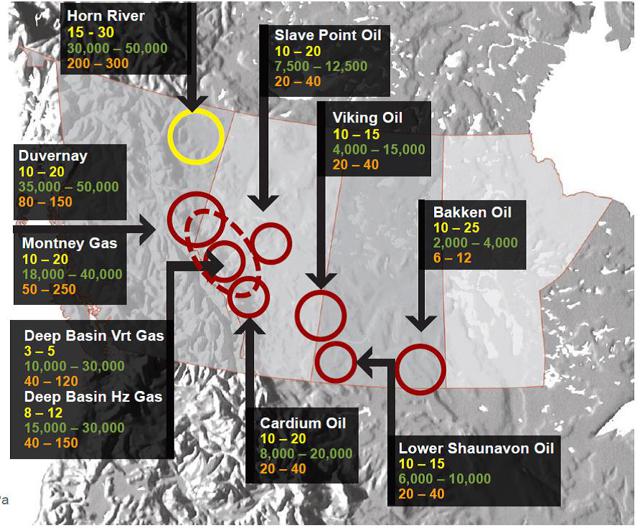 Investment Thesis
The reasons for taking a further look at Canyon are twofold. One, the investment by mega-cap E&P companies into LNG export facilities of British Columbia and the resulting increased production activity. Next, Canyon's position within the active regions and ability to profitably take advantage of the growth in activity levels in the medium term.
The LNG opportunities and investment into pipelines and export facilities will provide a great profit opportunity not only for producers and pipelines operators, but also for service providers like Canyon. The currently proposed mega projects like Western Canada LNG, and LNG Canada Gas, and Pacific Northwest LNG are the largest projects of its kind and if built would increase global LNG supply by 21% and deplete British Columbia's natural gas reserves in 100 years. Currently BC's gas production sits at 3.2 billion cubic feet per day, while the LNG Gas Canada project alone would have initial capacity of 2 billion cubic feet per day. While the ultimate environmental approval, tax regime, and appeasement of all stakeholders is far from complete, it is clear that the province is committed. The provincial government has stated that it seeks to have 3 facilities operational by 2020 resulting in 9,000 construction jobs, 800 long-term positions, and $1 billion in annual tax revenues. Mega-cap producers will begin developing resources in nearby supply regions like the Montney and Duvernay shale in the coming years as many of the proposed LNG facilities have start dates in 2018 and smaller ones operational as early as 2015.
Canyon's focus is in areas like the Montney which is a vast oil and gas reserve with positive economics. To get a perspective, total Canadian natural gas demand in 2012 was 3.1 Tcf, while the estimate of marketable natural gas in the Montney shale is 449 Tcf. This amounts to 145 years of Canada's 2012 consumption. While currently only a small portion of overall natural gas production, 12% as of 2012, the Montney is expected to increase in importance in the coming years. The following two tables below provided by the NEB highlight the Montney and WCSB resource potential: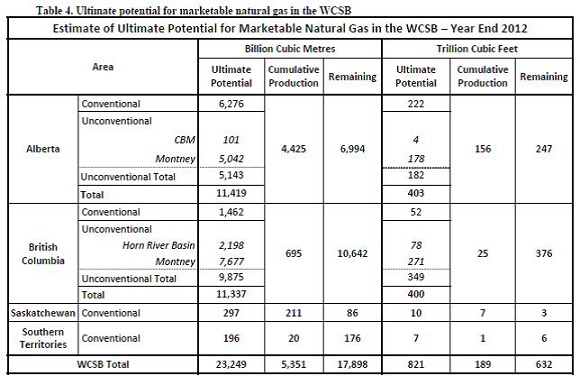 While the amount of marketable resource is important, the costs of extraction are often the dictating factor of the project's profitability. The deeper tight shale gas reserves of Western Alberta and Northeast BC are less costly areas to operate for producers. The wells required to extract natural gas in these areas have room to decrease costs and increase production through horizontal drilling and fracturing. Exactly the services Canyon provides. The positive economic return possibility of these resource plays determines the level of capital spending from major producers and in turn the need for well stimulation service providers like Canyon. The following graph, courtesy of the NEB, highlights the cost benefit of operating in BC and thus the Montney: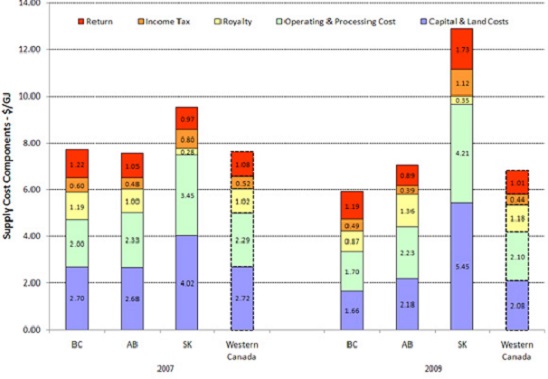 Canyon's current corporate strategy is to focus on deep basins near the border of Northern Alberta and BC, discussed above, since the wells in these basins require intensive pumping services and multi-stage fracturing. We believe this approach of focusing on technical plays will benefit Canyon moving forward as the production activity in Montney and Duvernay shale grows. While the amount of drilling by producers varies with resource prices and other industry conditions, the length of horizontal wells and the fractures per well have increased steadily. The trend is expected to continue and to benefit required service per well either in the number of stages or the size of individual fractures needed to stimulate the well. The following graph from Canyon's 2014 Investor Presentation demonstrates the stable rising trend of fractures per well: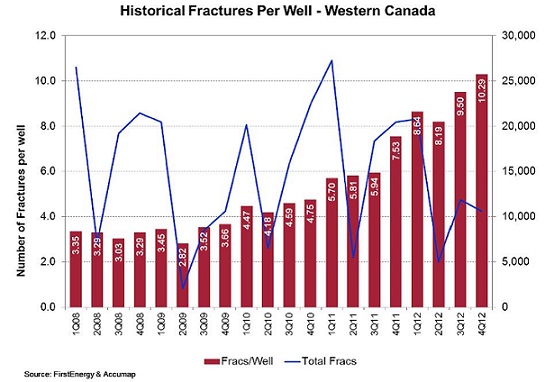 Currently the industry landscape remains competitive. Canyon has commented in its annual and most recent quarterly report that with competitors attempting to position themselves for the busier future, fierce price competition has continued to dominate the industry. Such competition was responsible for a decrease in the price of pumping services by 20% in 2012. While this has been a challenging operating environment we like Canyon's focus on rates of return on invested capital. This has meant not accepting work at any price and using the downturn in activity to invest in its people, processes, and capital required for the next leg of the cycle. As a result we believe Canyon is in a good position to benefit from a busier 2014 and a longer-term trend of servicing the supply basins of BC's LNG projects.
Valuation
Our fair value price is $14.26 which represents a total return of 23.3% from a current price of $12.05 and includes the $0.6 per annum dividend payable quarterly. A WACC of 11% was used along with an EV / EBITDA exit multiple of 6x. We assume a strong rebound in sales for 2014 and continued medium to high single digit growth throughout the forecast period. However, as highlighted by management, cost inflation in all areas of the business will reduce margins over time. This is in part from wage cost inflation due to shortages of skilled labor, increased demand for 24-hour services, and lack of affordable transportation for commodity inputs like sand. As the market tightens, pricing pressure will erode and producers receiving 24-hour service will pay higher fees.
We believe that Canyon's shares currently trading in the $12 CAD range do not discount the increasing levels of activity for 2014 and 2015 or the longer-term effects of the LNG facilities. While the ultimate timing of these projects is uncertain Canyon is in the hands of competent management that has maintained a strong balance sheet, positioning itself strategically for the opportunities to come.
Disclosure: I have no positions in any stocks mentioned, but may initiate a long position in FRC, CYSVF over the next 72 hours.
Business relationship disclosure: The article has been written by Turtle Street Capital, the author is the co - founder of the firm. Turtle Street Capital is not receiving compensation for it. Turtle Street Capital has no business relationship with any company whose stock is mentioned in this article.