In 2001 Jim O'Neill, a Goldman Sachs London banker, wrote a landmark research paper in which he coined the term BRICs. Jim's basic theory was that Brazil, Russia, India, China and later South Africa would overtake the largest Western economic leaders by around 2030. His hypothesis was build upon the abundance of cheap labor, the opening of capital accounts after the Asian currency crisis, and the largely underdeveloped potential for manufacturing. For a number of years this theory seemed to hold true, as GDP growth in BRIC countries far outperformed those of developing economies and other emerging markets.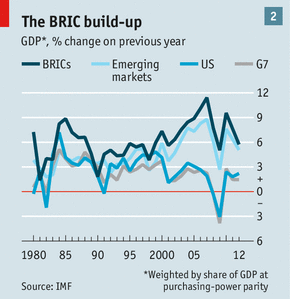 After the financial crisis of 2008, the US Federal Reserve lowered its benchmark interest rate to 0-0.25% and embarked on an unprecedented bond buying spree in an effort to keep interest rates low. This forced investors into riskier assets like emerging market (especially BRICS) stocks and bonds. After May 2013, when Ben Bernanke first discussed the possibility of a taper (the slowing of bond purchased by the FOMC), the rate of capital inflows to BRICS nations slowed.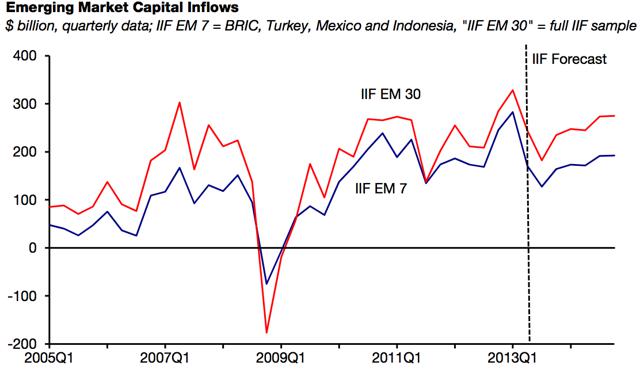 The IMF now forecasts that China will grow at 7.5% in 2014 while Brazil and Russia are expected to grow by only 2 and 2.3% respectively. These growth rates are a far cry from the 14, 8.5 and 6.1% growth rates seen in 2007 by these BRICS nations. In addition to slowing growth many of the BRICS nations, most notably India and Brazil, are battling high inflation, large current account deficits and a falling currency due to a rapid withdrawal of foreign capital. Similarly Turkey, which experienced high growth rates for a number of years, is facing a number of problems. With emerging market growth slowing, and currencies falling, investors are looking for a place to earn a sizeable return. I believe that place is Mexico.
Mexico has weathered the most recent emerging market crisis significantly better than its BRICS counterparts, witnessing only a 4.3% drop in its currency versus the US Dollar compared to an average of almost 17% for the BRICS nations (CNY is excluded since the exchange rate is not freely floating). These large currency swings have caused investors to lose confidence in emerging markets, as they must employ emergency measures to prevent significant damage from being done to their economies. Some have even gone so far as to criticize the FOMC, and called for greater cooperation among emerging market central banks.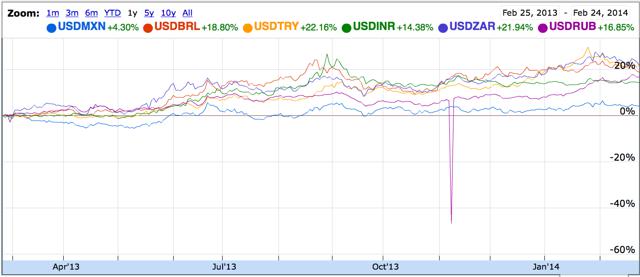 All currencies are compared to USD - and appreciation in USD, as shown, equals depreciation in the respective counter currency.
Mexico's GDP growth rate of 3.8% in 2012 surpassed that of Brazil, India and Canada and is forecasted to be around 3% in 2014. Recently Moody's upgraded Mexico's credit status from Baa1 to A3, which will aid in lowering future funding costs and increasing the chances that Mexico weathers future recessions better than its BRIC counterparts.
Mexico's growth is helped by its rising manufacturing sector and its trade agreements with both China and the US. Mexico became the largest exporter of cars to the US in 2013 and has seen a large influx of car companies building factories across the country. These capital investments made by companies are crucial for sustained Mexican growth as they help to support the currency (through constant demand) as well as decrease unemployment. The recent uptick in unemployment, and slowdown in GDP, can be explained by the unseasonably cold weather decreasing demand for manufactured goods, most notably cars, in the US.
Mexico's growth prospects are also greatly aided by the fiscal policies implemented by their president Enrique Peña Nieto. Nieto's recent success in reforming the energy sector is a very important step in the right direction. The opening of Mexico's borders to foreign companies will bring in money and perhaps more importantly foreign expertise to help Mexico monetize its oil reserves. Additionally, strong actions taken by the DEA and Mexican authorities against cartel leaders show a commitment by the Nieto administration to make the country more attractive to foreign business. The increased effort to curb cartel power is important, especially since the cartels currently operate on some of the most profitable land in all of Mexico.
Investors looking to capitalize on Mexico's emerging growth are best suited to invest in car manufacturers (who stand to benefit from Mexico's low labor costs and growing rate of exports) or oil drilling companies (who may be the first to expand into Mexico's untapped shale reserves). Honda (NYSE:HMC) is the only car company currently building a factory in Mexico with an US-listed ADR, while Nissan and Mazda, two other players, are only listed in Japan. Chesapeake Energy (NYSE:CHK), a major player in the Eagle Ford Shale fields of Texas, may be one of the first to move across the border to Mexico if the conditions are right. Additionally, two Mexican ETFs - the iShares MSCI Mexico Investable Market Index Fund (NYSEARCA:EWW) and the db X-Trackers MSCI Mexico Hedged Equity Fund (NYSEARCA:DBMX) - can offer interested investors some exposure into the country. EWW follows the MSCI Mexico IMI 25/50 Index - a capped index that ensures that no holding exceeds 25% of the entire index, and that the sum of all holdings making up 5% or more of the index does not exceed 50% of the total index value. Similarly, DBMX tracks a 25/50 capped index, but offers some currency hedging insulating investors from large swings in the Mexican Peso.
Mexico's unique combination of emerging manufacturing sector, stable currency, and pro-business President put it in a unique position to grow rapidly in the next few years. The most recent slowdown in the country provides investors with a unique opportunity to enter into what may be an economic powerhouse in the next few years.
Disclosure: I have no positions in any stocks mentioned, and no plans to initiate any positions within the next 72 hours. I wrote this article myself, and it expresses my own opinions. I am not receiving compensation for it (other than from Seeking Alpha). I have no business relationship with any company whose stock is mentioned in this article.