Yesterday investors witnessed an impressive presentation of what can happen to a stock price when investor expectations change. J.C. Penney (NYSE:JCP), the struggling department store chain pushed into public spotlight by Bill Ackman, founder and Chief Executive Officer of Pershing Square, delivered what most people thought was impossible or least unlikely: Great quarterly results including positive comparable store sales growth as well as a very encouraging guidance for the rest of the year.
Behavioral investing
I want to highlight the importance of behavioral investing concepts when it comes to an investment in a hated turnaround company such as J.C. Penney. A few months back I wrote about the misconceptions that surround a J.C. Penney investment. Particularly, I questioned the negativity surrounding J.C. Penney driven by Wall Street's unenlightening obsession with short-term results. Unfortunately, little has changed on Wall Street: Struggling companies are usually expected to deliver operational and financial improvements sooner than later and are also implicitly expected to outperform consensus estimates.
On November 17, 2013 I wrote the article 'J.C. Penney: A Multi-Bagger Contrarian Turnaround Investment' in which I specifically argued that J.C. Penney had outstanding contrarian value for long-term investors who want to ride the entire recovery cycle because of an irritating amount of negativity aimed at J.C. Penney [paragraph reproduced for your convenience]:
As usual, Mr. Market bathes in negativity when a company goes through change. This is not surprising because the human condition is more receptive to negative rather than positive thinking. As a contrarian I always think it is a good time to buy when the overwhelming majority of investors agree on just how bad an investment is. I also argue that Ackman's sale of J.C. Penney stock should not be seen as a negative vote on J.C. Penney's value and future earnings prospects or the viability of a sustainable turnaround. His share sale was likely precipitated by the fact that his influence on the board and his capacity to enact change was greatly reduced. My experience with restructurings and post-reorganization equities shows, that a company oftentimes turns around just when the majority of investors have given up.
Fourth quarter results highlight turnaround success
Yesterday, J.C. Penney delivered fourth quarter 2013 results that not only beat analyst EPS expectations but also signaled that the company is on a solid way to turn its business around. Yesterdays' results presentation included five main take-aways that were responsible for driving J.C. Penney's extremely strong after-hours share performance:
Same store sales increased 2% in the fourth quarter of 2013.
Holiday sales were up 3.1% in November/December.
J.C. Penney's gross margin improved from 23.8% in Q4 2012 to 28.4% in Q4 2013.
Most importantly, J.C. Penney released an optimistic outlook for 2014: J.C. Penney expects comparable store sales to increase 3-5% in the first quarter of 2014 and 'mid single digits' in 2014 -- a stunning projection. The department store chain also anticipates 'a significantly improved gross margin' in 2014.
J.C. Penney's 2014 guidance suggests that the company will hold $2 billion or more in liquidity on its balance sheet at the end of the year alleviating cash shortfall fears.
These results certainly hit home yesterday. J.C. Penney just redefined investor expectations after a series of quarterly disappointments. Not surprisingly, the stock price of J.C. Penney has been going through the roof in after-hours trading (see further below).
Myron E. Ullman, III, Chief Executive Officer of J.C. Penney commented fourth quarter results:
With the most challenging and expensive parts of the turnaround behind us, we will focus on improving gross margin, managing expense and steadily growing our sales in 2014. Our strategic plan seeks to enhance performance across all of the key drivers of our business: merchandising, marketing, store experience, jcp.com, our teams, and our operations. The goal is to deliver consistently improving financial results, and to restore JC Penney as a leader in American retail.
Other notable financial results
For the three months ended February 1, 2014 the company reported net sales of $3.8 billion vs. $3.9 billion in last year's fourth quarter -- down 2.6% y-o-y. J.C. Penney's gross margin, however, increased 16.2% to $1.1 billion compared to $924 million a year ago. Total operating expenses decreased a whopping 27.4% to $1.2 billion from $1.7 billion in Q4 2012 while SG&A expenses took an unexpected 17% dive down to $1.0 billion compared to $1.2 billion in Q4 2012. JCP's Q4 2013 adjusted diluted EPS came in at ($0.68) vs. ($1.95) last year and vs. analyst expectations of ($0.87).
Share performance
Like many other distressed security investments, a large part of yesterdays gains are attributable to psychological factors. Investors usually don't believe in a turnaround until they see it. Many times I have heard investors argue that they remain skeptical of an investment until they see bottom line profits, improved cash flow, a successful refinancing etc. But investing doesn't work like that: Investors get paid for absorbing risk. Once the operational/financial metrics of a company have improved, the majority of share gains have likely already accrued.
Fourth quarter results and especially J.C. Penney's guidance clearly surprised the market which is why the department store chain gained a whopping 20% yesterday -- combined percentage gain in regular trading and after-hours trading. I expect further momentum in today's session since the market had an entire night to digest J.C. Penney's performance results and optimistic sales forecast.
(Source: Yahoo Finance)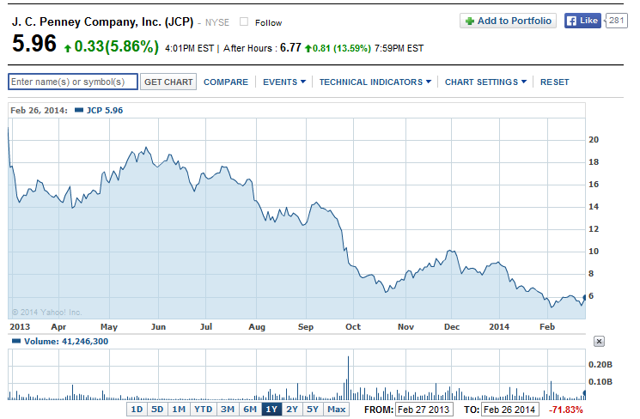 Conclusion
J.C. Penney delivered bombshell results yesterday. Despite revenue declines, which were expected, the company delivered what many doubted it could: Positive store sales growth, substantial declines in SG&A and operating expenses, a higher gross margin, a fundamentally improved outlook with respect to this year's gross margin, comparable store sales growth and a solid liquidity guidance.
J.C. Penney is still a great turnaround investment and has the potential to deliver multiple returns on invested capital if sales momentum gains traction in 2014 and beyond. Strong contrarian, long-term BUY.
Disclosure: I am long JCP. I wrote this article myself, and it expresses my own opinions. I am not receiving compensation for it (other than from Seeking Alpha). I have no business relationship with any company whose stock is mentioned in this article.