ASML Holdings (NASDAQ:ASML) is the number one supplier for advanced lithography systems for the semiconductor industry. Moore's Law drives the semiconductor industry. It states the number of transistors on an integrated circuit double each year, placing ASML's lithography in the spotlight. EUV lithography is the next step in the industries revolution. There have been delays in the purchase of the equipment and it is expected to begin roll out in 2014. ASML increased its R&D to advance the development presenting potential near term valuation opportunities.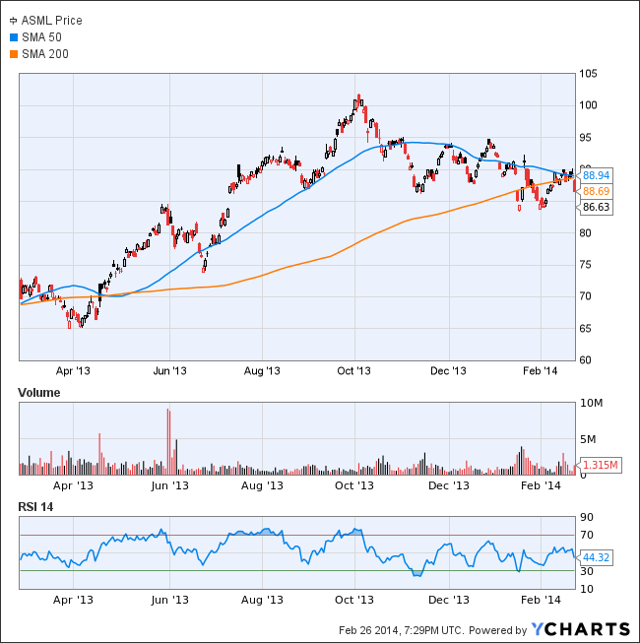 Market Domination
On September 2012, ASML received shareholder approval for their customer co-investment program. The adopting of a customer co-investment program gives ASML an increased competitive advantage in the industry. They currently control 80% of the market. ASML's co-investors are significantly more likely to purchase their lithography products from ASML, since they paid to build and develop them. By allowing its customers to coinvest, ASML has effectively eliminated its competition (Nikon).
Acquisition
ASML completed its acquisition Cymer Corporation in May 2013 adding 36.5 million shares as a result of the merger. Cymer provides the light source for ASML's EUV technology.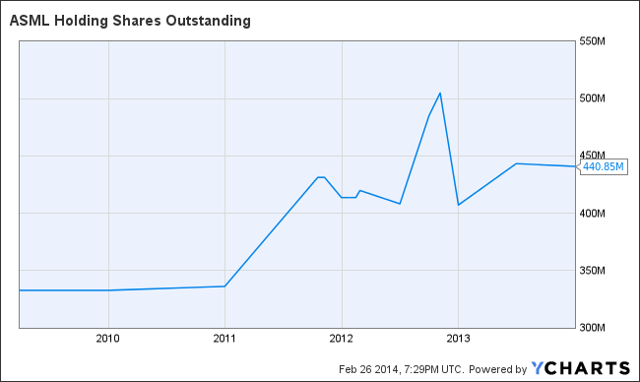 ASML Shares Outstanding data by YCharts
Increased R&D
On January 22, 2014, Bloomberg Reported ASML will be increasing its R&D Expenditures to reach its goal for EUV lithography throughput to meet the demands of all its semiconductor customers by 2017.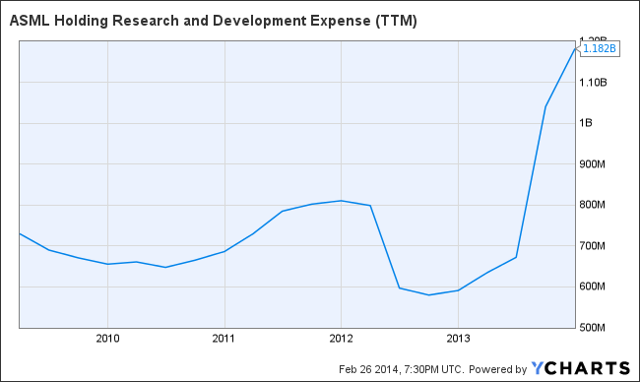 ASML Research and Development Expense data by YCharts
Compression May Lead to Unexpected Surprises
Increased R&D and the acquisition of Cymer will lead to lower margins on the initial sales of the EUV equipment. The decrease may cause a lower valuation in the share price in the short term. The long term outlook provides the potential for earnings surprises, as the company's margins increase.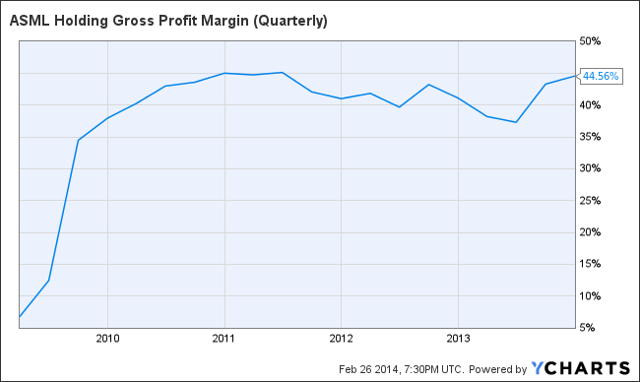 ASML Gross Profit Margin (Quarterly) data by YCharts
Risks
The main risk is ASML will fail to provide the throughput necessary to make EUV acceptable for a large portion of its customers or it will take longer than expected. It is the most important risk because ASML would not be making an investment in R&D if it were not an issue. Recently, the revelation was made that Moore's Law may be limited by the material. Silicon is only able to withstand so much.
Another risk is the advent of a competing technology. The previous link lists quantum computing as a potential next step or bio computing such as the Rheoswitch by Intrexon (NYSE:XON). However, a comparable technology seems rather unlikely. Positive or negative, ASML will definitely be in play.
Disclosure: I have no positions in any stocks mentioned, and no plans to initiate any positions within the next 72 hours. I wrote this article myself, and it expresses my own opinions. I am not receiving compensation for it (other than from Seeking Alpha). I have no business relationship with any company whose stock is mentioned in this article.