General Motors' (NYSE:GM) earnings per share declined by 49.4% in the most recent quarter compared to the same quarter a year ago. The company has suffered a declining EPS pattern over the past two years. However, this trend is likely to be reversed in the coming year due to the recovery plans being introduced. The share price has grown more than 35% year to date adding $9.6 to the present value of $36.7 and could have been more at the moment if it hadn't taken a fall at the beginning of 2014. However, the company now trades at a lower than fundamental value and provides a good entry point for investors.
In this article, we will go through the company's recent performance. Later, I will shift my focus towards upcoming plans within China that may help GM get back on its track.
Year 2013

Source: 10K
GM just ended its fiscal year 2013 with its revenue increasing 2.1% to $ 155.4 billion compared to 2012's results. For the automotive division this was brought up by higher leverage from favourable pricing that surpassed volume decline. Even though this was further met with negative currency translation amounting to $2.3 billion particularly from Brazil, Argentina, and Venezuela, the better product mix in the North American region and higher accessories sale brought the net impact to a total positive.
Volumetric decline is something to worry about. Therefore, even though sales were positive, I do not think this was any reason to celebrate. Similarly, GM's financial segment that provides leasing services experienced a 70% increase that mainly due to the acquisition of Ally Financials' international operations that brought a finance charge income of $1 billion.
Cost of sales followed the same pattern with nothing permanent from GM. The 3.8% decline was due to lesser impairment charges, decreased pension settlement losses, better currency translations, and policy adjustments that offered a net benefit of nearly $7 billion. Important components such as materials and labour increased despite volume decline.
SGA expenses also decreased due to comparability issues arising from impairment charges in GME for intangibles and long-lived assets of $1.8 billion that occurred in 2012 but not in 2013. GM reported an 18.5% drop in diluted EPS that was $2.38 due to strategic actions GM announced for GMIO, the wage litigation in Korea as well as the sale of certain non-core assets. Since they weren't perpetual a removal of those would have raised diluted EPS by $0.8.
The majority of the results achieved above were a product of one-time events and better pricing with minimal coming from GM's own effort. However, with better future plans it seems that the company will be able to bring in volume jumps and a big part of will be from emerging markets.
The Future
China Appears to be the Savior for Many Companies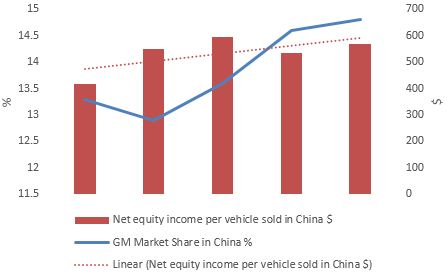 Source: Trefis
The Chinese market offers tremendous potential for top line growth to automobile makers. GM has been at the forefront in the local market and enjoyed an 11% increase in quantity sold last year making it the company's largest market by volume. This trend has continued in the past with the company realizing higher income per vehicle sold along with higher market share (see graph above). The industry is still growing with a 10% increase expected for 2014. To hook the prospects, GM and its joint-venture partners will introduce 19 new or refreshed vehicles in China this year that will give revenues a good boost in the short run.
The company will be focusing on its Cadillac brand whose sales in China rose by 67% last year. GM began selling the ATS compact luxury sedan in China late in the year. Despite being new, it received an above expected response. By targeting the right product and with the commitment to invest $11 billion through 2016 on new plants and products I expect sales may ultimately match or exceed the delivery of the SRX sport-utility vehicle in the future. For 2014, the company is targeting a more than 100,000 unit sale that will be double the 50,000 of last year. This already shows the pace at which the company is growing to steal as much market share from its rivals as possible.
Gains from China will be Used to Pay Restructuring Costs
The company will also use these gains from China and the North American territory to partially offset restructuring costs in Europe and elsewhere promoting better returns. These costs, that are estimated to be around $1 billion for 2014 are related to the Bochum plant closure in Germany and the strategic actions GM has announced for GMIO. Though they will be a burden to profits in the short run with efficient plants running in the future the losses that are currently being incurred would be removed and translated into better long term prospects.
Bottom Line
I have high hopes for the announced company expansion within China and this is just one side of the story. GM recently reported record January sales in India despite the economic scenario remaining stagnant. This explains how the company is being maintained. Though I wouldn't place my bets on the company penetrating new markets the already present opportunities in pre operated regions will offer good growth before the company turns its eyes on other territories. Considering these prospects, I recommend buying stocks in GM.
Disclosure: I have no positions in any stocks mentioned, and no plans to initiate any positions within the next 72 hours. I wrote this article myself, and it expresses my own opinions. I am not receiving compensation for it (other than from Seeking Alpha). I have no business relationship with any company whose stock is mentioned in this article.