Delta Air Lines (NYSE:DAL) posted strong results for 2013 and this is also reflected in the stock price that doubled from a year ago. For the second year in a row the company posted higher profits amongst other carriers.
As a matter of fact, after the stock price doubled many analysts seemed to be concerned about whether or not there is still room for more growth. Let's discuss the possibilities of where the company is heading in the future while putting special emphasis on investors' returns.
What to Infer from 2013
For full year 2013, the company generated almost $5 billion in operating cash flows which makes the free cash flow equal to $2.1 billion. The higher cash flow allows the company to spend an additional $250 million in defined benefit pension plans.
Another reason for the strong quarterly financials of Delta has been the 7% reduction in mainline aircraft fuel costs. Total aircraft fuel costs were $2.2 billion and when adding another $500 million for the regional service the company spent nearly $2.7 billion on fuel that represents almost 30% of total revenues. The company is determined to include more efficient planes to its fleet and the shale boom continues to play its part in lowering the fuel costs so I believe that the company is all set to generate impressive results going forward.
Steps that Ensure Growth
In its 2013 investor day presentation the company enclosed that it is expecting corporate travel spending to grow by 7% during 2014. Similarly, due to capacity expansion, I believe that carrier passenger traffic will also increase during 2014.
In addition, the implementation of the Virgin Atlantic venture will also serve to further increase the top line of the company. The company entered into a new immunized joint venture on January 1st that will result in 32 daily non-stop flights between North America and Britain from March 2014. Twenty-four flights out of 32 will operate between London's Heathrow Airport and popular U.S. destinations such as Los Angeles and San Francisco. In addition, the company is also expecting better margins for its New York segments due to this initiative.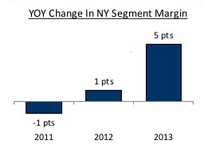 Source: Company presentation
Increasing Average Revenue Per Mile Per Passenger Supported by Bigger Market Share
Currently, the market share of Delta in the U.S. is estimated to be around 15.8%. Similarly, in the international market, the company's market share stands at 13.6%. Even if we assume the market share is constant in the long term the company stands to benefit from the increasing magnitude of both markets.
Delta's U.S. passenger yield refers to the average revenue received by the carrier per mile per revenue paying passenger. The company has been able to increase passenger fares, mainly supported by a stable demand environment. During 2013, the U.S. passenger yield was calculated to be around $0.160 and is expected to reach $0.187 by the end of 2020.
Similarly, in international markets, the company managed to increase its passenger yield to $0.146 in 2013 reflecting an increase of $0.003 from the previous year's $0.143. Going forward, the company is expected to further increase its yield to reach $0.169 by 2020.
Cargo and Other Businesses
Delta is a member of SkyTeam Cargo, a global airline cargo alliance, that offers a global network spanning across six continents. As a member of an international cargo alliance Delta enjoys certain benefits. During 2013 the company's revenue from freight and mail delivery services declined to $0.960 billion amid lower cargo volumes. However, with the recovery in cargo transport demand I believe that the revenues from freight and mail delivery will be around $1.17 billion by 2020.
Delta is also expanding its portfolio of ancillary products. In addition it also imposed overhead charges on several services. During 2013 the company realized nearly $3.81 billion. However, with the recent initiatives taken by the company I believe that the company will increase its revenues to $4.69 billion by 2020.
Concluding Remarks
With its ongoing revenues and initiatives that will enhance future revenues Delta will likely continue to post growth in its results in 2014. Moreover, the stock is currently inexpensively priced based on price multiples. However, given the growth prospects mentioned above I believe that the company does not deserve to be traded on such lower multiples and it will eventually be traded near the industry average.
Disclosure: I have no positions in any stocks mentioned, and no plans to initiate any positions within the next 72 hours. I wrote this article myself, and it expresses my own opinions. I am not receiving compensation for it (other than from Seeking Alpha). I have no business relationship with any company whose stock is mentioned in this article.