Chesapeake Energy (NYSE:CHK) delivered fourth quarter results yesterday which largely disappointed investors. Similar to the Chesapeake sell-off at the beginning of February, I think investors react overly sensitively to Chesapeake's earnings release and the current consolidation might offer another buying opportunity for long-term investors.
Chesapeake gas gained 27% over the last year but has lost 4% year-to-date and about 5% in yesterday's trading session alone.
(Source: Yahoo Finance)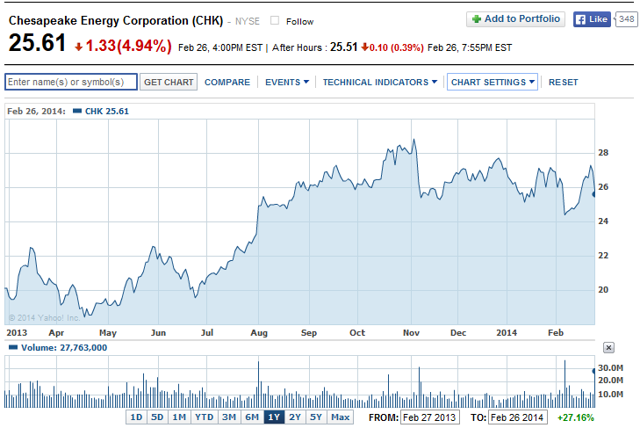 Fourth quarter results
Chesapeake's share price is predominantly down because analysts expected an adjusted diluted EPS of $0.39 compared to a delivered adjusted diluted EPS of $0.27 -- an underperformance of 31%. Last year's adjusted diluted EPS stood at $0.26 and the third quarter 2013 EPS at $0.43. Chesapeake's full year EPS increased to $1.50 compared to $0.61 in 2012 -- an increase of 146% despite the miss of analyst consensus estimates in the fourth quarter.
Chesapeake's fourth quarter adjusted EBITDA came in at $1,132 million vs. $1,088 million in the fourth quarter last year (up 4%). For the full-year 2013 Chesapeake's adjusted EBITDA increased to $5,016 million compared against $3,754 million in 2012 -- a jump of 34%.
Fourth quarter revenues stood at $4,541 million compared to $3,539 million in the fourth quarter of 2012 (an increase of 28%). Full-year revenues skyrocketed 42% to $17,506 million vs. $12,316 million in 2012.
While quarterly production results disappointed investors, Chesapeake still posted impressive full-year growth rates in revenues, adjusted diluted EPS and underlying EBITDA. In addition, Chesapeake captured $4.4 billion in proceeds from non-core asset sales in 2013 contributing to a better cash position and a streamlined company. Chesapeake also provided an update with respect to asset sales in 2014:
Asset Sales Update

In 2014 the company has already received $209 million of net proceeds from the sale of its common equity ownership interest in Chaparral Energy, Inc. Additionally, in connection with certain asset sales in 2012 and 2013, the company believes that it will receive proceeds in excess of $150 million during 2014 that were held back for title review or other purposes at the time of closing. Currently, Chesapeake is marketing or has under contract sales of certain real estate and other non-E&P assets, excluding its oilfield services division, Chesapeake Oilfield Services, which are expected to generate proceeds of approximately $650 million during 2014. Together, the items listed above are expected to generate proceeds of approximately $1 billion, and the company believes the sale of these assets will have minimal impact on its 2014 operating cash flow guidance.
In terms of operational performance, Chesapeake's fourth quarter average daily production increased 2% y-o-y to 665 Mboe. The sequential decrease in average daily production of 1% is attributable to reductions in well connections as well as weather affects. Investors are probably well advised not to read too much into these quarterly production figures.
Average daily oil production increased 15% y-o-y in the fourth quarter while average daily NGL production jumped 26% and average daily natural gas production fell 3% respectively. The chart below from Chesapeake's latest investor presentation suggests that the company benefited from substantially increased oil- and NGL production in 2013:
(Source: Chesapeake Energy Investor Presentation 02/26/2014)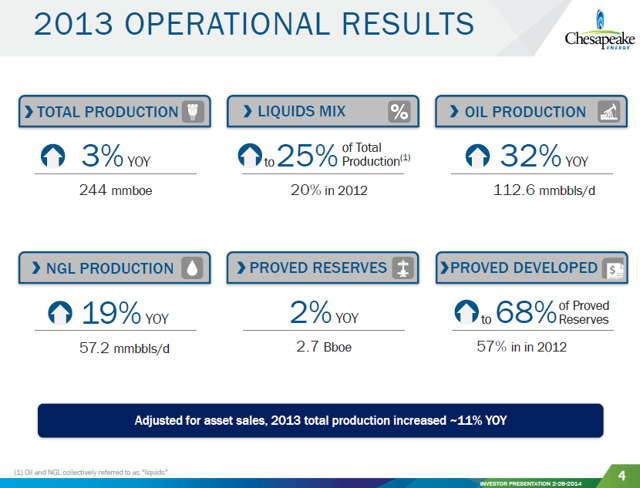 Outlook
The company has previously released its 2014 production guidance in which it forecasted adjusted production growth of 8-10% for fiscal year 2014. Absolute production growth is expected to come in at 2-4% for the full-year while growth is largely expected to be driven by NGL and oil (see growth rate break-down in the chart below).
At the same time Chesapeake expects 2014 midpoint capital expenditures of $5.4 billion which marks about a 20% decrease compared to 2013 capex levels. Reducing capital expenditures and selling non-core assets will be crucial for Chesapeake to improve its profitability and de-risk its business.
(Source: Chesapeake Energy Investor Presentation 02/26/2014)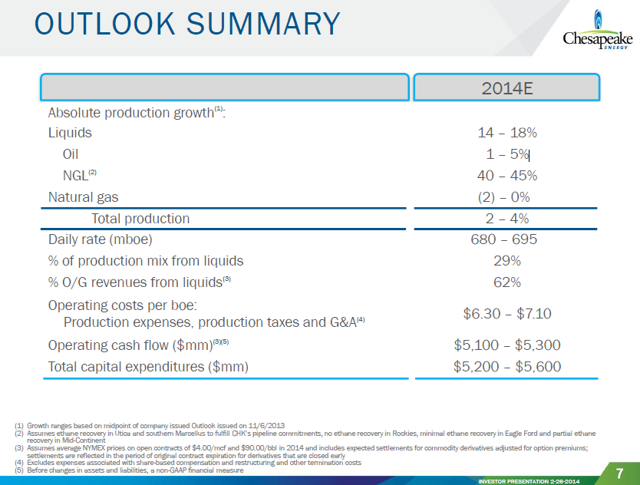 Conclusion
I think investors who seek shale oil- and gas exposure in the United States should consider Chesapeake Energy after the latest sell-off since the market is disappointed by Chesapeake's short-term production and financial results. Overall growth in full-year revenues, adjusted EBITDA and adjusted diluted EPS is strong and shows that Chesapeake succeeds in developing its portfolio assets. In addition, the exploration company does all the right things for shareholders by selling non-core assets and improving- and de-risking cash flow by cutting back on capital expenditures. Moreover, investors might also profit from a stronger Icahn involvement that could lead to substantially higher share prices if he chooses to take on a more active role with his Chesapeake investment. Long-term Buy.
Disclosure: I am long CHK. I wrote this article myself, and it expresses my own opinions. I am not receiving compensation for it (other than from Seeking Alpha). I have no business relationship with any company whose stock is mentioned in this article.