Credit and Debit card issuers, along with transaction processors were sharply lower on Friday after a Senate vote included restrictions on the fees that can be charged for these transactions. The vote essentially allowed the measures to be included in the Financial Reform bill and the regulations could have a dramatic impact on the profits for many of the companies involved.
Transaction Processors
The two most important companies affected by this bill are Visa Inc. (NYSE:V) and Mastercard Inc. (NYSE:MA). Both stocks were down sharply on the news – and both traded on heavy volume indicating institutional selling was extreme.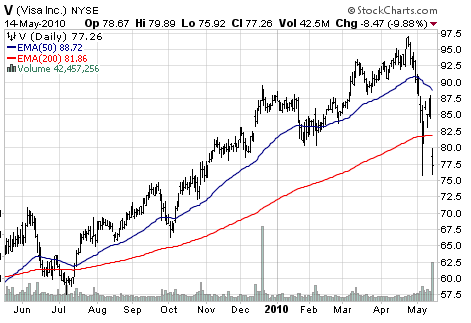 Visa is currently trading at about 20 times expected earnings for the year ending September, 2010 which is not an extremely rich multiple. But the technical pattern is very sobering with Visa dropping below the 200 day average on huge volume. Most investors are banking on the fact that Visa will see long-term growth rates near 20% as international expansion generates revenue growth – primarily from emerging markets. But the US is a significant portion of the company's established business and if the senate bill cuts down on fees for debit and credit cards in the US, it will likely lead to at least some pricing power in international markets as well.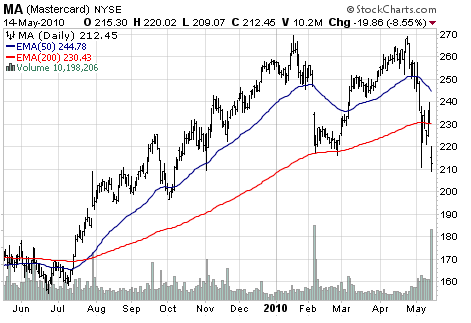 Mastercard is in a similar position except for the fact that the stock has a much lower multiple. When it appeared that consumer spending would be constrained as a result of higher unemployment, many analysts argued that Mastercard and Visa would continue to generate large profit increases with little risk. The fact that these companies do not take on credit risk was a major benefit as opposed to the banks who actually lend to consumers and face the risk of default. If the transaction fees are more heavily regulated and margins are constrained, that may significantly reduce the appeal of these companies to investors.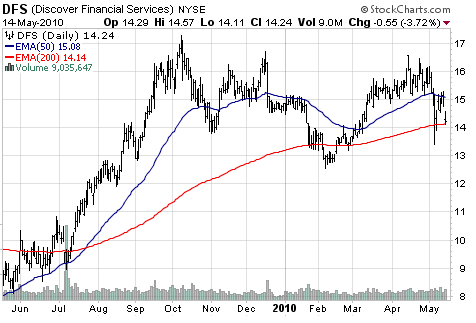 Discover Financial Services (DFS) is one of the short positions currently held in the ZachStocks Newsletter Portfolio. Currently, we have a 4.4% profit in the position and I expect that number to increase over the next few weeks. Analysts are expecting 309% profit growth in 2011 as the company faces fewer defaults and the economy becomes stronger. But as the financial reform bill makes its way through the legislative process, there could easily be more unfavorable surprises for lenders like DFS – and the uncertainty abroad doesn't help matters either.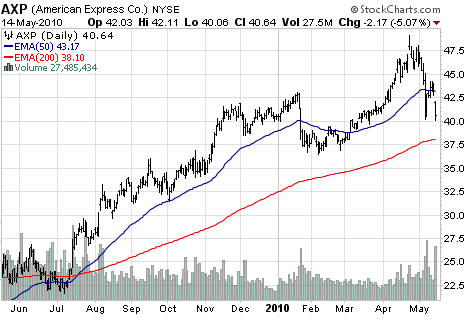 The pattern on American Express Co. (AXP) looks quite disturbing as the stock has given back all the gains from its breakout in April, and volume was strong on the gap lower Friday (although not nearly as pronounced as Visa and Mastercard). AXP has a significant debt level which is not a concern when markets are functioning properly, but could become a much bigger issue if liquidity freezes up and delinquencies rise. A PE of 13.5 is not exceptionally expensive, but if analysts' expectations for 2010 turn out to be aggressive, the intensity of selling could pick up.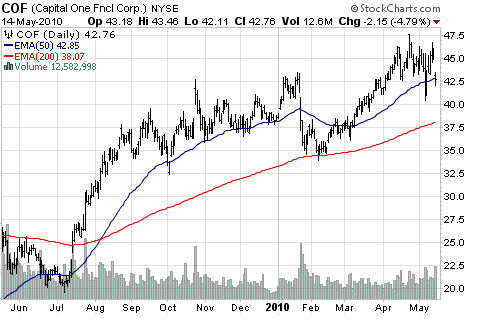 What's in YOUR wallet? Capital One Financial Corp (COF) has put together an incredible marketing effort. But their earnings are just a shadow of what they once were. With one of the biggest portfolios of consumer loans and credit lines, COF is finding itself square in the cross-hairs of regulators and may very well operate in a confined industry for years to come. Don't expect profit to grow significantly after 2010 unless the economy rebounds more strongly than even the most bullish economists expect. The stock appears vulnerable after giving back gains from its most recent breakout and I wouldn't be surprised if the current estimates prove too aggressive.
The bottom line is that regulatory uncertainty is a cloud that will continue to hang over companies associated with credit and debit transactions. Long-term, regulations could eventually backfire on consumers, shutting down the availability of credit lines and inadvertently helping business lines such as payday cash advances. The financial reform bill could be just as damaging as the healthcare bill when it comes to some of the key financial companies. Surely, something needs to be done to protect consumers – and many of these companies have lost all sense of decency and ethics when dealing with their customers.
Regardless of what may look like reasonable (or even attractive) multiples, I wouldn't take long positions in these stocks right now, and any rebound next week could serve as an opportunity to test some small short positions. Given how far these stocks have rallied in the last several quarters, some profit taking is entirely possible, and significant declines could end up causing panic and additional selling.
Full Disclosure: Author has a short position in the ZachStocks Newsletter portfolio