Shares of LiveDeal (NASDAQ:LIVE) have recently traded over three year highs. In this article I will compare the current market capitalization of LiveDeal to that of a similar company Travelzoo (NASDAQ:TZOO). In doing so I will explain why in comparison to Travelzoo that LiveDeal should currently be trading for .44 per share or $1.34 prior the recent 3:1 split.
The table below helps show the current market exposure & deals offered by LiveDeal in comparison to Travelzoo.
Criteria --------------------- Travelzoo ------------------ LiveDeal
Active Member

26M

n/a

Listings

75 Major Cities

3 cities (all in CA)

Discounts Offered

Airfare, Hotels, Vacation, Cruise, Entertainment, Car Rental, Local Deals

Food & Dining

Social Media

1.5M Facebook Page Likes

375K Twitter Followers

2000 thousand Facebook page likes

600 hundred Twitter Followers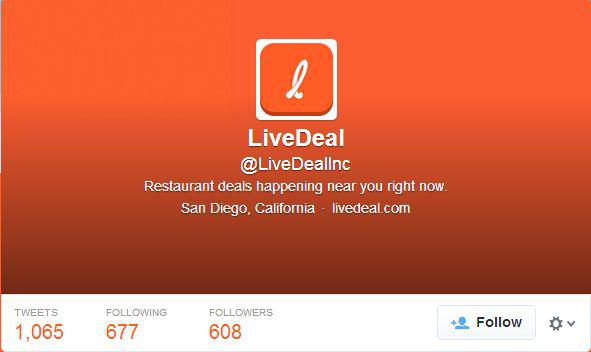 Source: Twitter.
Comparison
As can be seen in the table above LiveDeal has far fewer Active users, listings & discounts offered; as well as a social media following that is microscopic in comparison to Travelzoo. As shown in the first row Livedeal does not disclose the number of active users on their website, where as Travelzoo proudly states 26M members. The next two rows document a large gap in the range of locations and variety services offered by Travelzoo when compared to LiveDeal. As can be seen while LiveDeal offers only food and dining discounts in three cities Travelzoo offers anything from Airfare to Cruises in 75 major cities. Lastly, the social media following speaks volumes as to how aware people are that a company called LiveDeal even exists. The numbers in the table are not a typo: Travelzoo 1.5 million "Page Likes" versus Livedeal two thousand "Page Likes." Livedeal also fails to have a twitter following greater than one thousand where as Travelzoo bolsters over 375K followers. In regards to marketing LiveDeal fails in comparison to Travelzoo.
Fundamentals
Now, let's take a look at something more quantitative, after all a small market presence doesn't mean LiveDeal is not a financially efficient company. The table below displays some basic financial statement information for Travelzoo & LiveDeal.
-------------- Travelzoo ---------------- LiveDeal
Net Annual

2013 (5M) 2012: 18M 2011: 3M 2010 13M

2013: (5.7M) 2012: (1.5M) 2011: (5M) 2010 (8.8M)

Net Q

Q4 3.2M Q3 (19M) Q2 5M Q1 23.9M

Q4 (1M) Q3 (500K) Q2 (1M) Q1 (300K)

Equity

Current Assets: Current Liabilities 101M : 83M

Total Assets: Total Liabilities: 114M : 83M

Current Assets: Current Liabilities 1M : 820K

Total Assets: Total Liabilities: 4M : 820K

Cash Flow Operating Annual

2013: 16.85M 2012: 36M 2011: 15.6M 2010 23.9M

2013: (1.8M) 2012: 30K 2011: (4.32M) 2010 (4M)

Cash Flow Operating Q

Q4 16.8M Q3 18.6M Q2 16M Q1 6.5M

Q4 (1.8M) Q3 (1.4M) Q2 (1M) Q1 (260K)

Net Change

in Cash Annual

2013 5M 2012 22.4M 2011 (2.4) 2010: 1M

2013 (540K) 2012 1M 2011 (3M) 2010: (4M)

Net Chang in Cash Q

Q4 5M Q3 16.73M Q2 12M Q1: 4M

Q4 (540K) Q3 (270K) Q2 (10K) Q1: 1.06M
Comparison of Financial Statements: For the past four years Travelzoo has generated a Net Income of 29M, where as LiveDeal has posted a (21M) net loss. When taking a look at the Balance Sheet for each company it can be seen that both report having positive equity. In fact last Q LiveDeal reported having Assets totaling 4M versus liabilities of 820K. But when taking a closer look at the Balance sheet for LiveDeal, a red flag appears. Of the assets used to pay current debt in comparison to current cash and accounts receivable LiveDeal records having 1 million in current assets and 820K in liabilities. This doesn't leave much breathing room, nor can LiveDeal sell off assets needed to generate revenue. Lastly, as an investor the negative Cash flow of LiveDeal is of great concern. Not only has LiveDeal posted a combined negative change in cash of (6.54M) for the past four years, but the company is showing little if any signs of improvement having posted an increasingly higher negative change in cash for the past three quarters totaling a negative of (820K). Travelzoo on the other hand has posted a positive change in cash of 26M for the past four years, and continues to show strong increase in cash flow from operations totaling 33.73M for the last three quarters. Possibly most alarming is the Cash Flow from Operating for LiveDeal has totaled negative (9.82M) for the past four years, with minimal signs of improvement for the past three quarters.
So how does the Market Capitalization of LiveDeal compare to Travelzoo?
As of 2014 Feb 13, at market close Travelzoo had a market cap of 158M, Livedeal had a market cap of 112.5M. Using the P/S ratio as a metric for valuation for Revenue in 2013 when comparing Travelzoo to LiveDeal the following was found:
Travelzoo 342M/158M= 2.16 P/S ratio
LiveDeal 112.5M/2.35= 47.87 P/S ratio
LiveDeal P/S Ratio 47.87 / Travelzoo P/S ratio 2.16= 22 times higher
If LiveDeal
As a note, the revenue of LiveDeal for the last two quarters has been 620K & 610K respectively, or roughly 1.23M combined. In comparison to 2.35M annually, 1.23M semi-annually shows negligible improvement.
In Summary when comparing LiveDeal to Travelzoo we find LiveDeal Inc. P/S Valuation to be 22 times greater than that of Travelzoo. So, as a conscious investor I must ask why this could be, is the service of LiveDeal projected to be so superior to that of Travelzoo that the current price per share of LiveDeal is fair? Based off of the earlier qualitative analysis it seems the current valuation of LiveDeal is not justified. Even if LiveDeal could be the next Travelzoo it will likely not be for quite some time if ever. LiveDeal is trying to compete in an already highly competitive market with a high barrier to entry. Not only is LiveDeal at a disadvantage in overall market share, but in pricing power as well. Larger companies such as Travelzoo or even Living Social have far greater leverage when negotiating with vendors. All of this can make for unpredictable earnings for a company already lacking positive Cash Flow and having limited current assets.
In conclusion, I would recommend investors avoid buying LiveDeal. The stock has had a good run but is likely to fall over the coming months. If Livedeal were to trade at the equal P/S ratio of Travelzoo, LiveDeal shares would currently trade at .44 or $1.34 per share prior the most recent 3:1 split.
Disclosure: I am short LIVE. I wrote this article myself, and it expresses my own opinions. I am not receiving compensation for it (other than from Seeking Alpha). I have no business relationship with any company whose stock is mentioned in this article.