Q4 2013 for Vanguard Natural Resources (NYSE:VNR) was a game-changing period for the company. The quarter was highlighted by the announced $581M acquisition of natural gas properties in Southwestern Wyoming. This transaction was closed on February 3. As I noted in a recent article, this transaction should have an immediate accretive effect to DCF on a per unit basis.
Q4 2013 Overview
However, as for Vanguard Natural Resources' current assets and production, Q4 2013 was more of a mixed bag. Below is a summary of the quarter: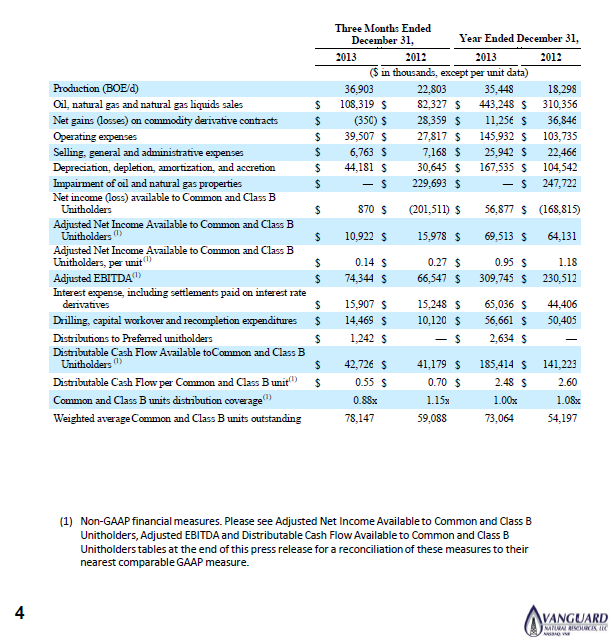 As can be seen, Vanguard Natural Resources posted production of 36,900 BOE/D, up 61% from last year. This increase was due to an acquisition completed earlier in 2013. However, adjusted EBITDA, a vital metric for profitability in MLPs, was up a more modest 12% to $74.3M.
Vanguard Natural Resources' distributable cash flow, or DCF, came in at $42.7M, up 4% from last year. However, as a result of an increased unit count and higher expenses, DCF per unit actually declined 22% to $0.55.
What caused Vanguard Natural Resources' DCF to decline
I am certain that Vanguard Natural Resources will be criticized for its weak DCF metrics this quarter. However, when looking at the actual numbers, it is easy to see why they came in at this level.
For starters, let us use the Q3 2013 numbers as a baseline comparison as production levels were similar Q/Q.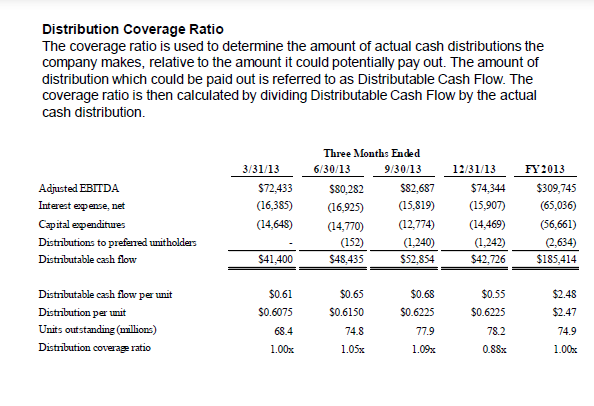 As can be seen, DCF fell nearly $10M Q/Q. This can be explained by the following items:
$8.2M from lower adjusted EBITDA

$1.7M from increased capex spending

$0.1M from increased interest expenses
Vanguard Natural Resources' lower adjusted EBITDA deserves a closer look. Its decline can be almost entirely blamed on lower gains from derivative contracts ("hedges") which fell over $10.9M Q/Q, offset by around $2.4M in higher non-cash depreciation expenses as well as $0.54M in higher equity based compensation.
Vanguard Natural Resources announces a 1.2% increase to its distribution
Along with its earnings results, Vanguard Natural Resources announced that its monthly distribution will be increasing to $0.21 per unit, up 1% from the current $0.2075 per unit. On an annualized basis, this represents an increase from $2.49 to $2.52 per unit. Do note that this increase is effective starting with the February 2014 distribution expected to be paid on April 14, 2014 to unitholders of record as of the close of business on April 1, 2014.
2014 Outlook
Vanguard Natural Resources' 2014 guidance is particularly strong. The company is expecting production this year to range between 51,883 to 55,217 BOE/D, up over 45% from 2013's average of 35,448 BOE/D. Almost the entirety of this increase is coming from natural gas, with production estimated to increase 215,000 to 229,000 MCF/D.
Of special note is Vanguard Natural Resources guidance for DCF. For 2014, the company is expecting its DCF to increase over 20% to $224M. Likewise, DCF per unit should increase to about $2.81, up from $2.48 in 2013. As a result, Vanguard Natural Resources' coverage ratio should improve this year to about 1.12x compared to a 1.00x coverage ratio last year.
Also noted that Vanguard Natural Resources distribution coverage ratio in 2014 is pretty much locked in thanks to hedges. Even if prices for natural gas and oil were to increase/decrease significantly, the coverage is anticipated to remain around 1.10x.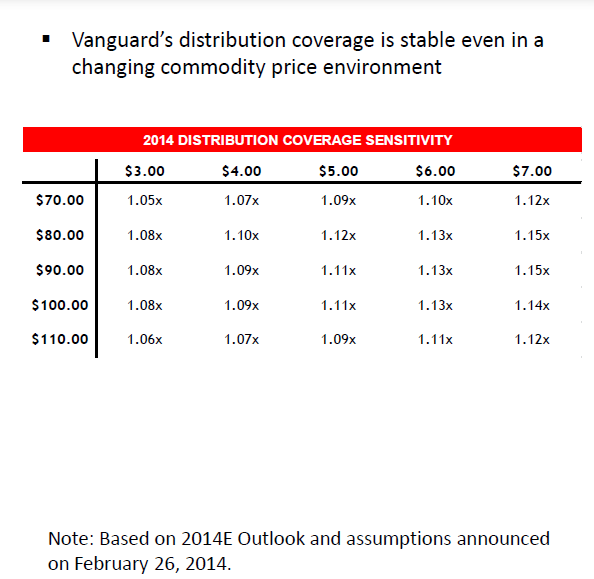 Conclusion
Overall, Vanguard Natural Resources' quarterly results were a mixed. The decline in DCF this quarter was unexpected, especially considering the elevated prices for natural gas. If I had to guess, it appears as if some of Vanguard Natural Resources' hedges actually had a negative impact on realized prices this quarter. In addition, the company obviously was impacted by lower gains from its derivative contracts.
Disclaimer: The opinions in this article are for informational purposes only and should not be construed as a recommendation to buy or sell the stocks mentioned. Please do your own due diligence before making any investment decision.
Disclosure: I am long VNR. I wrote this article myself, and it expresses my own opinions. I am not receiving compensation for it (other than from Seeking Alpha). I have no business relationship with any company whose stock is mentioned in this article.