NXP Semiconductors (NASDAQ:NXPI) faced a large strike at the company's factory in Nijmegen, the Netherlands. Approximately 450 employees decided to stop working for a couple of hours to strike, yesterday. The strike was mentioned in several Dutch media, for example this article and this article. Last week, the negotiations between NXP Semiconductors and the unions were stalled, and there is no immediate prospect for a new round of negotiations. The unions demand an additional salary increase of 3% on top of the current inflation, saying that employees want a reward for the company's strong results in 2013. In fact, the employees demand a 4.7% salary increase, because the inflation rate in the Netherlands was 1.7% in December.
NXP Semiconductors rejected all the unions' demands prior to the strike. The company did not respond after the strike as well. Therefore, it seems that a solution for the dispute is far away and more strikes will follow soon. In fact, the unions and employees are preparing for another strike, most likely on March 12, 2014. They intend to send out a very strong signal to the company's board, according to FNV union director Gerald Maenen.
I was surprised that the international media did not pick up the news regarding the strike at NXP Semiconductors' factory in Nijmegen, because the dispute could become a serious issue for the company in the future. Approximately 450 employees participated in yesterday's strike, more than 10% of NXP Semiconductors' workforce in the Netherlands and almost 2% of the company's workforce worldwide. It is likely that even more employees will participate in the next strike on March 12, 2014.
Several weeks ago, I wrote an article about NXP Semiconductors. I concluded that Goldman Sachs' (NYSE:GS) downgrade was a perfect investment opportunity for investors. The shares traded around $44/share at the time. At this moment, the shares trade around $56.50/share, almost 30% higher (see graph below). An important driver behind the increasing share price is NXP Semiconductors' better-than-expected fourth quarter earnings. The company announced the results on February 6, 2014.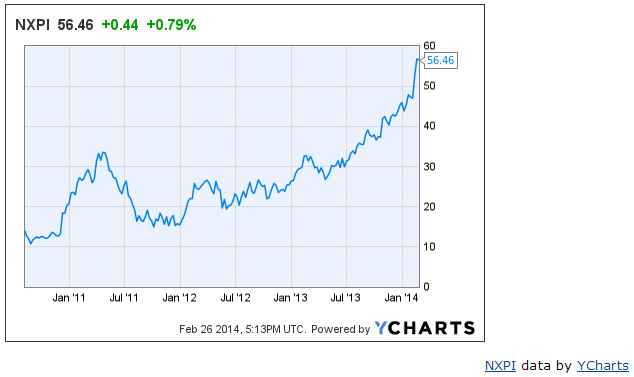 More recently, this article and this article named NXP Semiconductors as a stock to consider as well. Yesterday's developments made me more cautious, though. First of all, employees quit their jobs temporarily to strike. This jeopardized NXP Semiconductors' productivity, and the company could find it difficult to deliver orders to clients on time. Second, the strikes could eventually lead to higher wages, and this will lower the company's profitability.
However, these financial issues are not my major concern. NXP Semiconductors operates in the highly competitive semiconductor sector. Technological advantages are vital for the company's growth in the future. It takes educated technical personnel to deliver these technological breakthroughs and competitive advantages. NXP Semiconductors risks that its personnel do not feel appreciated and leave the company for another competitor. As a result, NXP Semiconductors could lose one of its number one assets, namely highly educated employees, or in other words: knowledge.
Investor who enjoyed the recent rally should consider to cash in (some of) their profits. I would certainly have reconsidered my position in the stock if I had the shares in my portfolio. It seems that there is no immediate solution for the dispute, and the unions are preparing for another strike to send a strong message to the company. It is likely that more employees will participate in this strike. Further, if NXP Semiconductors does not respond to some of the employees' demands, the company risks financial consequences and could lose valuable employees to its competitors.
Disclosure: I have no positions in any stocks mentioned, and no plans to initiate any positions within the next 72 hours. I wrote this article myself, and it expresses my own opinions. I am not receiving compensation for it (other than from Seeking Alpha). I have no business relationship with any company whose stock is mentioned in this article.