Marvell Technology (NASDAQ:MRVL) is a tech company operating in the semiconductor (integrated circuits) industry. The company develops SoC (System on Chip) devices using its expertise in analog, mixed and digital signal processing along with ARM based micro processing integrated circuits. Marvell's product portfolio includes data storage devices, ethernet switches, mobile handsets and other consumer electronics and networking solutions. The company operates in four reportable segments; mobile & wireless, storage, networking and other.
Mobile & Wireless includes communication processors, thin modems and connectivity solutions. Communication processors are essentially SoCs that tackle multiple needs including the capability to address different mobile network standards such as 3G and LTE. The communication processors also incorporate thin modems and application processors. These communication SoCs generally consume low power. Marvell also offers its thin modems separately. The company's Avastar product family is directed towards providing connectivity solutions like Wi-Fi, NFC and FM. The mobile & wireless segment also includes mobile computing products branded as ARMADA. ARMADA, as the name suggests, are ARM based and featured in tablets, notebooks and gaming devices. This segment generated 31% of the company's total revenue in the quarter ended November 2013.
Storage segment is concerned with solid state drives (SSD), hard disk drives (HDD) and hybrid hard disk (HHDD) controllers. The company also provides storage solutions for complex storage area networks. This segment generated 46% of the total revenue in the quarter ended November 2013.
Networking segment of the company is focused on cloud and service provider infrastructure. The cloud infrastructure products of the company are directed towards home, private and public cloud networks. Home cloud products are for home gateways, set top boxes, network storage, printers and media players etc. The company is also involved in the provision of fast ethernet and gigabyte switches for the home and small office market. Private cloud offerings include Prestera, Alaska and Discovery families. Prestera delivers a complete line of ethernet switches and the company claims that it has an exceptional price performance. Discovery Innovation is an SoC solution for router and switches. The Alaska product line includes transceivers directed towards enterprise switching, server and telecom applications. Public cloud products include Prestera switches, ARMADA XP and the Yukon line for cloud data centers. AMANDA XP is an ARM based, 1.6 GHZ quad core enterprise class cloud computing platform. This segment generated 17% of the company's total revenue generated in the quarter ended November 2013.
Other products include printing and smart home product solutions. This segment generated around 6% of the company's revenue in the quarter ended November 2013.
Marvell's overview reveals that it is involved in a wide range of businesses ranging from smartphones to data center solutions. All the segments in which Marvell is operating in have future growth prospects driven by the smartphone revolution. This should benefit Marvell, but a high growth industry attracts more competition and the success of the company depends on whether it has a competitive advantage or not. Marvell will only be worth investing in if it has a sustainable competitive advantage.
The chart below summarizes the revenue and EPS trend of the company.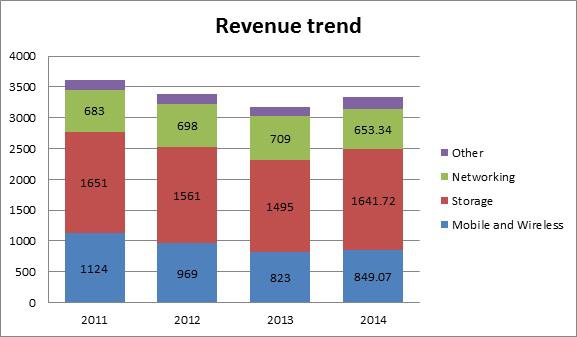 Source: Compiled from Financial Statements
The chart shows that the company has been experiencing a decline in revenues in all of its segments. However, current estimates reveal that the fiscal 2014 will prove to be a positive year with both the mobile & wireless and storage segments experiencing a bit of growth.
Future Prospects
Mobile & Wireless
TechNavio's analysts forecast that the communication processor industry will grow at a CAGR of 15% (2011-2015). The smartphone industry, as a whole, is witnessing growth and is expected to grow further in the future and this potential growth factor presents Marvell with the opportunity to benefit. The company offers ARMADA chips for smartphones. These chips are relatively cheap and, as a result, have a high price performance. Therefore, Marvell's competitive advantage is driven through cost leadership. We expect the ARMADA series to feature in low to medium end smartphones and because of this the company will benefit from the smartphone growth in China. Smartphone adoption in China is on the rise and will benefit Marvell, given that it secures design wins with different smartphone manufacturing companies. The company seems to be doing so:
ARMADA PXA 1088 is featured in Samsung's Galaxy Win Pro. This phone will serve China Mobile's subscribers with 3G roaming capabilities. The phone also features Marvell's transceiver, Wi-Fi connectivity and GPS.
ARMADA Mobile quad core PXA 1088 LTE is also featured in Lenovo's new A788T mainstream smartphone. PXA 1088 LTE incorporates quad core cortex A7, wireless connectivity (including WLAN + Bluetooth 4.0 + FM single-chip SoC), Hybrid Location Processor, an integrated power management unit with audio codec IC and a multimode LTE transceiver. The price of the phone is around $165. The processor is comparable with Snapdragon 400, which is featured in Moto G, a very balanced price performance phone. Moto G, priced at around $200, has the same performance but different price revealing that ARMADA is a cheaper option that can give an equal performance.
The 1088 LTE is also featured in the Yulong Coolpad 8705.
Both Lenovo and Coolpad are becoming the dominating smartphone vendors in China. The fact that Marvell's SoCs are featured in smartphones more frequently than before indicates that it holds a competitive advantage in the SoC arena. Moreover, analysts at Wedge Partners believe that Marvell is gaining share with Samsung at Broadcom's expense. Overall, the facts hint toward future growth in the mobile & wireless segment for Marvell. It seems that the company is coming back strongly after the declining revenues in the last few years.
Storage Segment
IDC predicted in 2011, that the total aggregation of information and content created will grow to over 7ZB by 2015, which was 1.8ZB in 2011. The obvious consequence of this growth is the need for more storage space and hence, companies in the storage business are expected to benefit from it.
Marvell's storage revenues are expected to increase in the coming year (refer to the earlier graph). Having Western Digital and Seagate in the clientele is a positive for the company. According to IDC the enterprise SSD market is expected to triple by 2017, from $2.5 billion in 2012. Moreover, the NAND Flash market is expected to grow by 13.3% in the current year, according to TrendForce. A white paper from Samsung also acknowledges that the demand for SSD is increasing.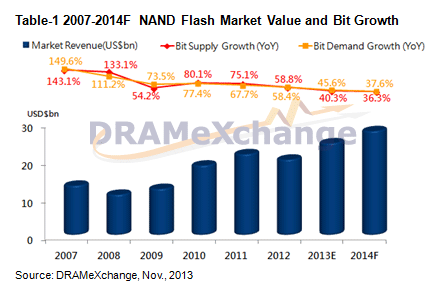 Meanwhile, Marvell recently announced a new eMMC class controller for the mobile storage market. According to PRNewswire:
"As smartphone and tablet demands rise, the eMMC interface for storage devices has become the de-facto standard."
The company claims that the new controller has many breakthrough features that will lead to a faster and richer user experience. In short, the growth prospects in the SSD and HDD markets are quite positive and Marvell is set to capitalize on this growth. We believe that Marvell will experience growth in SSD controllers and will also enjoy stable revenues from its HDD customers, like Western Digital.
Networking and Cloud
With the growing demand of data storage needs, data centers are becoming more important and witnessing significant growth. This growth is expected to continue in the future. Frank Gens, Senior Vice President and Chief Analyst at IDC says:
"In 2014, we'll see every major player make big investments to scale up cloud, mobile, and big data capabilities, and fiercely battle for the hearts and minds of the developers who will create the solutions driving the next two decades of IT spending."
In its latest report IDC made several projections for 2014 including:
Smartphone growth of 12% and tablet growth of 18%.
Cloud spending will increase by 25%. IDC predicts a substantial increase in the number of data centers.
Spending on big data technologies will grow by 30%.
The point is that with the increasing need of cloud and data centers, substantial upgrades in networking and cloud infrastructure are expected. Marvell, being the supplier of network equipment and related services, is exposed to the opportunities of this industry and we believe that the company's networking segment will experience growth in the near future.
Valuations
A cash flow based valuation model is used to derive a price target for Marvell's stock. Assumptions are as follows:
Historic relation between net income and cash flow is a good predictor of future cash flows.
NASDAQ composite returns reflect the return on the overall market.
Company's growth estimates can be used to project future cash flows.
US treasury rates are assumed to be the risk free rate and M&M CAPM is a good approximation to derive the cost of capital.

Source: Historical data from company disclosures
Conclusion
Marvell is well positioned in an industry with which high growth rates are associated. All business segments of the company are either directly or indirectly related to smart devices, including the smartphone industry, and as a result the growth prospects are quite promising. The company's mobile & wireless segment is set to grow thanks to cost effective SoC solutions. The storage segment's growth will be supported by a general increase in the demand of data storage and controllers. The networking segment is also expected to grow as a result of cloud and data center growth but we believe that Marvell will primarily experience growth through mobile and storage solutions. Supported by the above projected price target, we give a buy recommendation on the stock.
Disclosure: I have no positions in any stocks mentioned, and no plans to initiate any positions within the next 72 hours. I wrote this article myself, and it expresses my own opinions. I am not receiving compensation for it (other than from Seeking Alpha). I have no business relationship with any company whose stock is mentioned in this article.
Additional disclosure: Equity Flux is a team of analysts. This article was written by our Technology analyst. We did not receive compensation for this article (other than from Seeking Alpha), and we have no business relationship with any company whose stock is mentioned in this article.