Cirrus Logic (NASDAQ:CRUS) is a chip manufacturer developing analog and mixed signal integrated circuits used in a wide range of products from smartphones to LED lighting. The market has soured on prospects for CRUS. Shares are trading near their 52-week low and short sales represent a whopping 19.6% of the float. Is this pessimism warranted?
At the end of January, CRUS reported third quarter earnings and revenue that beat expectations. The company also provided a forecast of the current quarter that disappointed analysts. The company is a major supplier to Apple Inc. (NASDAQ:AAPL). Cirrus provides Apple with audio chips used in iPhones and iPads. With Apple forecasting slower sales of its products, suppliers like CRUS suffer the consequences. According to reports, Apple accounted for 82% of Cirrus' sales in 2013. CRUS forecasts fourth quarter revenues of $130 to $150 million as compared to $206.9 million in the same quarter last year. The forecast decline in revenues is due, in part, to a change in product mix and in part to a lower product contribution to Apple products.
Third quarter earnings declined to $0.66 per share from the prior year's $0.99. Sales in the third quarter declined to $218.9 million as compared to $310.1 million in the same quarter last year.
Is the market's pessimism warranted or is it being short-sighted? To my way of thinking, there is a two-part answer:
The company's over-dependence on Apple drive a significant amount of sales. As goes Apple, so goes sales for CRUS. I have a high degree of confidence that Apple will introduce something new that will provide a significant boost to their own unit sales and the benefits will flow down to suppliers like CRUS.
CRUS continues to broaden its product line which will have the effect of lessening dependence on Apple. They are betting on audio being a bigger component of mobile devices.
While we wait for this transition to work itself out, we need to know how well CRUS is executing now. The company reported having $290.5 million in cash and short-term investments on hand at the end of the third quarter and no long-term debt. The operating margin was 21.9% which is significantly higher than the company's trailing five year average operating margin of 15.86%. The company provided a ROE of 20.7% for the trailing twelve months, which trails the five year average of 25.92%. I note that for the fiscal year ending March 2011 ROE, at 61.9%, is an outlier.
With no long-term debt and a current ratio of 5.7, CRUS faces no immediate threats to its operations. I estimate that CRUS generated $4.38 in free cash flow over the past twelve months. The company does not pay a dividend.
In the chart reproduced below, I compare CRUS with 14 other companies of similar size in terms of revenue. The metrics that I utilize are those I consider most important. They measure market valuation and management effectiveness.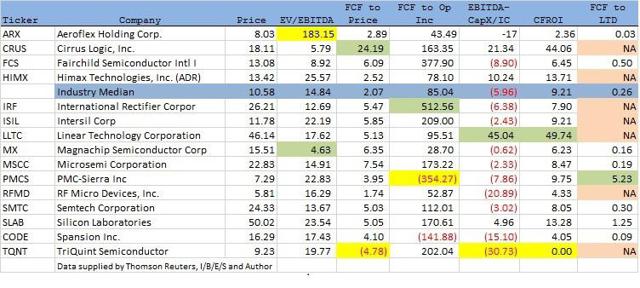 Based on Enterprise Value to EBITDA, MX has the lowest valuation of the group with an EV/EBITDA ratio of 4.63 and ARX has the highest at 183.15. The median EV/EBITDA ratio for 168 companies in the semiconductor industry is 14.84.
Another valuation metric is Free Cash Flow to Price. CRUS comes out ahead of all other companies with a ratio of 24.19. The industry median is 2.07.
The remaining metrics are used to evaluate management effectiveness. FCF to Operating Earnings tells us about the quality of earnings. The industry median is 85.04. EBITDA less CapEx to Invested Capital tells us about management's ability to utilize invested capital. The industry median is negative. Cash Return on Invested Capital takes free cash flow from the Statement of Cash Flows and compares the FCF to invested capital. I believe this is more meaningful than the income statement based ROIC.
Not all of the companies listed above carry long-term debt. Of those that do carry long term debt, PMCS has the best coverage. Aeroflex (NYSE:ARX), Magnachip (NYSE:MX), Microsemi (NASDAQ:MSCC), Semtech (NASDAQ:SMTC) and Spansion (CODE) have very weak positions.
Based on the above, I conclude the following:
Based on EWV/EBITDA and FCF to Price, only CRUS, Fairchild (FCS) and MX are trading at real discounts.
The remaining metrics tell that CRUS and Linear Technology (NASDAQ:LLTC) are the only companies performing well.
LLTC is not undervalued.
CRUS combined good valuation with effective management.
In its press release, CRUS indicated that it may not see the success of its strategy until 2015. The patient investor may reap the rewards of waiting for this well-run company to be recognized by the market.
Disclosure: I have no positions in any stocks mentioned, and no plans to initiate any positions within the next 72 hours. I wrote this article myself, and it expresses my own opinions. I am not receiving compensation for it (other than from Seeking Alpha). I have no business relationship with any company whose stock is mentioned in this article.