As a general rule, it is often smart to play defense when investor sentiment shifts and becomes negative. This means defensive sectors tend to perform better than cyclical sectors when the market heads south. Defensive sectors primarily include healthcare and consumer goods.

In this article, I have identified three healthcare companies that are working to improve the way that doctors diagnose and treat cancer. All three companies are trading under $3 and have market values below $100 million.
Click all images to enlarge



#1 EPICEPT (OTC:EPCT)
Unlike most cancer drug makers with market values of less than $100 million, EPCT has recently obtained regulatory approval, albeit in the EU, for its lead drug Ceplene, which is indicated for Acute Myeloid Leukemia (AML). Ceplene is administered in conjunction with interleukin-2 (IL-2), a form of immunotherapy, to AML patients following their first remission. For more information, interested investors should also review Ceplene's trial results.

Back in January of this year, EPCT signed an agreement with Swedish drug maker Meda to market Ceplene in the EU and certain Pacific Rim countries. Under the agreement, EPCT is responsible for manufacturing the drug and in return expects to receive (1) a 10%+ royalty on all net sales of Ceplene and (2) $35 million if certain regulatory and other milestones are achieved.

Just last month, Meda launched Ceplene in the UK on April 20, 2010. Within the next year or so, the drug should be available to AML patients throughout the EU.

Itinerary 2010 – 2011
Ceplene is currently being reviewed by Canadian regulators, and the company expects to receive a decision on their submission by year-end 2010.

EPCT also plans to submit a new drug application (NDA) to US regulators in Q2 2010. If all goes smoothly, then Ceplene could be approved in the US as early as December 30, 2010, following a priority review or April 30, 2011 with the standard FDA review. Setbacks have become a very costly part of the drug review process in the US. Investors would be wise to anticipate them.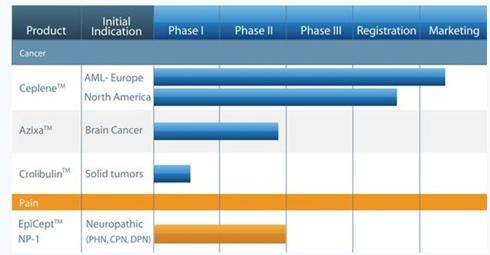 Azixa
As indicated above, Azixa is indicated for brain cancer. Unlike Ceplene, however, Azixa is being developed by Myriad Pharmaceuticals (NASDAQ:MYRX) in agreement with EPCT. At the upcoming ASCO meeting in June, MYRX is expected to provide an update on Azixa which is being studied in a Phase 2 trial. It should be noted that EPCT will receive a milestone payment from MYRX at the start of Azixa's Phase 3 trial.

Epicept NP-1
NP-1 is an analgesic cream for the treatment of pain and is currently being studied in a Phase 2 trial for 400 patients battling with chemo-induced peripheral neuropathy (CPN). Notably, the trial is being conducted by the Community Clinical Oncology Program, which is funded by the National Cancer Institute (NCI). By the end of Q2 2010, the trial should be fully enrolled. EPCT plans to find a partner for NP-1 prior to the start of the Phase 3 trial.

In January 2010, NP-1 was awarded orphan drug status for the treatment of post-herpetic neuralgia (PHN) in the US. Once approved, orphan drugs receive certain exclusivity rights for the specific indication that the treatment has been approved.

Crolibulin
During 2010, EPCT expects to initiate a Phase 1b trial for Crolibulin, a vascular disruption agent (VDA), which is indicated to treat solid tumors.

Price Target
My 2010 price target for EPCT is $3.00.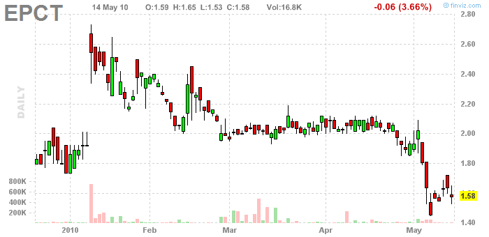 #2 OXIGENE (OXGN)
OXGN is another cancer drug maker trading under $100 million. Like EPCT, OXGN is working to develop vascular disruption agents (VDA). At this year's ASCO meeting in early June, OXGN will announce Phase 2 data for Zybrestat, a VDA indicated for non-small cell lung cancer (NSCLC). In addition, OXGN will also present Phase 1b data for OXi4503, a second generation VDA indicated for the treatment of solid tumors.

To learn more about OXGN's Zybrestat as well as how VDAs work, interested investors should take a moment and view each of the three videos bulleted below.
During 2010, I believe shares of OXGN could hit $2.00.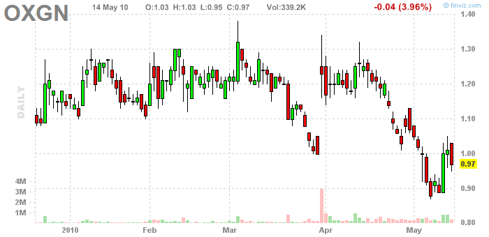 #3 RESPONSE GENETICS (NASDAQ:RGDX)
I first alerted investors to RGDX back on
January 19
while shares were trading at $1.47. Since that time, shares have advanced about 83%. From my view, RGDX still remains a cost effective way for investors to play personalized medicine.
RGDX, a growing cancer diagnostics maker, is working to improve the way doctors treat cancer. In effect, their tests help doctors to determine which patients are most likely to respond best to certain cancer drugs.
The company sells
Response DX
, molecular diagnostic tests that help oncologists to efficiently determine which cancer treatments are most likely to best treat the patient's specific tumor-type. RGDX also analyzes the Response DX tests from a lab located at their headquarters in Los Angeles.
Thursday, May 13, RGDX reported their results for Q1 2010. During Q1, sales of Response DX tests grew by 24% quarter over quarter and revenues totaled $3.7 million. Although the company did report a loss of $2.1 million during the quarter, the loss was primarily due to increased costs associated with expanding its sales force.
Tuesday, May 11, RGDX agreed to provide GlaxoSmithKline (NYSE:
GSK
) with its proprietary
BRAF mutational analysis technology
.
Price Target
I like RGDX over the next 18 months and believe the company could possibly be acquired by a larger diagnostics maker at some point in the future. During 2010, my price target for shares of RGDX is set at $4.00.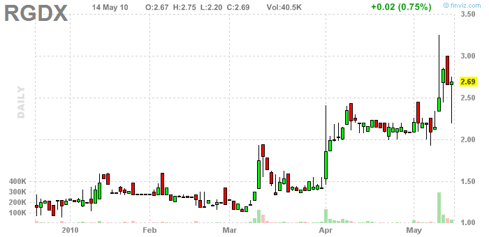 Disclosure:
No positions.