Cabot Oil & Gas Corporation (NYSE:COG) is an energy exploration and production company that has kept its focus on unconventional extraction of oil and gas from the Marcellus and Eagle Ford region. The Marcellus Shale is gas rich and currently provides around 18% of US natural gas as it achieved a level of 3 Tcf in 2013. The Eagle Ford Shale is reported to have an estimated 50 Tcf of unproven gas reserves, according to EIA. The price of natural gas has stayed above the $3.50 MMBtu mark during most of 2013 while Cabot's equivalent production increased by 55% (compared to 2012) which helped it in outperforming the industry last year.

Source: Y-Charts
Financial Performance
During the fourth quarter of 2013 the company managed to increase its equivalent production to around 122 Bcfe (which is a 55% increase compared to the same quarter of 2012 and an almost 14% increase compared to the third quarter of 2013) whereas revenues increased by 12% quarter over quarter. This shows that the increase in revenues has been due to an increase in production rather than better market conditions as Cabot stated in fourth quarter earnings that the realized price for natural gas in 2013 was $3.56 per Mcf (including hedge effect) which is 3% lesser compared to 2012, while the realized price of oil went down by 1% to $101.13 per barrel (including hedge effect).
| | | | |
| --- | --- | --- | --- |
| | Company | Industry | Sector |
| Quick Ratio (MRQ) | 0.67 | 1.15 | 1.32 |
| Current Ratio (MRQ) | 0.73 | 1.24 | 1.55 |
The liquidity position of the company does not look strong as both quick and current ratios are not only lower than the industry average, they are also below 1 which shows that all short term obligations cannot be paid off through current assets. Even though the operating cash flow of the company has shown a huge increase of 57% during 2013 (versus 2012), there was a total cash outflow of $7.3 million which was due to $1.2 billion in capital expenditure during the year. Such a high capital expenditure is a good sign because in order to increase future production the company either needs to initiate new projects or develop its existing projects to increase market share. Furthermore, Cabot will be increasing its capital expenditure for 2014 to an estimated $1.5 billion with an increased focus on the Marcellus region, as can be seen from chart below.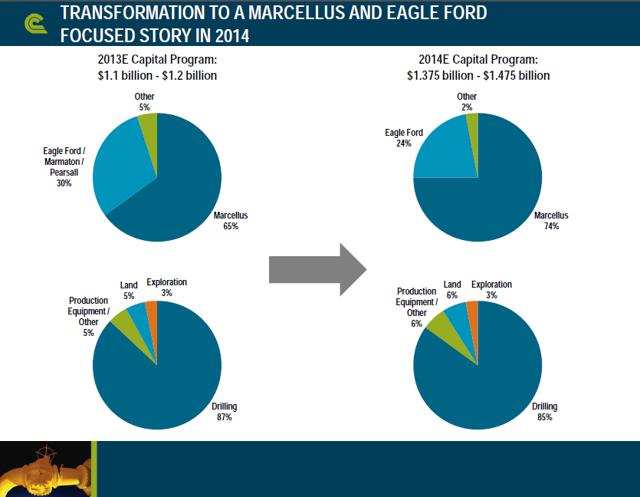 Source: COG Dec 2013 Update
Operating Efficiency
Cabot is also increasing its operating efficiency as it has shown over the past few years that the time consumed for drilling a well is decreasing year over year. This directly effects the production as more wells lead to more production. The graph below shows that even though the depth of wells is increasing, the company is still managing to complete the drilling process in fewer days. A deeper well results in greater drilling costs but the company's increased efficiency has helped it to decrease its well cost from $6.4 million to $5.8 million.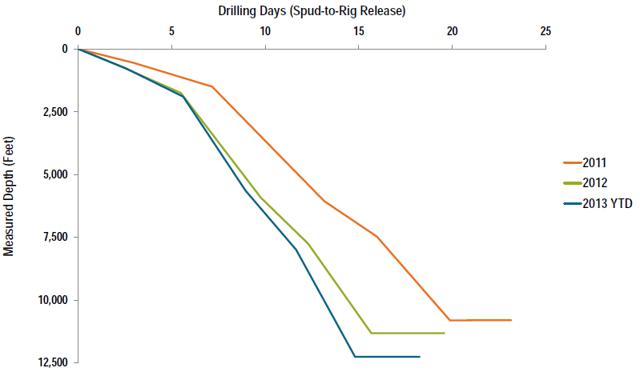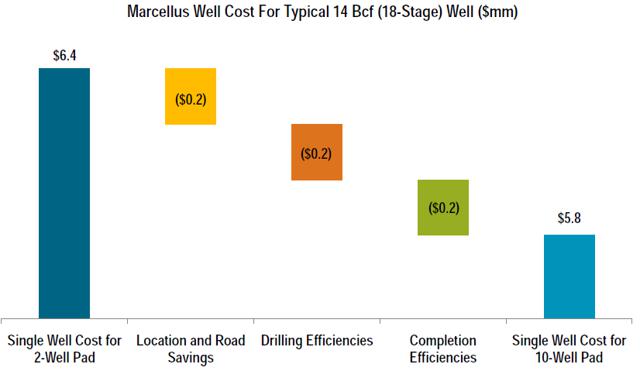 Source: COG Dec 2013 Update
Furthermore, Cabot announced that production during the first half of 2014 will not increase as the company continues to focus on pad drilling rather than enhancing production which is creating a lag between the spud-to-sale duration. There was also a setback in production due to severe weather during January and February which forced the company to think twice about increasing production.
Recent Developments
Cabot announced recently that it has reached an agreement for long-term sale of gas with a subsidiary of WGL Holdings (NYSE:WGL). This deal will provide 500,000 MMBtu per day of natural gas to WGL for a 15 year term which is expected to start in the second half of 2017 with the commencement of Transco's Atlantic Sunrise expansion project. In the Atlantic Sunrise projects, Cabot will add a capacity of 850,000 MMBtu and will be participating as an equity owner. This means that the company will have a stable revenue stream that will be generated from the sale of 850,000 MMBtu per day of natural gas and it will be able to focus on other avenues as well as increasing its efficiency.
Dan O. Dinges, Chairman, President and Chief Executive Officer stated, "Specifically for Cabot, we secure the optimal path for our previously announced Cove Point volumes (350,000 MMBtu per day) and add another sizeable agreement to our portfolio of long-term sales contracts, while utilizing a portion of our future anticipated free cash flow to invest in another infrastructure project."
Furthermore, Cabot also announced an increase in its reserve volume. Total proven reserves of the company have increased by 42% in 2013 (compared to 2012) to 5.5 Tcfe even though the company sold off some of its assets during the fourth quarter of the year. Cabot sold 66,000 net acres in the Marmaton Play in Oklahoma and Texas Panhandles to Chaparral Energy for $160 million while another property in West Texas was sold to an undisclosed buyer for $28 million. Combined, these areas had proven reserves of 3.6 million barrels of oil equivalent as at the end of 2012. This is a huge achievement for the company as it has the capacity to increase its production by constructing more wells and increasing revenues.
Dinges said, "The divestiture of our Marmaton and West Texas properties reflects our commitment to accelerating value within the portfolio by monetizing non-core positions and redeploying proceeds to our higher-return projects in the Marcellus Shale."

Source: Cabot Oil and Gas
Valuation
| | |
| --- | --- |
| | Amount in $(billion) |
| Market Capitalization | 16.5 |
| LT Debt | 1.15 |
| Cash and Cash Equivalent | (0.02) |
| Enterprise Value | 17.6 |
Enterprise value of Cabot is close to $17.6 billion while shares outstanding are 421 million. From this we can calculate an EV/share of $41.87 per share. According to our estimates, the stock is being sold at a discount of around 7% which means that the share has potential for growth. Analysts have given a target price of $45.54 per share for 2014 so either way it will be a good investment.
Conclusion
The price of natural gas is not expected to show much fluctuation and even if it does the company's hedging policy should be able to offset some of the volatility in the natural gas market. Now that we are moving towards warmer weather the demand for natural gas will decrease from the residential sector. However, this will not upset price levels as natural gas is expected to fill the gap created by the withdrawal of coal powered generation. Although renewable energies are a threat to natural gas powered generation, currently they still need some time to compete with natural gas on the basis of cost. Therefore, we believe that the market is going in favor of Cabot at present. Furthermore, the reserve levels of the company have also increased which means that it has more natural gas at its disposable which will provide a stable production even if there is disturbance due to severe weather or other unforeseeable circumstances. We believe that the company has potential to grow and give good returns to the investor.
Disclosure: I have no positions in any stocks mentioned, and no plans to initiate any positions within the next 72 hours. I wrote this article myself, and it expresses my own opinions. I am not receiving compensation for it (other than from Seeking Alpha). I have no business relationship with any company whose stock is mentioned in this article. Equity Flux is a team of analysts. This article was written by our Basic Material and Financial analyst. We did not receive compensation for this article (other than from Seeking Alpha), and we have no business relationship with any company whose stock is mentioned in this article.