Remember the summer of 2011? Netflix (NASDAQ:NFLX) plummeted almost 80% in a matter of months. Back then it seemed as though everyone was anticipating an imminent demise after the company announced its plan to split the DVD business from the streaming business only to reverse the plan three weeks later. Everyone was worried about the next twelve months; it was hard to find an article that addressed the long-term. Lately, we have been seeing something similar: countless articles about how net-neutrality will effect Netflix or the short-run effect of a subscription price increase. This article focuses on the company's long-term ability to expand internationally and outpace its competition. I was a bull back in the dark days of 2011; back then, I was focusing on the next ten years, and I still am. Let me tell you what I think the future will look like for Netflix.
Competitive Landscape
Netflix is an outstanding company on the brink of an international expansion that could make it one of the most profitable companies in the world. Competitors such as Amazon (NASDAQ:AMZN), Hulu, HBO, and Walt Disney (NYSE:DIS) are adamant on capturing its market share, but in my opinion, no one has the brand recognition and streaming content know-how of Netflix, which should enable it to remain ahead of the curve well into the future.
Revenue & Net Income Forecast
As Netflix gains a foothold in numerous countries including the U.K., Canada, Ireland and the Netherlands, to name a few, it is likely to experience massive gains in revenue. Net income is another story: as Netflix expands into new regions, its costs rise in the form of increased content acquisition expenses, advertising and content delivery expenses, as well as costs associated with customer call centers. In the early stage of expansion into new regions, there is little room for profit, due to the large amount of cash required to gain subscribers in new regions. In the future, as the company establishes its long-term international presence, the contribution margin of its international streaming segment should improve dramatically as the growth of memberships and revenue should surpass the growth of streaming content acquisition and marketing expenses.
The long-term profitability of Netflix is promising. If the company is able to gain a strong international presence, and its efforts to tame content costs succeed, the contribution margin of the international segment should be comparable to that of its domestic segment, which stood at a rock solid 23% in 2013. The implications of massive revenue growth and a strong contribution margin are obvious: strong earnings growth. I believe it is rational to say that Netflix has the potential to be one of the most profitable companies in the world.
The Curve Ball
I am not a Netflix bull. I firmly believe that everything I wrote above is true; however, in terms of investing, all factors are meaningless if the stock is currently overpriced. Unless you are a very long-term investor who is not concerned with volatility risk, I do not recommend buying Netflix right now. Its current price suggests that its earnings will grow at a rate of 20 percent for the next 30 years (based on a standard DCF model). In my opinion, its current valuation mirrors the valuations of internet bubble stocks in the nineties.
Plan of Action
If I am right, and Netflix does move downward this year, assuming operations continue as projected by the company in its annual report and guidance, I recommend following this plan of action:
For illustrative purposes I will assume an investor has a maximum of $10,000 he would like to invest in Netflix at various prices
Here is a list of what I believe is the probability of NFLX falling to specific levels within the next 12 months: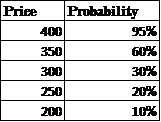 Below is a plan for accumulating shares if the stock does fall to $350, $300, $250, and $200 based on the probabilities above, the opportunity cost of missing an entry point if one or more of the levels is not reached, and the capital limitation of $10,000:

Below is a chart of a theoretical price chart for NFLX between February 2014 and February 2016 (Pre-February 2014 data is based on historical prices).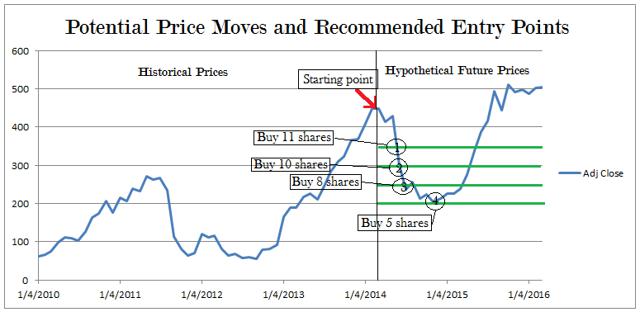 Using this plan will significantly limit the volatility risk of investing in Netflix at its current price. There is a risk that you may miss out on potential gains if the shares fail to drop to the stop-limit orders outlined above, but I believe the risks associated with owning shares at today's inflated price are significantly higher than the opportunity costs associated with missing a point of entry if the stock fails to move lower.
Conclusion
For some reason, over the years, Netflix has developed passionate opinions from investors and analysts. I have seen these emotion-driven opinions creep their way into price-targets and write-ups (In 2013, I remember seeing an analyst from a Midwestern investment bank give Netflix a one year price-target of $55). I believe my somewhat unique perspective on this company (I have been a bull for years, I think the company has a lot of room for growth, but is currently overvalued) allows me to give an impartial view on the practicality of investing in Netflix at its current price. I do not recommend shorting the stock, as the risk that the market's irrationally exuberant valuation of Netflix will hold or intensify into the future is too high relative to the potential reward of a correction. I do, however, recommend following my plan of action to accumulate shares if the price moves lower in the next twelve months.
Disclosure: I have no positions in any stocks mentioned, and no plans to initiate any positions within the next 72 hours. I wrote this article myself, and it expresses my own opinions. I am not receiving compensation for it (other than from Seeking Alpha). I have no business relationship with any company whose stock is mentioned in this article.