I was first introduced to Guns, Germs and Steel in my junior year of college. Its author, Jared Diamond, a Professor of Geography by trade, set out to answer a question: Why were Eurasians able to conquer and defeat other civilizations? Through his research he concluded a couple of things.
The environment is the determining factor of how the civilization fared. Prof. Diamond argues that civilizations that turned to agriculture had a distinct advantage. As civilizations grew from sustaining crops, trade became a part of acquiring needed goods. These civilizations were then introduced to new types of livestock, such as horses and donkeys. With an exposure to working animals, more efficient transportation allowed more goods to be moved, increasing commerce and the area a civilization could settle. As settlements grew, they become more densely populated; this along with the co-habitation of animals and humans lead to humans contracting diseases and eventual immunity to many of these diseases.
What we can take from this is that there are basic industries that our society is built on and without them, society as we know simply could not survive.
Agriculture
Agriculture is the cornerstone of our society, and without it, we could not survive. There are many plays an investor could take when it come to agriculture. An investor could look at a food company, such as General Mills (NYSE:GIS), or a commodity-based company, such as JG Boswell (OTCPK:BWEL). The first company I think of when I hear agriculture is Archer Daniels Midland (NYSE:ADM).
The company, founded in 1902, is a basic food processing and commodity company. A component of the S&P 500 and having a market cap of $26 Billion, Archer Daniels is a dividend aristocrat, increasing their dividend for the past 38 years with a 14% annualized growth rate since 1983. The stock trades at a P/E of about 20 with a yield of 2.37%.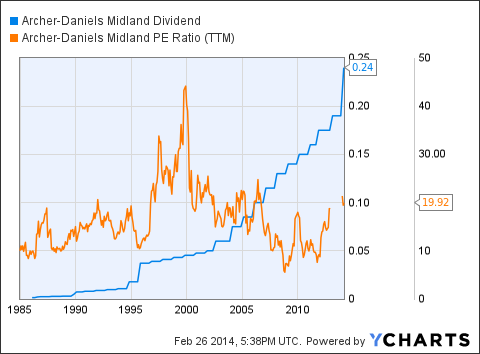 ADM Dividend data by YCharts
Transportation
There are many plays in transportation including, railroads, shipping, airlines and automotive. Personally, I like Norfolk Southern (NYSE:NSC). I held a very small position in my portfolio. Norfolk is, in part, the current incarnation of the railroad industrialist Cornelius Vanderbilt.
The company can trace its roots to the late-1800s. Officially formed in 1982, the company currently has a market cap of $28 Billion. Even though they have only raised their dividend consecutively for the last four years, Norfolk has paid a dividend since 1982. The company has an annualized dividend growth rate of 6.34% since 1982. Currently the stock trades at a P/E of 15 with a dividend of yield of 2.36%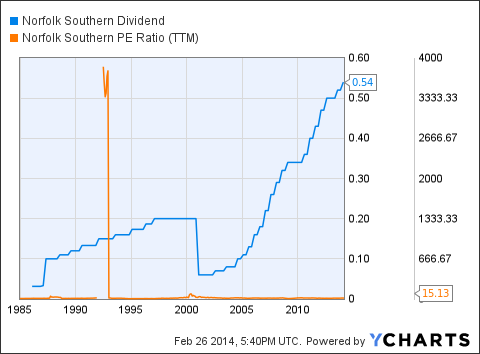 NSC Dividend data by YCharts
Healthcare
There are also many angles an investor can come from concerning investments in the medical industry. An investor can look at REITs for hospitals, pharmacies, insurance companies and biotech. For me the flagship name in the medical field is Johnson & Johnson (NYSE:JNJ). The company, founded in 1886, started out by selling surgical dressings two decades after the civil war.
JNJ currently has a market cap of $256 Billion. It has a dividend yield of 2.9% and trades at a P/E of 19. The company has raised its dividend consecutively for the last 51 years, which makes it a dividend aristocrat. The company has raised its dividend at an annualized rate of 13.96% since 1970.
JNJ Dividend data by YCharts
Conclusions
These are just a few examples of companies that can make solid, long term investments. What Guns, Germs and Steel can teach us is that our society built a foundation on certain industries that are constant throughout human history. Others include Finance, Energy and Utilities. By investing in these categories, and specifically, dividend paying leaders in these categories, the long-term investor can obtain an increasing cash flow over a life time.
Disclosure: I have no positions in any stocks mentioned, and no plans to initiate any positions within the next 72 hours. I wrote this article myself, and it expresses my own opinions. I am not receiving compensation for it (other than from Seeking Alpha). I have no business relationship with any company whose stock is mentioned in this article.