Summary
Warren Buffett (NYSE:BRK.B) is in the news again. This time, it's not about his billion dollar wager about NCAA tournament brackets; nor his confession of being a water boy for the Washington Redskins. Instead, it is for potentially ending his 37 year relationship with Graham Holdings (NYSE:GHC) by divesting his $1.1 billion dollar stake. This would put an end to his role as a major shareholder, with a 28% stake, and would remove the added stability Buffet provided the company. GHC is best remembered as being The Washington Post's parent company. In August last year, the Washington Post was sold to Jeff Bezos, the founder of Amazon.com (NASDAQ:AMZN), for $250 million.
Details of the 'Special Swap'
Buffett's company, Berkshire Hathaway (NYSE:BRK.A), has filed with the SEC that it will give up its stake in Graham Holdings for a share swap. In return for getting rid of his 1.73 million shares, GHC will give away some of its prime assets, such as a profitable broadcast television company, cable subsidiaries, and a Kaplan education company. These assets will be used to form a new unit to be owned by Berkshire Hathaway. Additionally, Buffett will receive cash, as well as $3 million worth of Berkshire Hathaway shares, owned by GHC.
However, according to the SEC filing, the deal is still currently under negotiation. If the intricate and complex deal does go through, it will bring huge tax benefits for both Warren Buffett and Donald E. Graham. Since the exchange of shares will be tax-free, Buffett will not have to pay the 35% capital tax on his shares, and Graham will not have to pay tax on the increased value of the transferred assets.
Complicated, tax-free swaps could be considered a Buffett specialty. For instance, in December of last year, he made one with Phillips 66. During that mega-deal, he swapped his shares for a company division that specialized in manufacturing lubricants used to transport oil through pipelines. Earlier, in 2008, he had exchanged his 16.3 percent of shares in White Mountains Insurance Group for cash and a White Mountain subsidiary.
For GHC Shareholders
If an agreement is reached, how will this affect GHC shareholders? It will leave them with a bigger stake in a smaller company. As for Buffett, he will benefit from owning assets that he considers more valuable than what he had before.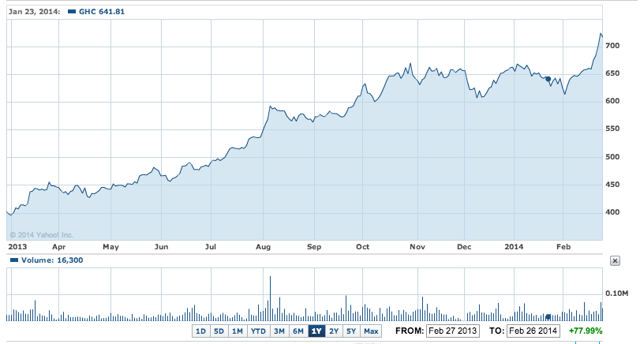 (Source: Yahoo! Finance)
Historical Summary For GHC and Buffet
Still, this does not mean that Buffett did not obtain considerable value during his 37 years on the board, which came to a close in 2011. He was a close friend of Donald Graham's mother, Katherine, who was said to have trusted him instinctively, and it was a trust Buffett honored by watching over the company. In fact, his advice is responsible for the well-funded employee's pension fund.
When Buffett first invested in GHC in 1973, which at the time was still The Washington Post Company, he only paid $11 million for it. Those shares are now valued at $1.1 billion. Moreover, the dividends he received from his stake far exceeded his initial payment. Last year, for instance, he received $17 million in dividend income alone.
Strong Relationship Bodes Well For Swap
The likelihood of the deal coming to fruition is fairly likely because the question is not whether or not to do the deal, as both parties are highly in favor of it, but how to do the deal in the most equitable fashion. It will go through if the interests of both parties can be agreed upon.
What This Means For Berkshire and GHC Shareholders
We believe this Swap will be a positive for all shareholders and we maintain our buy recommendations on Berkshire and GHC.
Disclosure: I have no positions in any stocks mentioned, and no plans to initiate any positions within the next 72 hours. I wrote this article myself, and it expresses my own opinions. I am not receiving compensation for it (other than from Seeking Alpha). I have no business relationship with any company whose stock is mentioned in this article.