The transportation of goods by land and sea has been extremely bullish, and is not yet appreciated by the investing public.
By Sea
Three dry bulk vessel markets have been on fire: the Handimax, Supramax, and Panamax size ships. Everyone focuses their energies on the Baltic Dry Index and has therefore missed this extraordinary move. We've written about it here. Let's take a look at those impressive Handimax, Supramax, and Panamax indexes: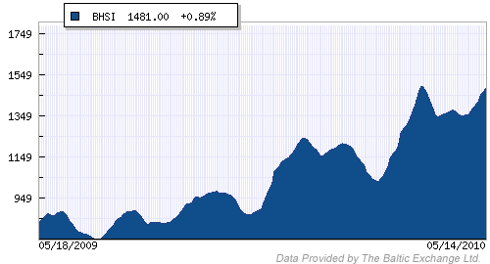 (Click to enlarge)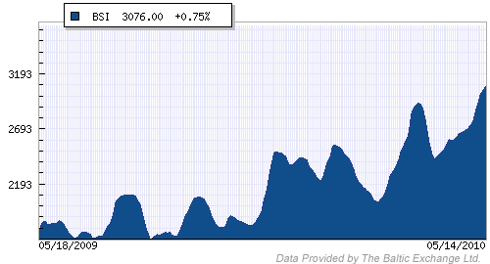 (Click to enlarge)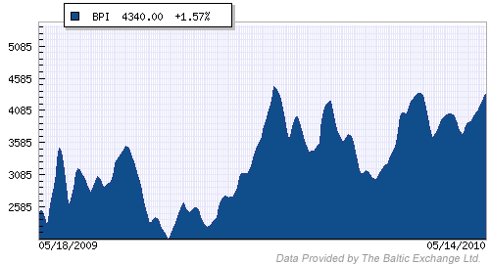 (Click to enlarge)
As predicted in my last article, the Cape market is back. The BCI is up 1400 points to 4804 since the article was written less than a month ago.
Unfortunately, the companies that make up the dry bulk sector loaded up on debt buying ships at inflated prices in 2007 and 2008. Many of them almost sank under the weight of those hefty debts. In addition, their ships are valued at seemingly high amounts because depreciation has not taken them down to reasonable levels.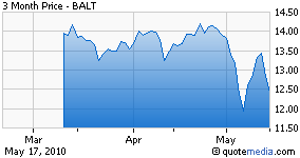 How do you play a bull market when the companies are anchored down by debt?
You buy Baltic Trading (NYSE:BALT), the newly formed dry bulker, which starts off with no debt and a fleet of reasonably priced ships. BALT currently trades at less than NAV. With BALT, you get to play the dry bulk bull market with none of the luggage.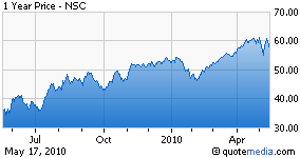 Also, Norfolk Southern (NYSE:NSC), in their conference call (see full transcript here), gave strong evidence of a recovery. Total shipments were up 9% over first quarter last year. Each of their business groups reached year high loadings except for automotive. The numbers are starling:
Merchandise volume increased by 16% in the quarter, of that total, agricultural volume up 21% was our second highest quarter ever and was led by increased shipments of ethanol, up 23%, export grain up 5200 carloads or nearly 450% and fertilizers up 128%.
However, the big story was March, which saw extraordinary growth, up 19% over last year, way beyond expected. The conference call talks about it, but the full impact of the data isn't evident unless you look at the slides which show agriculture up 25%, metals up 31%, chemicals up 30%, and intermodal up 24%.
Disclosure: Author long BALT and GNK