Diversifying your dividend income portfolio across a wide range of industries is very important to the long-term health of your portfolio. Fluctuations among industries can lead to potential dividend cuts and eat into your income objectives. This article will be the first of a 6 part dividend analysis aimed at identifying the top dividend stock in each of the following sectors:
1. Big Oil
2. Utility Companies
3. Technology
4. Consumer Staples
5. Big Tobacco
6. Dividend Cornerstones
Big Oil
This article will cover large oil companies and analyze which dividend paying company is worth adding to your portfolio. Exxon (NYSE:XOM), Chevron (NYSE:CVX), ConocoPhillips (NYSE:COP), BP PLC (NYSE:BP), Royal Dutch Shell (NYSE:RDS.A), and Total SA (NYSE:TOT) will be covered. These are all extremely large and well established companies that have a footprint in virtually every corner of the globe.
| | | |
| --- | --- | --- |
| Company | Market Cap. ($ Billions) | P/E |
| Exxon | $ 416.9 | 13 |
| Chevron | $ 218.5 | 10.3 |
| ConocoPhillips | $ 81.2 | 10.3 |
| BP | $ 155.5 | 6.9 |
| Royal Dutch Shell | $ 141.8 | 14 |
| Total | $ 143.7 | 11.4 |
Dividend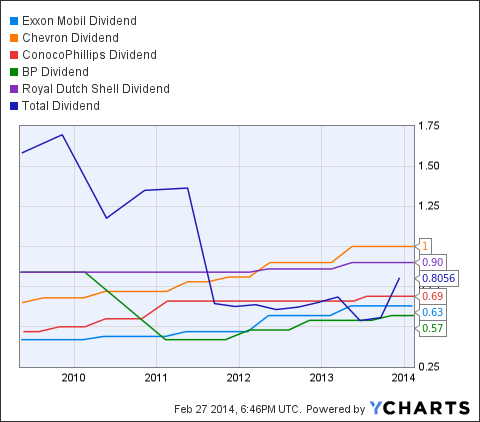 XOM Dividend data by YCharts
One of the most important principles of investing in dividend stocks is to identify stocks that have steady dividend payments with appropriate payout increases over time. A fluctuating dividend is a red flag when analyzing a stock for a dividend investment portfolio. A company that cuts its dividend serves as a warning to sign to investors that the company is going through hard time and isn't confident it can sustain their current dividend going forward.
As seen in the chart, both BP and Total have had significant dividend cuts and fluctuations in the past 5 years. BP, of course, slashed its dividend after the Deepwater Horizon oil spill, and Total is notorious for its fluctuating dividend payments. On the other hand, Exxon, Chevron and ConocoPhillips have good track records of sustaining and increasing their dividends over time. Royal Dutch Shell, while consistent, went 3 years without any dividend increase.
Dividend Yield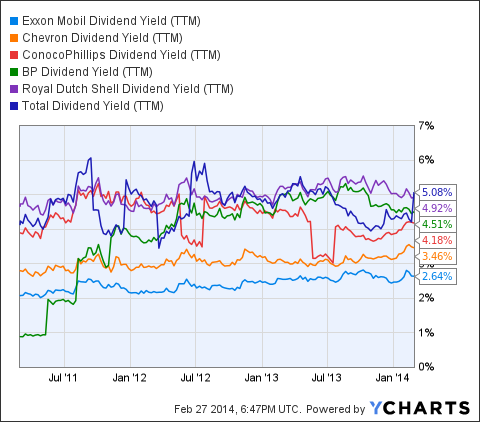 XOM Dividend Yield (TTM) data by YCharts
A declining stock price will result in an increasing dividend yield, so this metric can be a little deceiving when looked at alone. Total, Royal Dutch Shell, BP and ConocoPhillips all have yields over 4%. While Exxon and Chevron have fairly steady dividend yields, they are just 2.6% and 3.5% respectively.
Payout Ratio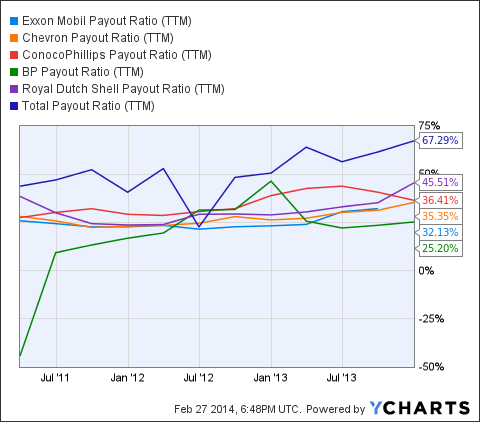 XOM Payout Ratio (TTM) data by YCharts
Payout Ratio measures what percent of earnings a company dedicates to their dividend payout. The lower the payout ratio, the easier it is for a company to sustain or increase a dividend. Aside from BP, which has large fluctuations due to the impact of the Deepwater Horizon oil spill affecting earnings, the major oil companies have consistent payout ratios under 50%. Total has seen its payout ratio increase in 2013 above 50% and currently stands at 67%. Exxon, Chevron, ConocoPhillips and Royal Dutch Shell all have favorable and steady payout ratios that allow flexibility for the companies. If one of these companies has a bad quarter or two, the dividend is still easily covered by earnings and fear of a dividend cut is minimal.
EPS Growth
| | |
| --- | --- |
| Company | 1-year EPS Growth (est.) |
| Exxon | 4.3% |
| Chevron | -0.4% |
| ConocoPhillips | 6.0% |
| BP | 15.1% |
| Royal Dutch Shell | 1.9% |
| Total | 2.4% |
Source: CNBC
The oil industry as a whole isn't expected to have much growth in 2014 based on 1 year EPS growth. BP is finally starting to regain traction from the Deepwater Horizon oil spill and is expected to be the fastest growing major oil company in 2014. ConocoPhillips and Exxon are expected to see moderate EPS growth. Chevron had a rough end to 2013 with costs company-wide soaring. With a market cap of $218 billion, it will take some time for Chevron to restructure its business and contain costs.
Conclusion
Oil stocks have a solid history of providing top-notch dividends. All the companies in this analysis could be added to a dividend investment portfolio without too much worry of dividend cuts or large decreases in shareholder value. But to me, one stock sticks out as an extremely valuable company worthy to be added to any portfolio.
ConocoPhillips is near the top in every comparative analysis of the large oil companies. It may be the smallest of the 6 companies analyzed, but it has seen solid growth and stability in its dividend, a low payout ratio of only 36%, a healthy forward dividend yield of 4.3% and decent projected EPS growth of 6% in 2014. At the same time, ConocoPhillips has been divesting from its riskier assets overseas and investing heavily in the North American shale boom.
For dividend income investors with more risk tolerance, BP is the most undervalued in this analysis, with a P/E of just 6.9. BP is still involved in litigation surrounding the oil spill back in 2011, so it has more risk associated with it than other companies in this analysis, but it also has the most upside for share appreciation while offering a healthy dividend.
For extremely conservative investors, Exxon may be the safest pick among the group. It is one of the largest companies in the world and offers an incredibly safe dividend yield of 2.6%.
Disclosure: I have no positions in any stocks mentioned, and no plans to initiate any positions within the next 72 hours. I wrote this article myself, and it expresses my own opinions. I am not receiving compensation for it (other than from Seeking Alpha). I have no business relationship with any company whose stock is mentioned in this article.