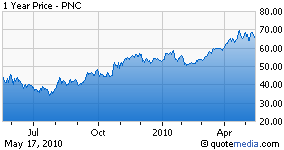 First Quarter Highlights
PNC Financial's first quarter earnings were ahead of the Zacks Consensus Estimate by 10 cents. Results were helped by a lower provision for losses coupled with a modest increase in revenues.
Net income came in at $1.31 per share and compared favorably with $1.11 per share in the prior-year quarter. Total revenues were $3.8 billion, up modestly from $3.7 billion in the prior-year quarter. This increase came on the back of a 43 basis point expansion in net interest margin, which increased to 4.24% from 3.81% in the prior-year quarter.
Non-interest income remained flat at $1.4 billion, when compared with the prior-year levels. Provision for credit losses during the quarter was $751 million, down from $880 million in the prior-year quarter, driven primarily by the stabilizing economy.
PNC Financial also continues to strengthen its balance sheet with its focus on risk and expense management. The company increased its Tier 1 risk-based capital ratio by 60 basis points year over year to 10.6%. Tier 1 common equity ratio increased 340 basis points year over year to 8.3%.
Non-interest expense eased 2% year over year to $2.1 billion, mainly due to greater-than-expected cost savings related to the National City acquisition and lower integration costs.
Agreement of Analysts
Looking at the estimate revision trends, it becomes clear that a majority of the analysts are in agreement about the strong full year 2010 outlook for PNC Financial. The table below shows 15 analysts raising their estimates for full-year 2010, while no downward revisions were witnessed over the last 30 days. Also, for full-year 2011, 21 analysts have increased their estimates, while only 1 analyst has made a downward revision in the last 30 days.




Magnitude of Estimate Revisions
As evident from the strong agreements of analysts over the outlook of PNC Financial, estimates have budged up significantly following the earnings announcement.
For full-year 2010, earnings have increased to $4.78 per share from $3.80 per share. For 2011, estimates have moved up significantly to $5.82 per share from $4.90 per share as projected earlier.




Our Take
PNC Financial continues to strengthen its balance sheet with a focus on risk and expense management. Moreover, benefits from the National City acquisition continue to exceed the company's expectations. However, we believe that these positives have already been factored in the current valuation.
Currently, we are concerned over the weak demand for its loans in the upcoming quarters. Both commercial lending and consumer lending businesses have witnessed a decline but commercial lending has suffered more. Though this trend eased somewhat at the end of 2009, given lower utilization levels for commercial lending among middle market and large corporate clients, we expect a weak loan demand and low utilization rates until the economy improves.
Additionally, though credit metrics have stabilized over the past few quarters, we believe an improvement will take longer, given the sluggish economic recovery.
PNC Financial has a Zacks #3 Rank, which translates to a short-term Hold recommendation. Our long-term recommendation for the stock also remains Neutral.