Today, we'll look at three major energy pipeline companies. These include Enbridge (NYSE:ENB), TransCanada (NYSE:TRP) and Pembina Pipeline (NYSE:PBA). This risk / opportunity analysis will benchmark potential investment options based on the following fundamentals: P/E, dividend, payout ratios and margins and compare them to Enbridge's current metrics. In addition, we'll discuss relevant DRIP opportunities pertaining to each. Together, these factors will enable investors to determine which securities (if any) are best suited for their portfolio.
Historically, Enbridge gained a reputation in Canada for being a smooth and reliable operator-a Canadian "blue chip." As a growth stock P/E ratio is currently pegged at 75. Although, on initial glance this may seem high, let's compared its earnings to competitors:
| | |
| --- | --- |
| | P/E |
| Enbridge | 75 |
| TransCanada | 17.9 |
| Pembina | 32 |
So, clearly investors pay a premium for Enbridge shares compared to its peers, but are it worth it? Obviously, a number of factors come into play when making a determination in this area. As a long-term dividend growth investor a reliable passive income stream is primary among them. So let's take a look each company (historic) dividend over the last several years respectively: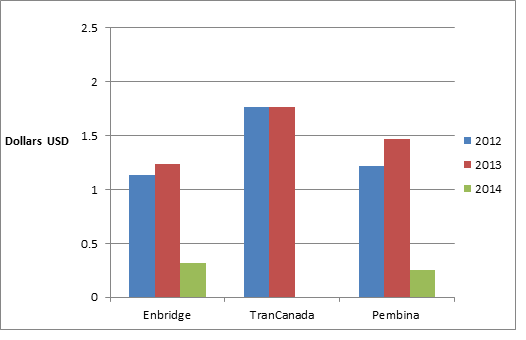 As you can see, the trend (adjusted for currency conversion) over the last several years for Enbridge is a steady increase in dividends payable-a positive sign. In juxtaposition, TransCanada seems weaker on it's their long-term dividend (growth) commitment. However, Pembina dividend ostensibly appears promising. Obviously, these metrics have significant implications to income and DRIP investors. If the commitment to long-term dividends is less than rock-solid it is likely to not be sustained and should therefore give investors reason to pause. But perhaps more specifically, what are these company's futures? Are payouts and margins high? Do they make payouts unsustainable / unreliable? Let's take a look:
| | |
| --- | --- |
| | Payout Ratio |
| Enbridge | 237% |
| TransCanada | 78% |
| Pembina | 184% |
In terms of Enbridge, on first glance a 237% payout seems high, but given the highly predictive nature of the pipeline business (collecting steady reliable tolls) it's arguably sustainable. In comparison, TransCanada weighs in at 78%. These metrics place us solidly in a comfort zone and company's long-term dividend likely has room to grow and in fact recently did so. Lastly, Pembina lists at a 184% payout, which should be some cause for concern given its rapidly increasing dividend; therefore its quarterly payouts are unlikely to be sustained long-term.
Obviously, in terms of long-term income potential-margins are critical. We want them regular and "chunky." So, let's take a look:
| | |
| --- | --- |
| | Margin |
| Enbridge | 1.91% |
| TransCanada | 20.3% |
| Pembina | 6.76% |
Getting to the numbers, TransCanada sets itself apart in this arena blowing both its competitors out of the water. Clearly, given TransCanada current Keystone Pipeline project, a strong case can be made that the stock is currently undervalued despite Enbridge being the longtime sub-sector leader. Also, TransCanada is showing dividend improvement and has long-returned a steady quarterly dividend for many years. However, Enbridge despite its shortcomings retains an excellent reputation in the energy space.
However, Pembina's future is seemingly murkier and caution should be taken when considering (potential) investment as the company is not a pipeline leader in the sector. Finally, in terms of DRIP opportunities as mentioned earlier all three offer low-cost and often commission free programs, some (Enbridge & Pembina) provide optional cash purchase discounts. Lastly, as a word of caution: some of these programs are only open to Canadian residents, so please be advised. Still, DRIP'ing indirectly through a broker remains a viable option.
The Seeking Alpha Bottom-line
So, what's the verdict? All factors considered Enbridge is the proverbial "steady Eddie." However, in terms of growth TransCanada may be your best bet. While, Enbridge has for years been a reliable and efficient energy operator TransCanada given its recent U.S. / Canada ventures has more immediate growth opportunities. As far as Pembina, the company could well be a solid contrarian play, which at least bears some consideration, yet given all (above-mentioned) factors TransCanada is my pick in the sub-sector.
In sum, with risk comes opportunity, so tread carefully. Ultimately which (if any) company to invest in is your decision and yours alone. Please be aware of both the potential upside (and downside) of these decisions. By thinking long-term rather than for quick profit will often greatly reduce exposure to short-term risk factors and will help with potential capital gains fees / taxes as well as also collect passive dividend income along the way-good luck!
Disclosure: I am long ENB. I wrote this article myself, and it expresses my own opinions. I am not receiving compensation for it (other than from Seeking Alpha). I have no business relationship with any company whose stock is mentioned in this article.