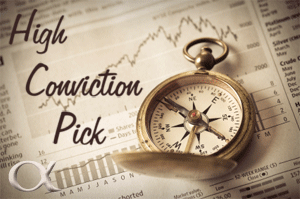 Denean Williams is managing director and portfolio manager of Cameron Capital Management, a registered investment advisory firm based in Radnor, Penn., that manages accounts for individuals, trusts, and institutional investors. The firm's approach is to combine quantitative analysis methods with rigorous fundamental and statistical risk management to maximize risk-adjusted returns.
Seeking Alpha recently got the chance to ask about his current high conviction stock.
What is your highest-conviction pick?
I'd say Microtune (TUNE), a stock that has the characteristics that I find attractive for a long investment.
Tell us a bit about the company behind the stock.
Microtune is a semiconductor company which provides radio frequency (RF) tuners and transceivers to broadband communications markets. It designs and develops radio frequency integrated circuits and RF modules for a variety of broadband access devices, including cable modems, PC/TVs, set-top boxes, and digital TVs.
Can you talk a bit about the sector? How much is Microtune an "industry pick" as opposed to a pure bottom-up pick?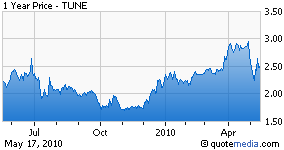 Microtune is a pure bottom-up stock pick via the proprietary in-house quantitative screening model (called GenVantage) that Cameron Capital Management utilizes. Having said that, the company is a play on the transition to digital technologies, which is massive technology transformation.
For instance, according to estimates by market research firms, the number of households with digital television will approach 500 million in 2010. Ongoing digital transitions throughout the world suggest robust demand for integrated DTV sets and set-top boxes for the next three to five years.
TUNE expects DTV manufacturers will transition to next-generation silicon tuner technology (Microtune's sweet spot) in the future due to cost, size and performance advantages as compared with legacy subsystem module tuners, and expects the complete transition from subsystem module tuners to silicon tuners to take several years. Other large markets for TUNE are cable modems and set-top boxes.
Can you describe Microtune's competitive environment? How is this company positioned vis-a-vis its competitors?
Throughout 2010, they expect to continue to see market share gains in the cable modem market as their prior Data Over Cable Service Interface Specification (DOCSIS 3) design wins ramp into full production. DOCSIS 3 is an international telecommunications standard that permits the addition of high-speed data transfer to an existing Cable TV system. It is employed by many cable television operators to provide Internet access.
Their primary competition here remains Broadcom (BRCM) and NXP Semiconductors (soon to be listed) and the "can tuner" suppliers in Asia. In the cable market, they have introduced to customers a new digital logic circuit called a CMOS digital tuner, with the chip currently being designed into platforms of early adopters. They are excited about the potential of this new product family, which they believe offers a level of integration, performance, and cost above that of other CMOS tuner products in the marketplace today.
The growing popularity of online applications and increasing bandwidth requirements will fuel a move to their DOCSIS 3.0 chip and boost demand for TUNE's products. The recent acquisition of Auvitek (now called Microtune China) will open the TV market to Microtune by expanding its digital components product portfolio. In the DTV market, there is intense competition. The market potential is enormous, and they see themselves as well positioned to participate with their portfolio of products. The DTV product portfolio now includes silicon tuners, demodulators, and combo tuner-demods.
TUNE's automotive segment revenues are generated from car radios, antenna amplifiers, car TV, and specialized avionics products. Previous quarter revenues were down, primarily driven by expected end-customer demand fluctuations.
Can you talk about valuation? How does Microtune's valuation compare to competitors?
Given the lack of near-term net income, the best way to look at the valuation is via its EV/EBITDA multiple. The benefit of using EV/EBITDA is this accounts for the large amount of cash on TUNE's balance sheet. A previously announced 10% reduction in headcount and operating expenses has boosted TUNE's operating leverage, implying EPS growth should outpace revenue growth.
Looking at EV/EBITDA as compared with TUNE's fabless peer group highlights that TUNE trades on 2011 estimates of 6.45 times EV/EBITDA compared to the average for its group of 7.54. On 2011 EV/Sales, it trades on 0.46 times compared to the average for its group of 1.95 times, and 45.4% free cash flow yield compared to the average for its group of 15.6% - for a business with +20% forecast revenue growth this year and 9% the next. It's also worth noting that 62.6% of shareholders' equity is made up of cash!
What is the current sentiment on Microtune? How does your view differ from the consensus?
There are currently four sell-side firms that actively cover TUNE with the recommendations equally weighted to buys and holds. Our holding in the stock reflects the high cash as a percentage of the company's market cap - currently 54% - together with its favorable loss carry-forwards which are estimated to be circa $182M, which means the company will pay minimal taxes on U.S. earnings when they become profitable in 2011.
Does Microtune management play a role in your position?

Management is always an important factor when considering a stock purchase, and especially so with a small-cap holding where the number of employees is relatively small. With TUNE we have a CEO, Mr. James Fontaine, who has been with the company since 1998.
Mr. Fontaine, 52, was Chief Strategy Officer before becoming CEO in 2003. Additionally, TUNE came to an agreement with Ramius LLC (an activist shareholder) that will enable three parties to stand for election to TUNE's board. Interestingly, 11.4% of the stock is held by insiders, whose interests are obviously aligned with shareholders.
What catalysts do you see that could move the stock?
This story is very much about execution and subsequent upgrades to revenue estimates, as can be seen from the latest earnings report. Historically, Microtune's Q2 is the strongest in terms of revenues, with the two subsequent quarters trending down slightly.
Overall, the company continues to be cautiously optimistic about the recovery, and that's reflected in their updated guidance of 25% growth in revenue for the rest of the year, vs. the 20% guidance given in February. Despite the conservative outlook of the company, assuming the recovery continues, we could see revenues in the back half of the year edge higher.
An additional catalyst could be what the three Ramius members decide to do with their board seats; will they look to reinstate share buybacks, implement a dividend or undertake more corporate actions? It remains to be seen at this point in time.
What could go wrong with this stock pick?
The main risk factors are a large dilutive acquisition, or a failure to gain adoption of their products in the marketplace, especially in China, thereby deferring profitability. Litigation between the SEC and certain former officers requires TUNE to meet ongoing legal expenses which could become burdensome but are unlikely to impact the company directly.
Thanks, Denean, for sharing your thesis with us.
Disclosure: Cameron Capital Management is long TUNE.
Read more High Conviction Picks »
If you are a fund manager and interested in doing an interview with us on your highest conviction stock holding, please email Rebecca Barnett.