In today's What's Next For The Market, we look at J.C. Penney's (NYSE:JCP) most recent earnings report released on Wednesday night. That report helped the stock fly up on Thursday over 25%. Heading into the report, we had been very bullish on the name both in our earnings outlook as well as a lengthy discussion about the company's potential to hit $10 this year on margin and liquidity improvement. Today, we want to highlight the earnings report as well as discuss how the report fits into our recent assessment of this very exciting name as JCP continues to attempt to recover. As always, we also look at today's important news, digest key economic data, delve into company news that matters, chart the markets, and forecast what we see coming next.
In Focus - J.C. Penney
Today, in our In Focus section, we want to investigate the latest earnings from JCP and put an understanding of the recent report in the big picture of J.C. Penney. Here is a summary of our opinions coming into the earnings report from our latest article:
Yet, as we enter the new year, is the company getting back on track? Are they even, dare we say, a decent value play?

Today, we want to take a deeper look at the company to assess three main questions of the company:

- Margin Growth
- Liquidity Concerns
- Price Target Analysis

The company's return of margins is a key to the potential success of the company as well as their liquidity capabilities. Further, we will use this information to assess a potential 2014 price target for the company…Moving forward for J.C. Penney, margins are the key for the company. A rebound in margins can suppress a lot of the liquidity and valuation issues the company currently has. From 2010 to the TTM, the company has seen gross margins drop from 39.4% to 27.9%. On the operating margin side, the company has seen a decline from nearly 10% in 2007 to -17% in the TTM. The decline of margins is in many ways the most identifiable factor for the company - inventory that does not agree with customers, selling items at deep discounts, problems with selling goods that customers want, and liquidity concerns. We believe the ability for the company to return to historical margins is imperative to the company's ability to return to some sense of normalcy as well as avoid potentially critical liquidity issues…

Liquidity is an issue, and to insulate, the company will likely have to do another share offering or debt addition to help them in 2016. This model does assume a return to gross margins and sale increases as well CapEx staying around $300M, so if those do not go according to plan that also threatens the company. Liquidity is something bulls should be concerned with, but the company has about two years to turn the ship around. If they can outperform our model, the concerns weaken further. Though, it appears that the company does need more debt or more shares to help them. Yet, the situation is not completely dire as some would say. The lack of major payments over the next 24 months helps the company focus in on raising sales, margins, and battling back.
So, today, we want to investigate how these two main aspects of the company are developing, as well as if it means any changes for our pricing model.
Margins
The margins needed to improve coming into the report and moving forward for the company. Without strength in margins, the company will have trouble recovering positive free cash flow, and it will challenge the liquidity model. Margins looked much better in the latest report, with gross margin improving 460 points year/year to 28.4%. That number compares to 29.5% in the last quarter. We had expected them to stay flat on gross margin, but the company highlighted that much of the weakness was part of the ongoing process of discontinuing brands that are not performing well and looking to replace them with more popular brands. The company's discontinuation of brands was the main reason for the drop as it worked off a lot of inventory - causing a 190 basis point drop. Without this impact, margins would have improved sequentially.
Here is CEO Myron Ullman on the move:
We undertook a difficult and expensive task of rebuilding our merchandise assortments in stores and jcp.com. We invested in inventory ahead of back-to-school and again with holiday in order to meet anticipated customer demand. We brought back key item basics and popular private brands that customers wanted while editing out unproductive brands that weren't resonating. These steps cost us gross margin in the short-term, but they were the right things to do for the long-term.
One of the really positive numbers to come from the report was the drop in SG&A costs. Many bears have highlighted that SG&A could not decline as a % of sales, but the improvement here is showing that the company was able to actively manage operating expenses as we had noted in our previous article. We believed that JCP would see this improving as the costs from restructuring Home Goods has started to work off as well as the company has completed a lot of the return of the old pricing model. In fact, Ullman noted this area was the largest drain on margins, so JCP is excited to relaunch it in March. SG&A dropped to $1B from $1.2B+ in the previous quarter, helping operating margins jump to -3.6% from -20.6% one year prior. On a sequential basis, operating margins improved from -14%. This improvement is really one of the brightest parts of the report, and keeping SG&A in check is crucial to a return to positive cash flow. As for the whole year, the company believes SG&A will be flat year/year, and that is the key to improving cash flow as sales rebound. Here is CFO Ken Hannah on SG&A:
We gave some first quarter guidance where we basically said we thought it would be slightly below the prior year. We don't expect the total year to be vastly different than what we had in 2013. So I think as Mike said earlier, we are continuing to see productivity in the stores. We are continuing to see productivity and return on investment from our marketing spend. And so those are the two big buckets inside that SG&A and we are pleased with the improvements we are seeing and believe that you will start to see leverage in 2014.
Margins are on the right track. Gross margins definitely need to show growth in the next quarter, and we believe they will as long as the discontinued lines stop. Operating margins showed a lot of improvement, and we are definitely positive on the company's ability to definitely get back to positive operating income by the end of this year and potentially even start to see some positive cash flow in late Q4 or early 2015. The bigger question, though, may be liquidity.
Liquidity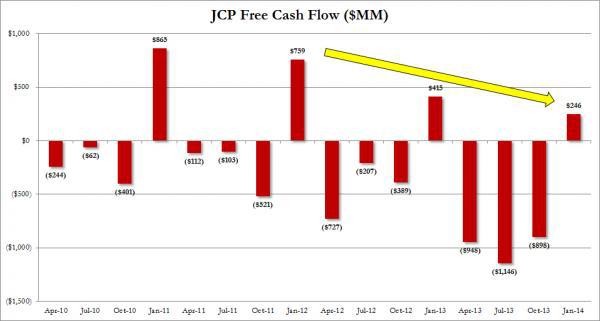 In our last report, we highlighted liquidity as an issue. Some of the general numbers as to what debt payments will need to be made were definitely a hot button issue as the company did not include the 2014 maturity date in its Q3 earnings forts irevolving credit line. That number changed to 2016. The company did not address this in the earnings call, and we will have to wait for the earnings filing to get the liquidity notes, but the company did its job in reporting confidence surrounding liquidity. Free cash flow remains concerning, but the company saw this drop due to low income levels as talked about in the margin section. (picture source)
Here were comments from Hannah:
As we think about our cash flow and liquidity position going forward, we have visibility of positive free cash flow results under our existing strategy and we have access to the resources we need under our existing agreements to complete our turnaround. We believe we will end the year with an excess of $2 billion in liquidity and believe that our strong liquidity position will be in excess of $1 billion.
When asked more about liquidity by Wells Fargo analyst Paul Lejeuz, who pressed the company on if they would be FCF-positive by year end, the company responded:
We anticipate to complete the turnaround in 2014, and if we completed well, we would [see] free cash flow positive. I think it is too early to be very, very specific, but I think the liquidity guidance we gave you gives you the comfort that we are not burning cash in the process of finishing the turnaround.
One of the most important parts of the liquidity question is also CapEx. In our scenario for a $10 price target, we assumed a consistent $300M in capital expenditures. The company seems to believe it can stay in this area for the near-term, which is also essential to liquidity:
I would say since we spent almost $1 billion in CapEx last year, one would argue that we have not under spent in our store environment, so I think we can live on a diet for a little while. Does not have to be to 250, it could be 350 or 500, but [tailor] to the opportunities we have as merchandise well with the customer.
Overall, the comments have kept us confident about liquidity being about just enough moving forward, but this number is essential to watch. Margins and sales need to continue to improve in order to see liquidity concerns stay tempered, and we still believe another $500M of either debt or equity needs to be drawn on outside of the revolver available ($500M). Yet we are seeing that as necessary in 2015 if all goes as planned in 2014.
Price Target
The results were about as we expected, and we maintain our $10 price target. You can see more of our PT discussion in our latest article, linked above.
Overall, things are looking pretty solid for the company as it continues to recover. By no means is JCP out of the woods, and it has to execute, improve margins, maintain liquidity, and grow comps. If any of these fail this year, it will be challenging for the company to meet our targets. The potential to be even higher if it outperforms our targets is also there, and we continue to like JCP as a deep value play with medium-high risk.
Market Overview
The market was able to breakout to the upside today on a more limited news day for the market. The market was mostly reacting to jobless claims, durable goods, earnings, and foreign data this morning. We saw the key to the market as some better than expected earnings from a number of retail names like JCP, Best Buy (NYSE:BBY), and online search engine, Baidu (NASDAQ:BIDU). Additionally, we had a number of key European data points and news with German unemployment and eurozone Confidence reports as well as the recent developments in the Ukraine. We focused on Europe as the key to today's movement with our clients.
The data that comes out of Europe as well as news is almost as important as the domestic news and developments as a recovery in Europe is imperative to the US markets being able to see another successful year. Disappointment there will drive markets lower in Europe, and without the Fed's backing, we could see that having some impact or at least holding American markets in check. This morning, we got both important data and news out of Europe. The data, while less exciting, is likely more important. We got a series of reports this morning - German Unemployment, eurozone Economic/Business/Consumer Confidence, and German CPI.
The key to us is the first two. Germany is the "gem" of Europe right now, and they will lead any major recovery, so they are the market to watch. German unemployment numbers came in better than expected, down 14K versus expectations of 10K, but that was less than 28K in January. Vacancies for jobs were up 1K with 44K add to the number of employed people. The numbers were decent, but they were not as strong as numbers had been. That data was decent enough, but we got good numbers in the confidence reports with Economic Confidence jumping to 101.2 versus 100.7 expectations and the business climate, industrial, and services confidence reports all beating expectations and rising over January. It's a slow grind up, but it is happening.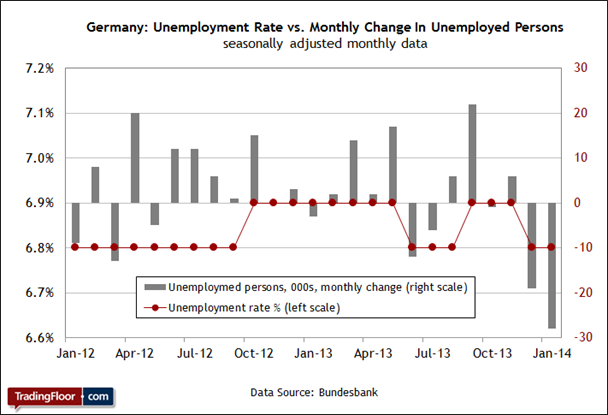 Yet we wouldn't know that the data we got was pretty solid due to situations developing in the Ukraine that are masking an overall improving European economy. In the Ukraine, tensions continue after Russian gunmen took government offices under control in the country today. The nation appears split or at least still to have a very strong Russian supporting population. Yanukovych believes that he is still the president of the Ukraine, and Russia did military exercises yesterday just 200 miles from the Ukraine with 150K troops.
Despite these concerns, the market rallied on solid earnings and better data from Europe as domestic data was mixed. At the close, the Dow Jones (NYSEARCA:DIA) is up 75 points. The Nasdaq (NASDAQ:QQQ) is up 27 points, and the S&P 500 (NYSEARCA:SPY) is up nine points.
Charting the Markets
In this section, we examine the current market setups in the S&P 500, Dow Jones, Nasdaq, and Russell 2000 (NYSEARCA:IWM).
)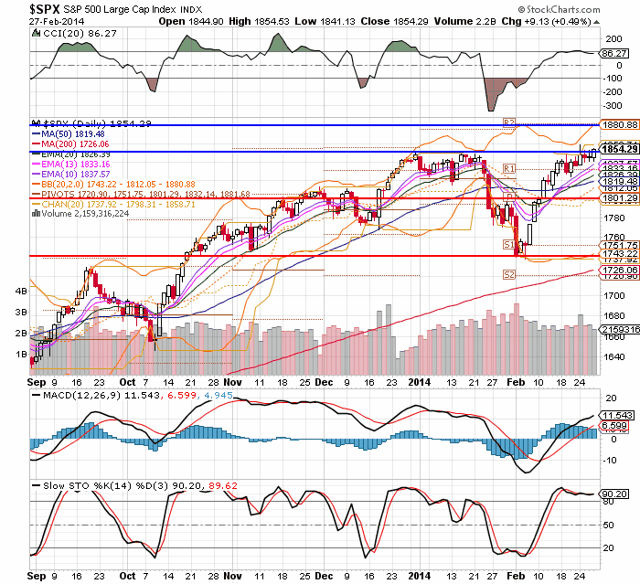 S&P 500
Resistance lines to watch:
1st - 1850 2nd - 1880
Support lines to watch:
1st - 1800 2nd - 1730
Current Sentiment:
Rangebound at Inflection Point
Analysis:
The S&P retook 1800 and is nearing key resistance at 1850. A test of that line this week will be key to see if we are chugging higher or staying range bound. 1800 is now support with another key line now until 1730.
Resistance lines to watch:
1st - 16150 2nd - 16500
Support lines to watch:
1st - 15470 2nd - 14800
Current Sentiment:
Bottoming of Correction
Analysis:
The Dow Jones retook its 200-day MA at 15470, and it has formed some support at the 15400 area. From there, the 148-line is the next major support line. 16150 is the key resistance area right now before 16500. Dow is not as strong as the S&P.
Nasdaq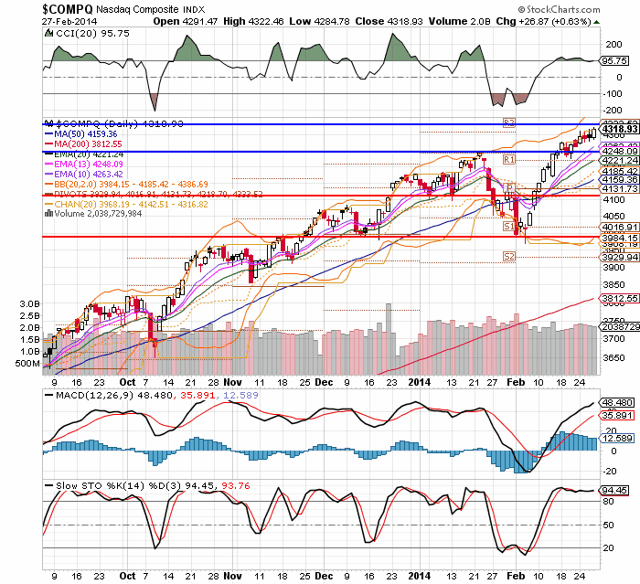 Resistance lines to watch:
1st - 4250 2nd - 4300
Support lines to watch:
1st - 4120 2nd - 4000
Current Sentiment:
Bullish
Analysis:
The QQQ is the most bullish as it broke key resistance on Tuesday at 4250, which was the high of the year. That breakout is strong and now has resistance at 4300 next. Support now sits at 4120. If we see follow through tomorrow, it will signal another cycle higher.
Russell 2000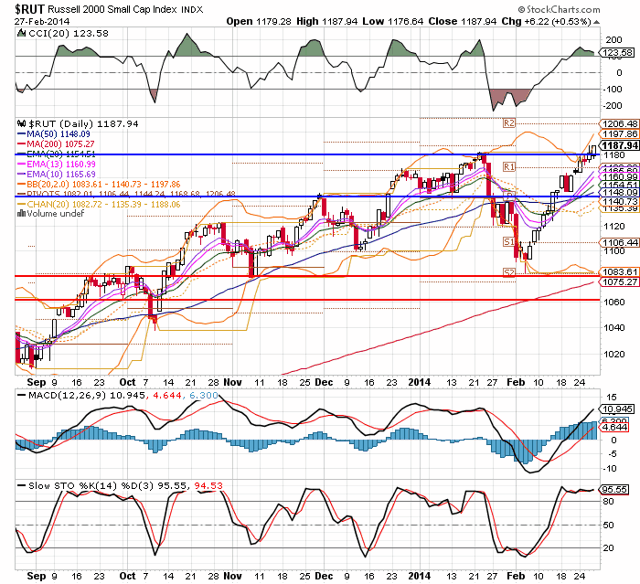 Resistance lines to watch:
1st - 1145 2nd - 1180
Support lines to watch:
1st - 1080 2nd - 1060
Current Sentiment:
Bullish, Inflection Point
Analysis:
The small-cap index finally broke out from the 1145 area but still has a ways to go before the 1180 resistance area. The "V" recovery looks strong, and the CCI, MACD both have room to grow.
Friday's Outlook
The market has been solid without much to really give weight to a major rise in the indices, and that is a big win for the bulls. Yet as we can see from the charts above, we are at key resistance and some technicals suggests that the market is looking toppy. We have gotten some decently better news to mask the really bad "weather" data from earlier this month, and it will be important to see how data progresses from here. If it stays weak after the weather warms, it will definitely hurt the potential for the market, and we will see correcting.
On the docket tomorrow we have our second estimate GDP for Q4 that is supposed to come in at 2.4% versus 3.2% in the first estimate. We also have Chicago PMI for February as well as the financial Michigan Consumer Sentiment report, which is one of our keys to the day. Finally, we also have Pending Home Sales for January. All in all, it's a busy economic data day that we need to watch closely, especially GDP and Consumer Sentiment.
On the earnings front, we get some important reports from Salesforce.com (NYSE:CRM), Gap (NYSE:GPS), Monster Beverage (NASDAQ:MNST), and 3D Systems (NYSE:DDD). None of the reports are market movers, but CRM/DDD are key to tech growth names in their respective fields, while Gap will give a look into the middle-to-higher-end consumer.
Overall, it is a key day to end the week and we will see if the market can take out these resistance lines and breakout to end February.
Disclosure: I have no positions in any stocks mentioned, and no plans to initiate any positions within the next 72 hours.
Business relationship disclosure: I have no business relationship with any company whose stock is mentioned in this article. The Oxen Group is a team of analysts. This article was written by David Ristau, one of our writers. We did not receive compensation for this article (other than from Seeking Alpha), and we have no business relationship with any company whose stock is mentioned in this article.