By Stuart McPhee
Throughout the first half of February the euro enjoyed a solid move higher moving from support around 1.35 up to test the key level at 1.37. It was able to move through the 1.37 level before consolidating and spending the best part of the last couple of weeks resting on support at that level. Over the last 48 hours, the euro has fallen sharply through the key 1.37 level, reaching a two week low in the process before rallying higher in recent hours to move back above the key level. To finish out January, the euro continued its decline and moved to a two month low touching below the support level at 1.35. For the last couple of months, the euro has generally steadied and established a trading range roughly between 1.3550 and the recent resistance level at 1.38. To finish out several weeks ago, the euro broke down through the support level at 1.3550. The 1.3550 level has become a key level over recent times, and a couple of weeks ago, the euro sprung off it to a two week high at the resistance level at 1.37, where it has spent several days consolidating before dropping sharply back to the key 1.3550 level again. After placing some pressure on the resistance level at 1.38 several weeks ago, the euro has since fallen sharply down to its lowest level in two months.
Through November, the euro enjoyed a solid move higher, which saw it return to a wall of resistance at 1.38, and in doing so, move to a then six week high. In the few days afterwards, the euro challenged the 1.38 resistance level again before being turned away yet again. In mid-November, the euro did well to bounce strongly off support at 1.34 and recover the lost ground from the previous couple of days, which saw it fall from the resistance level around 1.3550. This was after a few weeks, which saw it move steadily higher from a support level at 1.33 back up to a three week high just above 1.3550. Over the last few months, 1.3550 has been a key level.
Towards the end of October, the euro enjoyed a strong surge higher to move through to its highest level in nearly two years just above 1.38 before spending that week content to consolidate around this level. Over the following three weeks, it fell heavily down to a support level at 1.33 before recovering well. It moved quite well throughout the middle of October after breaking higher from its sideways range. For the month leading up to that, the euro traded within a narrow range between 1.3450 and 1.3650 before the range narrowed down to between 1.35 and 1.36. The former level of 1.35 was strongly tested a few weeks ago and has resurfaced as a significant level presently.
A German court decision criticizing the European Central Bank's government bond buying program could threaten the bank's ability to activate the program, as the Bundesbank is unlikely to participate, the president of the German IFO Institute for Economic Research has said.

German economist, Hans-Werner Sinn, who also serves on German economy ministry's Advisory Council said he doubted whether Germany's central bank would back the program, known as Outright Monetary Transactions (OMT). Germany's highest constitutional court shocked markets earlier this month by criticizing the OMT, which has been credited with calming financial markets and bringing down borrowing costs for troubled eurozone countries. "The Court considers the OMT decision incompatible with primary law," it said.
(Daily chart / 4 hourly chart below)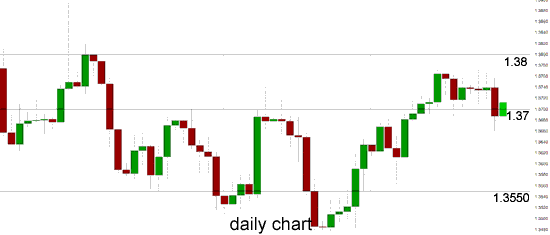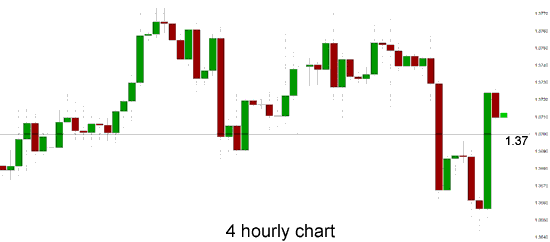 EUR/USD February 27 at 21:25 GMT 1.3712 H:1.3726 L: 1.3643
EUR/USD Technical
| | | | | | |
| --- | --- | --- | --- | --- | --- |
| S3 | S2 | S1 | R1 | R2 | R3 |
| 1.3700 | 1.3500 | 1.3400 | 1.3800 | --- | --- |
During the early hours of the Asian trading session on Friday, the euro is consolidating just above the key 1.37 level after having recently surged back above this level. Current range: just above 1.37 around 1.3710.
Further levels in both directions:
• Below: 1.3700, 1.3500 and 1.3400.
• Above: 1.3800.
OANDA's Open Position Ratios

(Shows the ratio of long vs. short positions held for the EUR/USD among all OANDA clients. The left percentage (blue) shows long positions; the right percentage (orange) shows short positions.)
The EUR/USD long position ratio has moved back down below 30% as the euro has surged back above the key 1.37 level. The trader sentiment remains in favor of short positions.
Economic Releases
23:30 (Thu) JP CPI Core (Nation) (Jan)
23:30 (Thu) JP CPI Core (Tokyo) (Feb)
23:30 (Thu) JP Unemployment (Jan)
23:50 (Thu) JP Retail Sales (Jan)
00:05 UK GfK Consumer Confidence (Feb)
00:30 AU Private Sector Credit (Jan)
05:00 JP Construction orders (Jan)
05:00 JP Housing starts (Jan)
10:00 EU HICP (Flash) (Feb)
10:00 EU Unemployment (Jan)
13:30 CA GDP (Dec)
13:30 US Core PCE Price Index (2nd Est.) (Q4)
13:30 US GDP Annualised (2nd Est.) (Q4)
13:30 US GDP Price Index (2nd Est.) (Q4)
14:45 US Chicago PMI (Feb)
14:55 US Univ of Mich Sent. (Final.) (Feb)
15:00 US Pending Home Sales (Jan)

*All release times are GMT
This article is for general information purposes only. It is not investment advice or a solution to buy or sell securities. Opinions are the authors; not necessarily that of OANDA Corporation or any of its affiliates, subsidiaries, officers or directors. Leveraged trading is high risk and not suitable for all. You could lose all of your deposited funds.