Healthcare was once considered to be one of the most stable sectors of the US economy, with demands for products and services fluctuating little during various phases of the economic cycle. But recent events in Washington have brought increased scrutiny and volatility, as the Obama administration's healthcare reform has investors questioning the future of healthcare ETFs. Many of the long-term impacts of reform are still unknown. The bill will most certainly have an impact on healthcare insurance issuers; nearly 30 million new customers could translate into more revenue. But companies will likely also have to accept those who have pre-existing conditions, which could turn out to be a drag on profitability.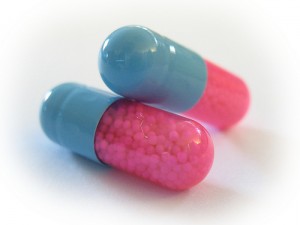 Other corners of the healthcare space – including pharmaceutical companies and device manufacturers – will see their business impacted in some way. The far-reaching reform has made healthcare ETFs a popular option for investors with an opinion on the ultimate beneficiaries. By far the largest and most heavily-traded healthcare ETF is the Health Care Select Sector SPDR (NYSEARCA:XLV), which has almost $2.5 billion in assets. XLV tracks the Health Care Select Sector Index, a benchmark that includes pharmaceutical companies, healthcare providers & services, healthcare equipment & supplies, biotechnology, life sciences tools and services, and healthcare technology. But there is a lot more to the health and biotech category than XLV. Below, we profile five alternatives to XLV – ETFs offering unique exposure to various corners of the healthcare industry.
First Trust Amex Biotech Index Fund (NYSEARCA:FBT)
For investors looking for a more focused ETF, FBT is an interesting choice. FBT specifically focuses its funds on biotechnology rather than the broad healthcare sector. Unlike XLV, the majority of FBT's holdings are based in medium and micro market capitalization companies. FBT tracks the NYSE Arca Biotechnology Index, an equal-dollar weighted index designed to measure the performance of a cross section of companies in the biotechnology industry that are primarily involved in the use of biological processes to develop products or provide services. FBT charges an expense ratio of 0.6% and is up over 14% this year.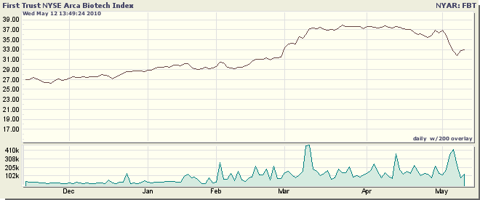 (Click to enlarge)
iShares Dow Jones US Pharmaceutical Index Fund (NYSEARCA:IHE)
This is similar to XLV in many ways, but there are several noteworthy differences between the two. Both XLV and IHE share their top four holdings, but differ in sector weightings and market capitalization holdings. Although IHE has a significant weight in giant market capitalization firms, it also allocates a large portion of its funds to medium and small firms. This may explain why IHE has had a higher year to date return while XLV has slipped, even though they have similar holdings. IHE tracks the Dow Jones US Select Pharmaceuticals Index, which measures the performance of the pharmaceuticals sector of the US.equity market. IHE charges an expense ratio of 0.48%.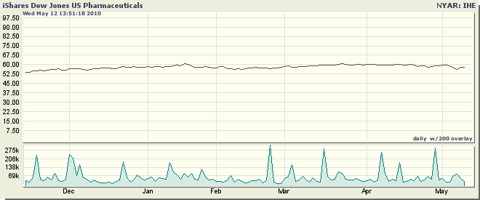 (Click to enlarge)
iShares Dow Jones US Medical Devices Index Fund (NYSEARCA:IHI)
IHI focusing on companies engaged in the production of medical devices, an interesting corner of the health care sector that be squeezed by new legislation. Approximately 10% of IHI assets fall into the hardware sector, giving investors exposure to a different corner of the market than is offered by XLV. IHI has a relatively even allocation to market capitalization firms from small to large, giving the fund a diverse set of investments. IHI tracks the Dow Jones US Select Medical Equipment Index, a benchmark measuring the performance of the medical equipment sector of the US equity market. IHI has had impressive returns in 2010 and is currently up by almost 10%. IHI charges an expense ratio of 0.48%.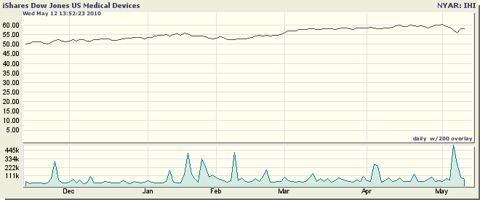 (Click to enlarge)
PowerShares Dynamic Heathcare Services (PTJ)
PTJ is part of PowerShares' line of Dynamic ETFs, seeking to outperform traditional cap-weighted indexes. There are two major factors that set this ETF apart from XLV. First, the sector weightings are very different. Again healthcare is a large majority, but consumer and business services account for nearly 25% of total assets. Second, PTJ allocates none of its assets to giant cap companies. The assets are evenly spread among small, medium, and large, with micro caps also receiving a moderate weighting. This makes the fund attractive to investors looking to shy away from giant companies, but at the same time gives more even exposure across the remaining market capitalization weightings. PTJ tracks the Dynamic Healthcare Services Intellidex Index, a benchmark designed to provide capital appreciation by thoroughly evaluating companies based on a variety of investment merit criteria, including fundamental growth, stock valuation, investment timeliness and risk factors. PTJ charges an expense ratio of 0.60% and is up almost 5% in 2010.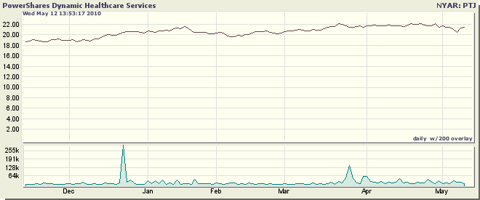 (Click to enlarge)
SPDR S&P International Health Care Sector ETF (NYSEARCA:IRY)
IRY is a fund with a makeup similar to that of XLV – with one major difference. Nearly all of IRY's allocations are international, giving investors more global exposure. IRY focuses its market capitalization on giant and large firms, similar to XLV. IRY tracks the S&P Developed Ex-U.S. BMI Health Care Sector Index, an index which represents the non-US healthcare sub-industry of developed countries included in the S&P Broad Market Index. IRY charges an expense ratio of 0.50% and is down about 10% this year.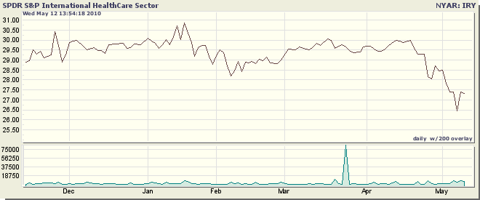 (Click to enlarge)
Disclosure: No positions