Executive summary:
Investors shorting the natural gas ETF have underperformed shorting the March 14 contract since the recent natural gas peak.
Investors must be aware of the contract month being held my the ETF to avoid unwanted surprises in performance.
"Rolling forward" can roll from volatile to less volatile and dampen actual returns when compared to expectations.
______________________________
March 14 natural gas futures peaked at $6.14 MMBtu on February 21st. Currently the March 14 natural gas contract trades at $4.97 MMBtu, or 20% below its earlier peak:
"The front month contract for natural gas closed at $6.14 per MMBtu (millions of British thermal units) on February 21. Prices finished up 18% compared to the prior week's close of $5.21 per MMBtu, hitting their highest levels since late 2008. Last week's jump in prices was largely due to the market's expectation of continued severe cold weather, which further boosts demand for natural gas for home heating."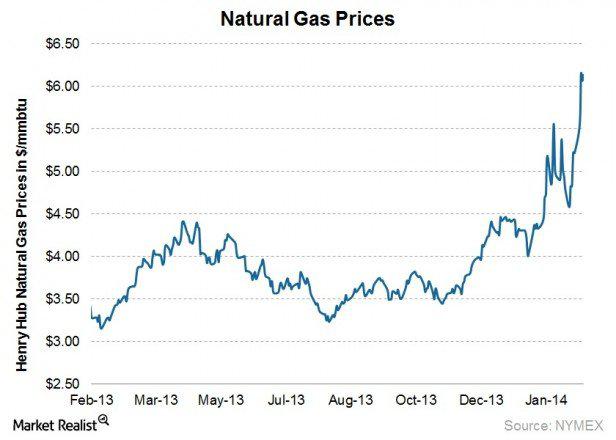 Because of the recent price spike I wrote a couple articles discussing how now was the time to sell, not buy, because the price spike was almost certain to be short-term in nature:
"I recently wrote an article about natural gas when it was just breaking $5. The thesis of the article was that the spike in natural gas prices was likely only temporary being due to short-term weather related issues."
I also included in that article a word of caution:
"Identifying temporary price spikes doesn't necessarily mean you can capitalize on them."
Recent events couldn't have proven my point more. This graphic from a previous article highlights why some investors may be disappointed with the return they are getting from their Natural Gas ETN (NYSEARCA:UNG) trade.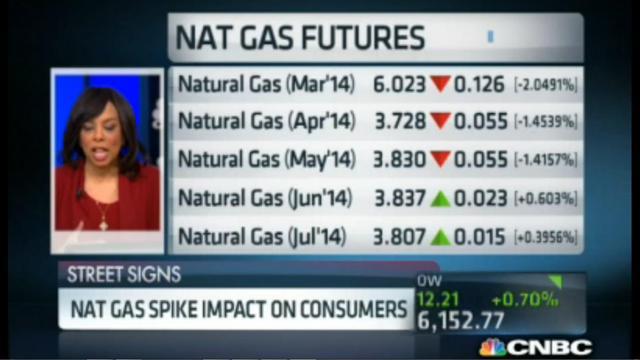 As mentioned above March 14 natural gas futures have dropped 20% since peaking just a few days ago on February 21st. Had someone decided not just to sell their UNG holdings, but to actually short the ETF at the natural gas peak, they would have only made 10%.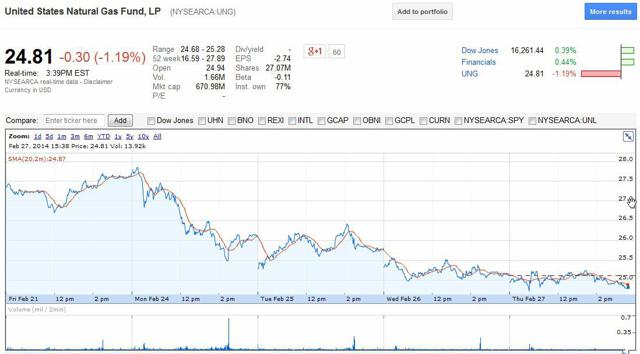 The reason for this price discrepancy is due to UNG holding the April 14 contracts, and April is out beyond when the market is expecting the weather to be disrupting supplies. So while March 14 contracts have been extremely volatile, April 14 contracts are less so due to the weather disruptions likely to be short-term in nature.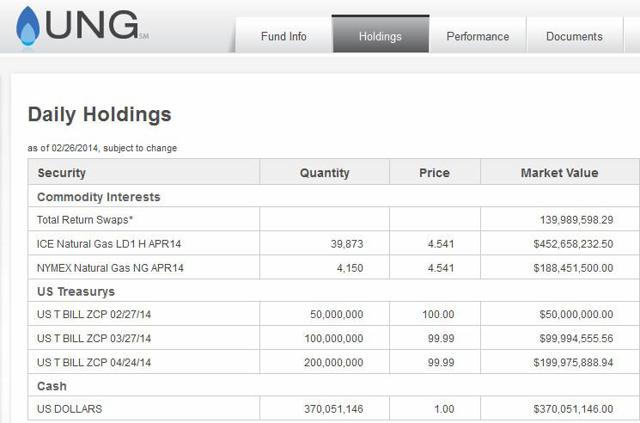 The UNG "rolls forward" out of the current month contracts and into the following month's contracts on a preset schedule. Unfortunately for the UNG shorts, UNG rolled out of the March 14 Contract and into the April 14 Contract between February 12th and 18th.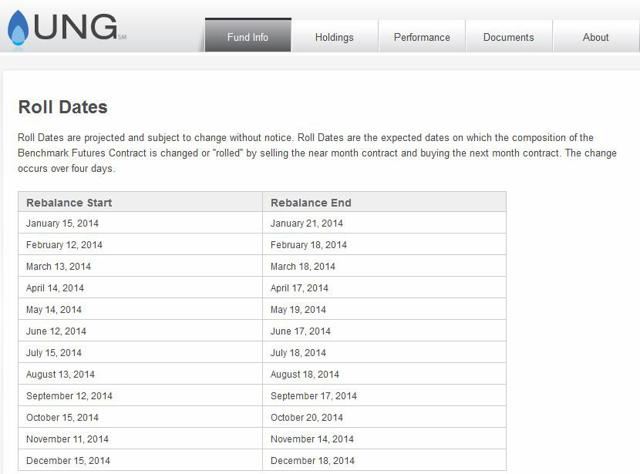 Natural gas futures expire 3 business days before the following month, so in the month of February the March 14 contracts are trading. That was great for investors that were long UNG in early February, but then between February 12th and 18th UNG rolled out of the volatile March 14 contracts and into the less volatile April 14 contracts. People that chose to short UNG at the natural gas peak on February 21st didn't benefit from the 20% drop in the March 14 contract, they only captured the 10% drop in the April 14 contract.

Disclaimer: This article is not an investment recommendation or solicitation. Any analysis presented in this article is illustrative in nature, is based on an incomplete set of information and has limitations to its accuracy, and is not meant to be relied upon for investment decisions. Please consult a qualified investment advisor. The information upon which this material is based was obtained from sources believed to be reliable, but has not been independently verified. Therefore, the author cannot guarantee its accuracy. Any opinions or estimates constitute the author's best judgment as of the date of publication, and are subject to change without notice. Past performance is no guarantee of future results. For my full disclaimer and disclosure, click here.
Disclosure: I have no positions in any stocks mentioned, and no plans to initiate any positions within the next 72 hours. I wrote this article myself, and it expresses my own opinions. I am not receiving compensation for it (other than from Seeking Alpha). I have no business relationship with any company whose stock is mentioned in this article.