Kraft Foods Group Inc.'s (KRFT) share price has remained volatile year to date although it managed to increase by 16% by adding $7.6 to reach the present value of $55. The latest quarter brought more to investors' shaky confidence as the company missed its top and bottom line estimates like its rival Kellogg (NYSE:K). Still, the new company that was formed after a demerger back in 2012 offers good value to long-term investors as we will see in this article. Before we begin, let's take a brief look at what Kraft did during the last quarter of fiscal year 2013.
The Fourth Quarter
Kraft Enjoyed Organic Growth that was Partially Supported by Single time Gains

Source: Presentation
The company delivered 3.2% organic revenue growth during the fourth quarter that was well above the 0.6% growth of the North American food and beverage industry. Net revenue increased by 2.3% to $4.6 billion with Kraft benefiting nearly 3% from comparisons with the spending related trade inventory de-load that happened last year.
Excluding the noise brought from the spin-related comparisons and extraordinary pruning, the company's base business volume/mix growth was concrete. This was a healthy indication since it occurred when the industry faced headwinds including the SNAP reduction and a tight window between Thanksgiving and other holidays. Additionally, Kraft lagged industry growth on a dollar basis due to pricing owing to categories such as nuts and coffee whose prices were down and in line with lower input costs during the year.
The operating income increased by more than 100% to $1.5 billion. However, it included a $782 million benefit from market-based impacts to post-employment benefit plans driven by higher discount rates and higher asset returns that inflated the overall result. Excluding the impact, the operating income increased by a lesser 50% that was still high due to a combination of lower spending on cost-saving initiatives, volume/mix gains, favourable marketing costs related to program timing, and productivity savings. I will explain these cost efficiencies later in the report.
EPS grew nearly 65%, excluding special items, to $0.43. The $1.11 benefit per share was excluded to calculate the sustainable earnings return that investors earned. EPS growth was driven by the above mentioned factors plus a favourable change in unrealized gains/losses from hedging activities.
All in all, though Kraft missed its guidance considering the fact that the sources of revenue generation were mainly organic, the company reported a successful quarter within conditions that were not encouraging for the industry. This factor is what drives investor value and represents one of the main points to consider while choosing an investment.
The Future
The Restructuring has yet to Prove its Efficiency
I talked about Kraft's restructuring program earlier in the article through which it has been realizing cost savings. The company realized $290 million in saving as costs related to the program during 2013. The savings contributed a positive $0.10 per share during the last quarter. The $650 million program now has nearly $32 million left and will be expensed during this year implying more negative bottom line near-term results but higher longer run savings. The implementation of the ongoing program will also result in leaner and more efficient operations that will drive future margins even higher.
Speaking of top line progress, we have already seen organic growth drive revenues during the last quarter. The company's product portfolio includes famous brands such as Philadelphia and will continue generating positive growth rates as the industry picks up. This year, the world's ready-made meals market is expected to reach almost $80 billion, reflecting a 20% increase over the last five years. The US demand alone for packaged food is expected to grow close to 2.5% yearly throughout 2014 to almost $8 billion.
Targeting a New Market within Growing Industry is a Plus
Benefiting from the expansion, Kraft is launching a new protein product through its brand Oscar Meyer that will be called P3 (Portable Protein Pack). The pack will include 13 grams of protein not found in any other similar brand. The same ideology will be put towards the popular Philadelphia cheese brand whose variant now offers twice as much protein as the regular variety.
Kraft's idea to target the protein market in order to capture sports and health-oriented consumers will be another helping hand along with the growing market. This is because pursuing a strategy around protein is a natural fit since sales of dairy, meat, and its alternatives such as soy burgers and nuts already account for more than 40% of the company's revenue.
This will directly benefit Kraft as its benefits not only come from good industry prospects but higher productivity and a cost-saving program that will bring bottom line growth.
Final Conclusion
The industry prospects look good and the new markets will add further to the appeal. The restructuring also holds more than what the market incorporates within the share price at the moment because Kraft has just separated from Mondelez (NASDAQ:MDLZ) and therefore is restructuring itself to be in line with its longer-term strategy. Investors should wait before the true results are realized thus making Kraft a long-term investment.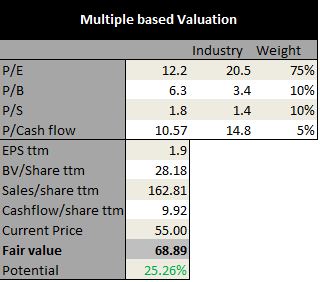 The simple valuation model above provides a good look at the upside the company provides. By using the multiple based approach I have determined that the company offers a more than 25% upside at its present price. The valuation and the aforementioned factors above have me convinced that Kraft has the ability to provide investors great value. Therefore, I recommend Kraft as a strong buy.
Disclosure: I have no positions in any stocks mentioned, and no plans to initiate any positions within the next 72 hours. I wrote this article myself, and it expresses my own opinions. I am not receiving compensation for it (other than from Seeking Alpha). I have no business relationship with any company whose stock is mentioned in this article.